Princess Demurra is a character in Wander Over Yonder.
Background
Demurra is a princess who was central to the Wander Over Yonder episode "The Hero". She was "kidnapped" by King Draykor, and her supposed lover Sir Brad Starlight set out to save her with the help of Wander and Sylvia. But it turned out that she and Draykor were in love and were planning to get married, and Brad was a former flame from their teen years. Despite having the appearance of a stereotypical fairytale princess, her personality is radically different, for she is a realist, as she explained to Brad one can't expect life to be like a fairytale and how real romance takes a lot of work and communication. She is also a very capable person, since she saved herself from the much larger Brad after he attempted to kidnap her from Draykor.
Appearances
Gallery
v - e - d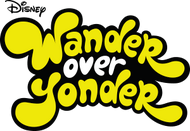 Organizations/Groups
Lord Hater's Army • Insurgent Generals • Wander and Sylvia • Bounty Hunters • Lord Dominator's Army • Galactic Villain Leaderboard • Emperor Awesome's Army
Locations
Lord Hater's Spaceship • Binglebopolopolis • Doomstone • Baaaaa-halla • Phunulon • Ballzeria • Buster • Doom Arena • Planet Ziziks • Flendar • Lord Dominatior's Spaceship • Arachnomorph Homeworld
Community content is available under
CC-BY-SA
unless otherwise noted.