Princess Irmaplotz is an antagonist from the Disney Channel animated series Dave the Barbarian.
History
The princess of the evil kingdom of Hyrogoth, she fell in love with Dave over their shared love of bad poetry. When they tried to sort out their differences, Dave broke up with Irmaplotz, so she vowed revenge by sending dustbunnies to spoil everything. Dave foiled her plan by reading aloud the worst poetry ever written - his own.
At an early point in her career, the Princess fell in love with Dave, but was eventually dumped as he decided they were too different. So like all rejected girlfriends, she spends a large part of her time and efforts seeking revenge. However she may still have feelings for him as she once had the opportunity to destroy Dave, but chose not to.
She is similar to Dave in that they both have the same odd hobbies and interests, such as "bad poetry". She also shares the same allergies as Dave. She would be a great match for Dave only if she were not an evil princess.
Episode Appearances
Trivia
Gallery
v - e - d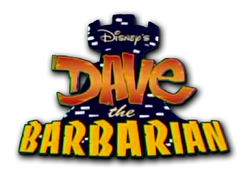 Locations
Udrogoth • Great Indoor Marketplace • Sorcery School • Hyrogoth
Community content is available under
CC-BY-SA
unless otherwise noted.