Cobra Kai Season 4 - The Loop
Play Sound
Principal Larry is a character from Penn Zero: Part-Time Hero. He is the principal at Middleburg Central High and Rippen's part-time minion.
Background
In "Mr. Rippen", he met Rippen on the first day as a part-time minion.
Personality
Larry is bubbly, talkative, and friendly. With no truly evil desires, Larry just likes getting to be with Rippen while having a good time. Whether helping Rippen with something diabolical or not, he usually treats others, even his enemies, very kindly. He enjoys talking about himself and pretty much anything that comes to his mind, which others find obnoxious. Very loyal to Rippen, Larry may not be good at being bad, but he is optimistically willing to help Rippen pull off his villainy.
Physical appearance
Larry is short with black hair and black eyes. He wears wide orange glasses, and he has a mustache. He wears a light pink shirt underneath a blue sweater vest with a diamond checker pattern. He also wears a purple tie, tan pants, and dark brown shoes.
Relationships
Although not very evil or cruel, Larry is loyal to Rippen and eagerly obeys him as best as he can. Unable to recognize how deep Rippen's frustration is with him, Larry thinks of Rippen as a close pal and likes being able to do thrilling stuff with him, including the evil schemes.
Although Penn is his and Rippen's main enemy, Larry doesn't seem to have any ill will towards him, except when he's dutifully following Rippen.
Sharing similar zaniness, Larry and Boone get along well, though being enemies, and have fun expressing their thoughts on baby nickels in "The Fast and the Floor Rugs" and "The Bewildering Bout of the Astounding Automatons".
Like with Penn and Boone, Larry is nice to Sashi, though he isn't prone to feeling upset or scared by her ferocity. Overhearing Sashi's confession about her parents not knowing about her job and feeling bad that she messed up the mission, Larry gets emotional, commenting that it's very tragic. In Sensitivity Training, Larry helps Sashi with her Anger issues.
Trivia
In "North Pole Down", Larry wears a light-up Christmas sweater.
Larry often mistakes things for something else, like thinking a laundromat is an arcade and assuming he can cut down someone's tree for his own Christmas tree.
In "Larry Manor", it is revealed that Larry has won 32 lottery's (33 by the end of the episode).
In "Number One, Number Two", it is revealed that Larry's glasses are just like Sashi's Specs, which used to relay what the mission is (in Larry's case for the villains).
He is somewhat lucky, rarely being seen getting hurt in most episodes.
He is an amateur magician.
Larry slightly resembles his voice actor, .Larry Wilmore the names are the same.
Gallery
v - e -

d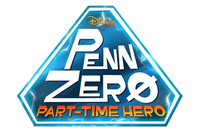 Locations
Middleburg •

Middleburg Central High

• The Odyssey • Fish Stick on a Stick • North Pole • Knight World • Superhero World • Arabian World • Plush Toy World • Clown World • Dinosaur Cowboy World • Cereal World • Old English World • Giant Monster World • Zombie World • Space World • Ocean World • Color World • Musical Fairy Tale World • Caveman Spy World • Future Barbarian World • Ultrahyperball World • Demon World • Alien World • Galaxy World • Temple World • Dragon World • Gothic Mystery World • Plant World • Animal Barbarian World • Toy World • Outer Space Court World • Robot World • Pirate World • Fairymania World • Steampunk World • Ball World • Ghost World • Rock, Paper, Scissor World • Beast World • Anime World • Sitcom World • Nothingness • Most Dangerous World Imaginable • Least Dangerous World Imaginable
Objects
Multi-Universe Hologram Uplink • Multi-Universe Transprojector • Pigoilet • The QPC Unit • Vortex Tops • Specs