Pteranodon is a species of pterosaur from the Late Cretaceous Period. It has appeared in several Disney films, most notably the 1940 animated feature Fantasia and the 2000 CG Disney film Dinosaur. Though not a dinosaur itself, it is often shown in association with them.
Appearances
A bunch of Pteranodons appear in The Rite of Spring segment in Fantasia. They are seen flying over head trying to catch prey in the ocean. Two of them were fighting over a squid and one, with a fish in his mouth, gets dragged into the water by a Tylosaurus, causing him to drown. They are never seen again for the remainder of the segment but presumably went extinct in the mass extinction with the dinosaurs.
One Pteranodon is seen picking up Aladar's egg from the water and flying towards Lemur Island to feed its children, only to get stopped by two birds, causing it to drop the egg into the island. The species shown in this movie is Pteranodon sternbergi, which some scientists think is a different creature called a Geosternbergia, a close relative of the Pteranodon.
In the episode "Amber",
The Pteranodon appears in the episode "Dino World", along side the Ankylosaurus. They are discovered to exist on another planet along many other earth dinosaurs. At the episode's climax, three Pteranodons chase the Callistos away after Loretta wakes up an Ankylosaurus.
Gallery
Trivia
Pterosaurs like Pteranodon are technically not dinosaurs, but belong to a separate group of flying reptiles.
In the game Disney's Dinosaur, the Pteranodon is named Flia.
External links
v - e -

d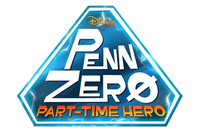 Locations
Middleburg •

Middleburg Central High

• The Odyssey • Fish Stick on a Stick • North Pole • Knight World • Superhero World • Arabian World • Plush Toy World • Clown World • Dinosaur Cowboy World • Cereal World • Old English World • Giant Monster World • Zombie World • Space World • Ocean World • Color World • Musical Fairy Tale World • Caveman Spy World • Future Barbarian World • Ultrahyperball World • Demon World • Alien World • Galaxy World • Temple World • Dragon World • Gothic Mystery World • Plant World • Animal Barbarian World • Toy World • Outer Space Court World • Robot World • Pirate World • Fairymania World • Steampunk World • Ball World • Ghost World • Rock, Paper, Scissor World • Beast World • Anime World • Sitcom World • Nothingness • Most Dangerous World Imaginable • Least Dangerous World Imaginable
Objects
Multi-Universe Hologram Uplink • Multi-Universe Transprojector • Pigoilet • The QPC Unit • Vortex Tops • Specs