Puppy Dog Pals (previously titled Puppy Dog Tails) is a Disney Junior show that premiered on April 14, 2017.
Story
The story focuses on four fun-loving puppies: Bingo, Rolly, Lollie, and Keia, whose thrill-seeking appetites take them on daily adventures around their neighborhood, Puppy Playcare, and beyond. Harland Williams is a consulting producer on the show with Sean Coyle serving as exec producer, and Dean Batali (That '70s Show) as story editor. Puppy Dog Tails is a production of Wild Canary in association with Disney Junior.[1]
Characters
Main
Recurring
Episodes
"The Lost Toy" (pilot episode)
Season 1
Season 2
"A New Pup in Town"/"The Last Pup-icorn" - October 12, 2018
"Keia's New Doghouse"/"The Fang Fairy" - October 19, 2018
"Land of the Rising Pup"/"ARF-CHOO" - October 26, 2018
"The Total Yodel"/"Bob's Birthday Wish" - November 9, 2018
"Operation: Dinner/Case of the Missing Caterpillar" - November 16, 2018
"Lemur Play/ How the Dog Park was Won" - January 18, 2019
Gallery
References
v - e -

d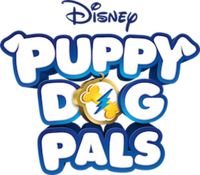 Songs
Puppy Dog Pals theme • Going on a Mission • Fire Truck Time • Waddle Waddle Waddle • Clean Up Time • This is How You Jump • Fix This Day • You're My Best Friend • Keep on Tryin' • Coolin' Out • Feels Like We're Flying • At the Pumpkin Patch • On Halloween Night • Captain Dog • Scuba Doggin' • Dig • Bury It! • Bizzy Beaver Builds a Dam • Gonna Get to the Bottom of This • Walkin' the Bob • Surfin' Puppies • Bubble Wrapped! • Tangled Up! • Looking for Bob's Bird • Andiamo (Let's Go!) • Gotta Get the Ball! • The Race is On • Let's Hit the Road • We Need to Be Quiet • Doesn't Take Much • Gotta Make the Latkes • Watch Out • You Still Look Pretty Little to Me • Ol' Snapper • Catch That Squirrel • Diggin' Again • The Hunt for Hissy • Four Leaf Clover • Dry Cleaner Puppy Party • Slow Down Grandma • If You Have a Pet • Looking for a Boomerang • Olivia! • Birthdays Are the Best • You're Dancin' • Our New Best Friend Keia • I Would Do Anything • Guess Who's Got a Brand New Doghouse? • The Fang Fairy • Snow Monkeys • You Need Some Rest • Puppies on the Moon • Super Bouncy Pups • Spy Puppies • The Alpine Puppy Yodel • We're Bringing Dinner to Bob • There's Always Room for Another Friend • It's Christmas (And We're Heading Home) • Gary the Gecko's Lemur Song • His Name is Zeus • The Fetchin' Wind is Hard to Do Blues • Three Pups in Paris • Hong Kong Pups • Dog Washing • Whodunnit?