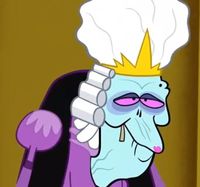 Queen Entozoa was the female queen shown in "The Fancy Party". She was dying so she hosted a party and said that she would bequeath her power to the toughest of villains. In the end of the episode, it is revealed that her "power" and true identity was a slug-like demon that was possessing her body for 1,000 years and needed to switch bodies so it could possess a new body for another 1,000 years, however, it accidentally became a sandwich for 1,000 years due to Wander's meddling.
v - e - d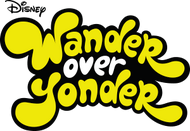 Organizations/Groups
Lord Hater's Army • Insurgent Generals • Wander and Sylvia • Bounty Hunters • Lord Dominator's Army • Galactic Villain Leaderboard • Emperor Awesome's Army
Locations
Lord Hater's Spaceship • Binglebopolopolis • Doomstone • Baaaaa-halla • Phunulon • Ballzeria • Buster • Doom Arena • Planet Ziziks • Flendar • Lord Dominatior's Spaceship • Arachnomorph Homeworld
Community content is available under
CC-BY-SA
unless otherwise noted.