R.K. Maroon is the owner of Maroon Cartoons in Disney/Touchstone's 1988 hybrid film, Who Framed Roger Rabbit.
Role in the film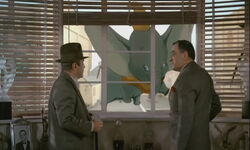 Maroon, the owner of Maroon Cartoons, is first seen with an editor watching a piece of the film playing through a moviola and waving his hand at his secretary as the Toon-hating private cop Eddie Valiant enters his office. When the editor wheels the machine away, Maroon turns to Eddie and asks him that how much he knows about show business. Maroon tasks Eddie to get him some pictures of Jessica after suspicions arise of Jessica hanging off with a sugar daddy, noting Roger Rabbit kept blowing his lines, due to his jealousy, thus losing his focus. He also has an over-budget of $25,000 for his next cartoon. He then hands off a $100 paycheck to Valiant, who requests another $50. Finding it ridiculous, Eddie retorts. Maroon then relents. He later explains to a frightened Eddie that he got Dumbo and half the cast of Fantasia who work for peanuts.
That night, Maroon tries to console a downtrodden and tearful Roger by giving him some liquor. He assures him that he's not the only man whose wife played pattycake with somebody. He explained that Acme had been his friend and neighbor for years, and couldn't believe he was a sugar daddy. An enraged Roger, after blowing violently like a whistle thanks to the drink, later smashes his way out the window, as Eddie comments that he took it well.
On his, Roger, and Dolores' way out, Maroon is seen in a newsreel playing by Eddie at a movie theater on a big screen giving a big, long handshake to and clinching a deal at his studio with bankers and executives of Cloverleaf Industries is one of the biggest real estate deals in Californian history.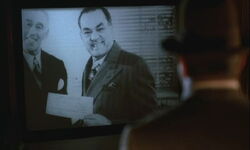 An anxious Maroon is just waiting in his office with a gun in his pocket when Eddie frightens him with Bugs Bunny's signature line. Maroon frantically asks the will from Valiant. Angered and impatient, Maroon rips the paper off of Valiant, which turns out to be a love letter (which was actually the will itself). Distracted, Eddie sprays Maroon's face with water and holds him at gunpoint. Eddie then interrogates him by sticking his tie in the film machine. Forced to comply, Maroon, explains that Cloverleaf was his chance to sell his studio. Acme refused, so Maroon was forced to blackmail him with pictures of Jessica. That was all he did, fearing for the Toons' safety. He tries to explain what will happen to Toontown if the will doesn't show up, but a series of gunshots strike Maroon two times, killing him.
Eddie dives for cover behind the sofa, and the bullets slam into it, and when the gunfire stops, Eddie looks at Maroon to see his corpse tied against the film machine, just before Eddie leaves the building to follow Jessica to Toontown. Later, finding the gun on the ground, Eddie made a serious discovery from Jessica that it was the dastardly Judge Doom who shot Maroon.
Comics
In comics set after the events of the film, it was shown that Maroon had a twin brother named C.B. Maroon, who was given ownership of Maroon Cartoons after his brother's death, parodying the fact that Walt Disney's brother, Roy, took over the Walt Disney Studios after his brother's death.
Trivia
Maroon apparently has connections to other studios, seeing as he has been able to get several cartoon characters on loan from other studios.
Gallery
Community content is available under
CC-BY-SA
unless otherwise noted.