RC Racer is a steel shuttle roller coaster currently operating at Walt Disney Studios Park, Hong Kong Disneyland and Shanghai Disneyland. It is part of the Toy Story Playland in France, Hong Kong and Shanghai. The France ride opened on August 17, 2010, the Hong Kong one opened on November 17, 2011, and the Shanghai one opened on April 26, 2018.
It is hosted by RC, but Rex is the host in Shanghai, where the attraction is renamed Rex's Racers.
Summary
Situated at the back of Toy Story Playland amongst mature trees which double as overgrown bushes in the Toy Story universe, RC Racer is the main attraction of that section of the park and the park's third roller coaster when it opened in August 2010 at Walt Disney Studios Park.
The ride takes inspiration from Mattel's popular Hot Wheels line of toy cars, which come paired with the orange track as seen in the Toy Story films. Climbing aboard the huge remote-controlled RC car, riders are propelled forwards and backwards through the station building in a semi-circular "half pipe" of track, quickly building up enough speed to hit the top height of almost 80 feet (24 metres).
Shanghai Disneyland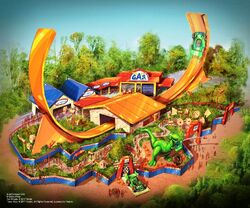 When Andy Davis was away when he was young, the toys would play. Luckily, he set up his orange Hot Wheels set in his backyard just before he left… and no one loves playing with it more than Rex, the insecure Tyrannosaurus Rex.
With the help of his Triceratops friend Trixie, Rex is inviting guests to race day. After winding their way through a series of toy garages and race-pit buildings, guests find themselves a seat inside RC. Then, guests hold on tight as RC begins zooming forward and backward, seemingly breaking the laws of gravity while taking you higher and higher on the U-shaped track.
References