Doctor Strange in The Multiverse o Madness - The Loop
Play Sound

Radio Disney was a radio network based in Burbank, California, which broadcasted music and other content targeted at children and teenagers; its format can be described as a youth-targeted contemporary hit radio with heavy emphasis on teen idols. It is a subsidiary of The Walt Disney Company.
Radio Disney was formatted like a traditional radio station, featuring prize giveaways (in which listeners can enter via phone, online and since 2008, text message) and occasional in-studio interviews called "Takeovers", which usually occur during the weekday late-afternoon time slot.
History
Radio Disney was launched on November 18, 1996 (coinciding with the anniversary of the debut of Steamboat Willie's 68th birthday) at 5:58 AM EST with the song "Get Ready for This". Their slogan was "We're all ears" that was used heavily on jingles. Radio Disney started with songs that were played on Top-40 stations as well as popular oldies and songs from various cartoon shows and movies. Some media analysts likened the Radio Disney product to a mix of child-friendly artists and contests with music, forma-tics, and pacing borrowed from legendary ABC-owned top 40 stations of the past like WABC or WLS which had long abandoned their younger audiences for adult-oriented talk formats. Artists included 98 Degrees, Backstreet Boys, Bowling for Soup, Britney Spears, Christina Aguilera, Destiny's Child, Hanson, Jessica Simpson, Mandy Moore, 'N Sync, A-Teens, Aaron Carter, Dream Street, Hoku, Eiffel 65, Jump5, 3LW, and the Spice Girls. The station became popular amongst children, teens, and tweens.
In 2000, these artists like Lil' Romeo, No Secrets, Play, and others became popular due to the station. Their new short-lived slogan was changed to "music and prizes that rock!" Later in 2000, Radio Disney increased the age limit for winning prizes and sweepstakes from 12 to 14.
2001-2007: Disney Channel stars
Near the end of 2001, Radio Disney has been closely tied with singers/actors from original Disney Channel shows starting with Hilary Duff and Raven-Symoné, Miley Cyrus, Mitchel Musso, and more recently with the Jonas Brothers, Demi Lovato, Bridgit Mendler, and others. This has caused a bit of controversy as several people feel that most actors from Disney Channel are simply trying to start a singing career. It also marked the start of their current slogan, "your music, your way".
In 2002, the first Radio Disney Music Awards premiered. It is a music awards ceremony that has been held every year since.
In 2004, Disney paid the former Children's Broadcasting Corporation (which operated Radio Aahs) $12.4 million. Disney had collaborated with Radio Aahs for a time prior to the launch of Radio Disney as a direct competitor to the Minneapolis-based company which reached about 30 stations at its height and former Aahs owners sued for damages because of a breached agreement.
2006 marked the 10th year since the station first went on the air, the rebroadcast of its first hour of broadcasting was aired on June 6, 2006 at around 4:58pm EDT on select markets such as WQEW. Also, as part of the 10-year anniversary, the concert "Totally 10 Birthday Concert" was held on July 22, 2006 at the Arrowhead Pond in Anaheim, California. It also included a simultaneous live broadcast on the Radio Disney website. A second one was held in Dallas, Texas on November 18, 2006 at the Dallas Convention Center.
In February 2006, the Walt Disney Company announced that it would be keeping Radio Disney and its owned-and-operated stations while divesting much of its radio holdings to Citadel Broadcasting. Radio Disney will be part of the Cable Networks Group. This unit takes care of Disney's cable holdings, except for ESPN.
2007-2021: Various changes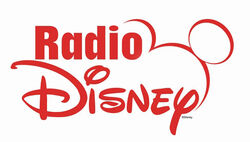 In April 2007, Radio Disney completely dropped the word "Ears" (from their first slogan, "We're all ears!") from their (old) phone number, ear mail, and from Playhouse Disney daily programming.
Since the network's debut, Radio Disney was part of the ABC Radio Networks' satellite music group. That is until June 2007 when Disney retained this and ESPN Radio in the sale of the ABC Radio division to Citadel Broadcasting.
Radio Disney has been adding more songs from Disney Channel original shows as well as music produced from other teen music groups, several of which are associated with Walt Disney Records, Buena Vista Records or Hollywood Records. Disney Junior (former Playhouse Disney) programming has been cut back an hour. (originally a 2 hour block).
In November 2008, Radio Disney moved their headquarters from Dallas, Texas to Burbank, California. In June 2009, Radio Disney again increased the maximum age for winning prizes, this time to 16 years of age.
In January 2010, Radio Disney requested permission from the FCC to "silence" five owned-and-operated stations (plus a sixth station operating under an LMA to another company) while the stations were being sold. Sale agreements have been announced for two of the stations (as of January 28, 2010).
Disney launched Radio Disney's new website design in October 2012. The new website is a very, very simplified version of the old website, eliminating many of the old Radio Disney website features. The new site has a player that automatically starts the Radio Disney stream, along with a list for the Dot Com Top 3, and a simple request list, all on the home page. The only other pages on the new website include an about/help page, and an EEO page for the stations.
On December 3, 2020, it was announced Radio Disney would shut down in early 2021 after 25 years of operation, to focus more on the content for the Disney channels and Disney+.[citation needed] In January 2021, listening on the Radio Disney website was discontinued. In March 2021, it was removed from its last official online source, iHeartRadio; however, it was still broadcasting on its last terrestrial radio station KRDC 1110 AM in Los Angeles. It could also be heard unofficially through WebSDR.org receiver KJ6EO in Santa Clarita, California. On April 14, 2021 at 10 AM PT, KRDC's format was changed to a simulcast of ESPN Radio affiliate KSPN 710 AM, quietly ending Radio Disney in the United States after nearly 25 years. Before the station was switched to ESPN Radio, the final songs it played were "Just the Girl" by The Click Five and "Unwritten" by Natasha Bedingfield.