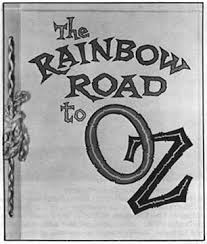 Rainbow Road to Oz was a proposed, but never finished, Walt Disney Studios live-action film about characters in the Land of Oz. Inspired by L. Frank Baum's Oz books, it was to have starred some of the Mouseketeers, including Darlene Gillespie as Dorothy, Annette Funicello as Ozma, Bobby Burgess as the Scarecrow, Tommy Kirk as the villainous son of the Wicked Witch of the West, Doreen Tracey as Scraps the Patchwork Girl, and Kevin Corcoran.
Preview segments from the film aired on September 11, 1957 on Disneyland's fourth anniversary show. MGM's The Wizard of Oz had been shown on CBS Television for the first time on November 3, 1956.
Theories on why the film was abandoned include Disney's failure to develop a satisfactory script and the popularity of the MGM one on television which represented potential insurmountable comparisons. They ultimately replaced it with a new adaptation of Babes in Toyland.
Gallery
Concept Art
Community content is available under
CC-BY-SA
unless otherwise noted.