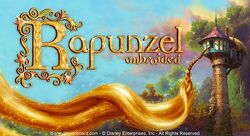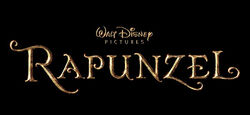 Rapunzel Unbraided (later titled Rapunzel) was the former version of Tangled before it was halted and drastically overhauled. The film would have originally been directed by Glen Keane with the intent to make a film that mirrored the classic Disney animated fairy tales such as Snow White and the Seven Dwarfs, Cinderella and Sleeping Beauty. Two radically different versions exist: a semi-modern farce akin to Shrek and dark and gothic fairy tale closer to the final film.
Plot
Rapunzel Unbraided
An evil witch named Lucretia despised fairy tale happy endings and plotted to change all that. Meanwhile in modern day San Francisco, Claire and Vince are two vastly opposite teenagers who cannot stand one another. Claire is a short haired, fashion obsessed teen who was concerned with her looks. Vince is a stocky and crude pizza delivery boy on hard times. The two of them get on each other's nerves which gets the attention of Lucretia in the fairy tale realm. Lucretia takes Rapunzel and her prince Beau and transforms them into a squirrel and dog, respectively, while Claire and Vince find themselves filling their roles. Claire and Vince eventually team up with Rapunzel and Beau to defeat Lucretia and return to their respective places in time.
Rapunzel
Not much is known about the plot except that it was closer to the final film and that it would have been darker in the vein of The Hunchback of Notre Dame. Rapunzel was back to being the lead, but was now a mostly quiet character with limited speech. Mother Gothel was a much more subtle villain with a sinister edge to her. Beau the dog became the sidekick to Bastion an orphaned young man who is forced into a life of thievery. He worked for a man named Griffol who has been keeping the kingdom of Corona in a state of war since Rapunzel's kidnapping. Bastion finds the tower that Rapunzel has been kept in and form a bond together. Rapunzel would have spent the majority of the film in the tower; only coming down about the last quarter of the film. Gothel's fate would have been the same as in the final film.
Cast
Development
To be added[1]
Gallery
Rapunzel Unbraided
Rapunzel
References
Community content is available under
CC-BY-SA
unless otherwise noted.