Rayna Jane Cartflight is Maggie's best friend from The Buzz on Maggie. She is voiced by Cree Summer.
Life style
Personality
Rayna is a pretty smart student at Buzzdale Academy.[2] She's also fashionable and very perky.[2] Unlike Maggie's selfish plans, Rayna's are nearly impossible to perform.
Appearance
Rayna has a big pair of yellow cat-eye glasses, a horizontal-striped shirt and a green skirt. Her hair is dark blue.
Family
Rayna's family is unknown, only her mother appears in a few episodes. It is unknown if she has any siblings.
Absents
Episodes Rayna did not appear in
Trivia
Her name is pronounced like reina, the Spanish word for queen.
Gallery
References
↑ Episode 4a: "Lunchlady"
v - e - d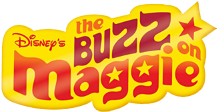 Locations
Stickyfeet • Buzzdale Academy • Forest • Wolfred's Lair • Stickyfeet City Hall
Songs
Just the Way I Am • You're Right to My Heart • Tony the Tick • Born to Be Wild • She's the Queen of Rock and Roll • Good Morning • Whatever You Can Take • The Phony Queen of U.S.A. • That's the Way Bugs Will Be Healed • I Want Candy • Pupie Called a Girl in Love • Beautiful Dreamer • Clean Up Your Act • We Are the Pirates of Bugzance • Brace Yourself • No Buggy Else But You • Labor Day in Stickyfeet • That's the Way We Say 'Oh, My Bug' • We Are the Weasels • The Stickyfeet Anthem • Stickyfeet is Doomed • Blacky's Rap • The Lion Sleeps Tonight • Proud of Your Girl • Christmas in Stickyfeet • Stand By Me • Roché! Roché! Roché! • Here We Go Again • The Bugtastic Day of My Life • A Bug is in Deed • Be Careful What You Wish For • You Know I Will • Wolves Over Bugs • The End is Here! • I Want a Chance • I'm Proud to Be A Star • Dance Like An African
Community content is available under
CC-BY-SA
unless otherwise noted.