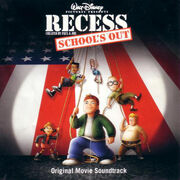 The soundtrack Recess: School's Out was released on CD and cassette on January 23, 2001 by Walt Disney Records, less than a month before Recess: School's Out was released in theaters on February 16, 2001. The soundtrack is mainly comprised of hits songs from the 1960s, as well as two covers played in the credits and a piece of the instrumental score.
Track Listing
"Dancing in the Street" - Martha and the Vandellas
"Born to Be Wild" - Steppenwolf
"One" - Three Dog Night
"Incense and Peppermints" - Strawberry Alarm Clock
"Wipeout" - The Sufaris
"Purple Haze" - Jimi Hendrix
"Nobody But Me" - The Human Beinz
"Let the Sunshine In" - The Fifth Dimension
"Green Tambourine" - Robert Goulet (As Mikey Blumberg)
"Recess Suite" (Instrumental) - Denis M. Hannigan and Hans Zimmer
"Dancing in the Street" - Myra
Trivia
On the UK version of the soundtrack, Myra's "Dancing in the Street" cover is replaced with a cover of the same song by Atomic Kitten. Their version of the song also played in the credits of the UK release rather than Myra's version.
"Purple Haze" by Jimi Hendrix was played briefly in the film, but included on the soundtrack.
"Theme from S.W.A.T." was also played in the film and in the theatrical trailer, but was not included on the soundtrack.
While the soundtrack includes the original version of "Wipe Out", the film uses a different arrangement from series composer Denis M. Hannigan.
"We Are Family" by Sister Sledge was used in commercials advertising the film's VHS and DVD releases, however, it was not used in the film or included on the soundtrack.