"Return of the Dark Mask of Phantom Blackness" is the second segment of the tenth episode of The Shnookums and Meat Funny Cartoon Show.
Synopsis
Dr. Paul Bunion enlarges a lizard to gigantic size in a plot to uproot the trees in Possum City.
Trivia
Final appearances of Doris Deer and Lieutenant Tension.
In the opening shot of the episode, Kopp's Restaurant (or Residence) is named after Bill Kopp and Jeffy's Pub is named after Jeff DeGrandis. In fact, both men produced this episode together.
v - e - d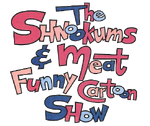 Characters
Shnookums and Meat • Toulouse • Pith Possum • Doris Deer • Obediah the Wonder Raccoon • Commissioner Stress • Lieutenant Tension • Dr. Paul Bunion • Easter Bunny Impostor • Shirley Pimple • Tex Tinstar • Smelly Deputy Chafe • Percy Lacedaisy • Floyd the Insane Rattlesnake • Wrongo • Ian and Clem • Krusty Rustknuckle
Community content is available under
CC-BY-SA
unless otherwise noted.