"Return of the Night of Blacker Darkness" is the second segment of the fifth episode of The Shnookums and Meat Funny Cartoon Show.
Synopsis
In a plot to discredit Pith Possum and Obediah, Ralph Bear and Al Dog pose as them and go on a crime spree, even kidnapping Doris Deer. Now Pith Possum and Obediah must rescue Doris Deer and clear their names.
v - e - d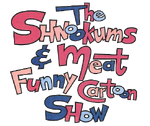 Characters
Shnookums and Meat • Toulouse • Pith Possum • Doris Deer • Obediah the Wonder Raccoon • Commissioner Stress • Lieutenant Tension • Dr. Paul Bunion • Easter Bunny Impostor • Shirley Pimple • Tex Tinstar • Smelly Deputy Chafe • Percy Lacedaisy • Floyd the Insane Rattlesnake • Wrongo • Ian and Clem • Krusty Rustknuckle
Community content is available under
CC-BY-SA
unless otherwise noted.