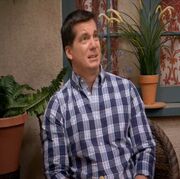 Rick Stewart is the husband of Kelly and father of Darcy. He's portrayed by D.C. Douglas.
Character Description
Rick and Kelly are the best friends of Ellen Jennings and Bennett James.
Rick and Kelly brought their daughter to help them bring their girls closer together by pretending to end their friendship with Ellen and Bennett.