Rippen is the main antagonist of Penn Zero: Part-Time Hero. He is an art teacher at Middleburg Central High and a part-time villain.[2]
Background
Personality
Rippen is diabolical, menacing, and calculating. He is willing to use underhanded tactics to achieve his goals, like destroying Penn's MUHU if Penn doesn't turn the sleigh around in "North Pole Down". His main ambition is to become a full-time villain, and he'll do whatever it takes to achieve it, even desiring to get rid of Penn once and for all. Being very serious, Rippen gets easily annoyed with Larry's antics and anything that goes wrong. He is also short-tempered, quickly losing his patience and cool demeanor when his plans are threatened.
Physical appearance
Rippen is a tall and muscular humanoid with pale green skin. He has black hair with several greenish-gray streaks, along with a goatee, and he has red eyes and pointed ears. He wears a dark gray business suit with light gray sleeve ends and collar, a red tie, black pants with a black belt, and black shoes. When he's being an art teacher, he wears a gold-colored apron with paint smears and pockets to hold art supplies. He has a long devil-like tail hidden under his clothes.
Relationships
In "North Pole Down", Rippen describes Larry as the most loyal yet least evil minion ever. Rippen is often annoyed with Larry's cheerfulness and bubbly personality. Rippen dislikes listening to Larry's ramblings and has a lot of impatience with Larry's mistakes.
Rippen despises Penn and his interference with his evil schemes. He has no issues against annihilating Penn so that he'll stop ruining his plans.
Believing Boone to be an incompetent fool, Rippen doesn't consider him much of a threat. However, Boone, like a genie in "The Fast and the Floor Rugs", tricks Rippen out of two of his wishes and from destroying Penn, much to Rippen's fury.
Rippen describes Sashi as a competent one. He finds her as a serious threat, though his hatred for Penn runs deeper.
Vlurgen is Rippen's sister, whom Rippen despises for always getting better things than him. The reason he turned to villainy is because he wants to prove himself to be better than her.
Rippen finds Lady Starblaster very attractive for her looks, attitude, and evil demeanor. Instead of being displeased when he finds out she has been using him to get rid of the heroes in the episode of the same name, he admits he is even more in love with her because of it.
Trivia
In "The Princess Most Fair", Larry reveals that Rippen sleeps with a stuffed poodle named Freddy.
In "Zap One", he reveals to Penn that he is responsible for trapping his parents in the Most Dangerous World Imaginable.
In "Mr. Rippen", it is revealed that Rippen is actually an alien who was brought to Earth by Phil.
Gallery
References
v - e - d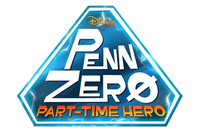 Locations
Middleburg • Middleburg Central High • The Odyssey • Fish Stick on a Stick • North Pole • Knight World • Superhero World • Arabian World • Plush Toy World • Clown World • Dinosaur Cowboy World • Cereal World • Old English World • Giant Monster World • Zombie World • Space World • Ocean World • Color World • Musical Fairy Tale World • Caveman Spy World • Future Barbarian World • Ultrahyperball World • Demon World • Alien World • Galaxy World • Temple World • Dragon World • Gothic Mystery World • Plant World • Animal Barbarian World • Toy World • Outer Space Court World • Robot World • Pirate World • Fairymania World • Steampunk World • Ball World • Ghost World • Rock, Paper, Scissor World • Beast World • Anime World • Sitcom World • Nothingness • Most Dangerous World Imaginable • Least Dangerous World Imaginable
Objects
Multi-Universe Hologram Uplink • Multi-Universe Transprojector • Pigoilet • The QPC Unit • Vortex Tops • Specs
Community content is available under
CC-BY-SA
unless otherwise noted.