Wiki Targeted (Entertainment)
Play Sound
"Road Trips & Reunions" is the first episode of the third season of the sitcom Austin & Ally. It aired on October 27, 2013.
Synopsis
Ally is having trouble finishing her songs and video chats her friends. Since Ally decided not to go on tour with her friends, she reunites with them by joining them for a few days until her meeting with Ronnie Ramone. However, things go wrong when Ally takes a plane to Portland, Maine, and Austin, Trish, and Dez are in Portland, Oregon. Later that night, Austin sleepily goes to the bathroom at a Washington rest stop and gets on the wrong tour bus with a group of screaming Buttercup Girls. Ally meets up with Trish and Dez in Washington, and they soon find out that Austin is missing. When they try to see each other again, Austin ends up in Washington, DC, while Ally is in Seattle, Washington. At Austin's Seattle concert, Austin finally arrives to see Ally and hugs her. Ally then decides to stay with Austin on tour because he is her inspiration and she writes better songs with him.
v - e -

d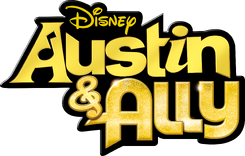 Songs
"Can't Do it Without You" • "Double Take" • "Break Down the Walls" • "A Billion Hits" • "Not a Love Song" • "It's Me, It's You" • "The Butterfly Song" • "Trash Talka" • "Better Together" • "You Don't See Me" • "Heard it on the Radio" • "Heart Beat" • "Na Na Na (The Summer Song)" • "The Way That You Do" • "Illusion" • "Don't Look Down" • "Who I Am" • "Got It 2" • "Christmas Soul" • "Can You Feel It" • "Face to Face" • "No Ordinary Day" • "You Can Come to Me" • "I Think About You" • "Finally Me" • "The Ally Way" • "Steal Your Heart" • "Timeless" • "Living in the Moment" • "I Got That Rock and Roll" • "The Me That You Don't See" • "Better Than This" • "Chasin' the Beat of My Heart" • "You Wish You Were Me" • "Redial" • "I Love Christmas" • "Austin & Ally Glee Club Mash Up" • "Who U R" • "Upside Down" • "Stuck on You" • "Me and You" • "What We're About" • "Look Out" • "Superhero" • "Parachute" • "No Place Like Home" • "Play My Song" • "Dance Like Nobody's Watching" • "Take it from the Top" • "Jump Back, Kiss Yourself" • "Perfect Christmas" • "You've Got a Friend" • "Two in a Million"