"Robo-Wolf" is the second segment of the 17th Season 4 episode of PJ Masks.
Synopis
The Wolfies find themselves in for more than they bargained for after they get a robotic servant. [1]
Cast
Cast
Plot
It's night, and the Wolfy Kids are hanging out in the park. Rip and Howler order Kevin to fetch them a midnight snack, but when Kevin returns with some bones, he drops them. Rip and Howler are annoyed at Kevin's clumsiness, and wonder why he can't be more like PJ Robot.
The following day, Connor, Amaya and Greg notice their trash can, bike and Lionel's cardboard playhouse are gone. They spot some footprints left by the Wolfies, and conclude they stole these items. That night, they transform into the PJ Masks and go to HQ. With the picture player, they soon locate the Wolfies. Kevin is attempting to build a robot from the stolen items, but his creation, nicknamed Fred, ends up being just a toy that can't even move on its own. The PJs deem it harmless and not worth their time, which upsets PJ Robot.
The Wolfies are not giving up on their plan however, and decide to steal extra parts for their robot from Romeo's Sky Factory. Rip and Howler use a catapult to launch Kevin onto the Sky Factory. PJ Robot notices this and warns the PJs, who take the Owl-Glider to pursuit Kevin. On board the factory. Romeo demonstrates his latest invention: a new Robot Controller that he can use to make Robot do whatever he wants. Kevin realizes this controller is what they need for Fred and steals the remote. Robot catches him in the act, and chases after Kevin when he leaves the Sky Factory with the remote. Once they are gone, the PJs enter the factory. Romeo accuses them of having stolen his controller, and plans to use his Truth Ray on them.
While Romeo interrogates the PJs with little success (the ray only makes them confess secrets that are of no importance to him), Kevin tries the stolen remote on Fred, but it fails to work. Then Robot catches up with the Wolfies and tries to capture them. The Wolfies panic, until they figure out the remote works on Robot. They end up fighting over who gets to use it first, and in the struggle accidentally cause Robot to bump his head against a tree. This resets him, and upon seeing the Wolfy Kids, he changes his default mode to Robo-Wolf. Rip and Howler happily welcome the new Robo-Wolf in their group and ditch Kevin.
PJ Robot sneaks into the factory and frees the PJs. He then alerts them to the fact that Robot now works for the Wolfies. The PJs immediately set out to stop them, again ignoring PJ Robot. Howler, Rip and Robot are currently in the museum, wrecking the place. When Robot spots a painting of a wolf howling at the moon, he again changes his default function, this time to Full Wolfy. He breaks the Controller and goes on a rampage. Gekko reaches the museum first and confronts Robot, who attacks him. Gekko is saved by PJ Robot. He finally notices how upset PJ Robot is, and realizes they forgot to thank him for all his help. There's no time to fix that now, since Robot is still out of control. He makes a dinosaur skeleton collapse on top of Gekko, Rip and Howler, and unleashes a sonic howl on them. PJ Robot quickly uses an antique bowl to reflect the howl back at Robot, knocking him down. When Robot gets back up for another attack, Kevin arrives and uses Fred to trip Robot. Robot hits his head on the floor, and once more changes function, now back to normal.
Rip and Howler welcome Kevin back in the group now that he saved them. Owlette and Catboy finally arrive at the museum, and Gekko proudly proclaims PJ Robot to be the hero that saved everyone. Owlette and Catboy also give PJ Robot his long due credit. Romeo arrives to get Robot back, and is naturally angry when he learns his Controller is broken. As Romeo and Robot return to the Sky Factory, the PJs shout their victory cry, with slightly altered dialogue to credit PJ Robot.
Trivia
Kevin enters the Sky Factory for the first time.
Robot becomes a wolf for the first time.
In this episode, Romeo introduces the Truth Ray.

Romeo also makes a new Robot Controller for Robot.
References
External Links
Robo-Wolf, PJ Masks Wiki | Fandom
v - e -

d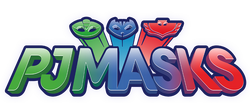 Shorts
"

Super Cat Speed

" • "

Super Gekko Muscles

"