"Rockullan, Papyron, Scissorian" is the ninth episode of the second season of Penn Zero: Part-Time Hero. It premiered on July 17, 2017.
Synopsis
In a world that is a Rock, Paper and Scissor version of Game of Thrones, Penn's team find themselves caught in a siege by the Scissorian army.
Trivia
This episode title is base on a game call rock, paper scissors.
This episode is base on the TV show: Game of Thrones.
It reveals that Sashi and Jhoanne do boba tea every Wednesday.
v - e - d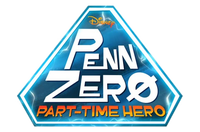 Locations
Middleburg • Middleburg Central High • The Odyssey • Fish Stick on a Stick • North Pole • Knight World • Superhero World • Arabian World • Plush Toy World • Clown World • Dinosaur Cowboy World • Cereal World • Old English World • Giant Monster World • Zombie World • Space World • Ocean World • Color World • Musical Fairy Tale World • Caveman Spy World • Future Barbarian World • Ultrahyperball World • Demon World • Alien World • Galaxy World • Temple World • Dragon World • Gothic Mystery World • Plant World • Animal Barbarian World • Toy World • Outer Space Court World • Robot World • Pirate World • Fairymania World • Steampunk World • Ball World • Ghost World • Rock, Paper, Scissor World • Beast World • Anime World • Sitcom World • Nothingness • Most Dangerous World Imaginable • Least Dangerous World Imaginable
Objects
Multi-Universe Hologram Uplink • Multi-Universe Transprojector • Pigoilet • The QPC Unit • Vortex Tops • Specs