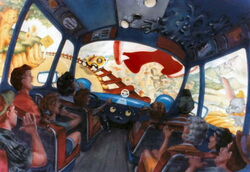 Roger Rabbit's Hollywood, sometimes known as Maroon Studios (named after the cartoon studio featured in the 1988 film Who Framed Roger Rabbit), would have been a mini-land based around Roger Rabbit and the other inhabitants of Toontown. In some versions, it was an entirely new area of Disney's Hollywood Studios whereas other concepts placed it at the far end of Sunset Boulevard (in the space where Rock 'n' Roller Coaster now resides).
Planned at the height of Roger's popularity, a New York Times article described the land--"This will be a kind of Toontown, where - as in the movie - only cartoon characters may live." It would look like the cartoon studio buildings featured in the film with all the cartoon peculiarities like boxes of TNT, grand pianos hanging above the sidewalk and Roger-shaped holes in the walls.
Adjacent to the Red Car Trolleys that were planned for the expanded Sunset Boulevard, the Terminal Bar would have been a recreation of the bar from the film, transformed into a working eatery.
Inside the studio, guests would have had a choice of three planned attractions--Toontown Trolley (a simulator ride through Toontown with Roger as the guests' guide), Benny the Cab (a dark ride that later evolved into Roger Rabbit's Car Toon Spin), and Baby Herman's Runaway Baby Buggy Ride (a ride based on the short Tummy Trouble).
Unfortunately, Disney and Amblin Entertainment (Steven Spielberg's company that co-financed the film) got into an argument over the rights to the character. No new films were produced and the popularity of the character waned, decreasing the desire for a Roger Rabbit attraction.
Although the east coast Roger Rabbit attractions were never built, Disney did build Roger Rabbit's Car Toon Spin at Disneyland and Tokyo Disneyland.
Community content is available under
CC-BY-SA
unless otherwise noted.