Roo is a character in the Winnie The Pooh franchise. He is a stuffed joey belonging to Christopher Robin who first appeared in Winnie the Pooh and the Honey Tree. He is the playful and spirited son of Kanga and the best friend of Tigger and Lumpy.
Background
Piglet's Big Movie suggests that Roo and his mother, Kanga, are the most recent residents of the Hundred Acre Wood. They live in a tree house where they have a conjoined mailbox. Roo is, unsurprisingly, the youngest member of Winnie the Pooh's circle of friends. The earliest Pooh shorts, such as Winnie the Pooh and the Blustery Day and Winnie the Pooh and Tigger Too, portray Roo as a toddler that spends most of his time tucked inside his mother's pouch. The earlier shorts also depict Roo as still learning to speak, as he was unable to pronounce Christopher Robin's name. More modern Pooh media depict Roo as slightly older and more proactive. He rarely spends time in his mother's pouch and will often take part in the shenanigans of Pooh and friends without Kanga's involvement.
Roo's youthful and energetic personality (as well as his natural love of bouncing) makes him the perfect companion for Tigger, with whom Roo shares a relationship akin to two siblings. However, his young age sometimes prevents him from tagging along on Pooh's adventures (mainly because Rabbit and even Tigger believes Roo's too young for certain expeditions). When not with Tigger or Kanga, Roo spends his free time with Dexter, Owl's cousin. Since Lumpy's introduction, he and Roo have been portrayed as best friends and spend most of their time together.
Personality
Roo takes after Tigger in that he is spirited and adventurous. He acts his age, being curious and energetic. He is also optimistic and fearless; when he and Tigger were stuck atop a tall tree, Roo remained calm and upbeat throughout the entire ordeal while Tigger was petrified. Another example is the time Roo was caught in a river. Rather than panicking, he remained happy-go-lucky, despite how worried the adults were. His fearlessness also drives him to be daring and even a little rebellious. Roo was the most excited to catch a Heffalump in Pooh's Heffalump Movie and scoffed at the idea that such a mission would be too dangerous for him to handle. When Rabbit forbade him for tagging along, Roo ventured into Heffalump Hallow anyway.
Roo is rather wise for his age, at times. He was initially afraid of Heffalumps due to the legends he had heard from the adults around him but was open to the prospect of a Heffalump being just as harmless and friendly as the Hundred Acre Woods residents. Roo was, in fact, the first member of the Hundred Acre Woods to befriend a Heffalump, which kickstarted a mutual understanding between Heffalumps and the Hundred Acre Woods gang.
Physical appearance
Roo is a joey whose height is similar to Piglet's. Roo has light brown fur and an upturned tail. He has beady black eyes and thin eyebrows. He also has a small nose and black mouth. His only attire is a sky blue long-sleeved T-shirt that he wears all the time. Finally, Roo sports two strands of black hair on the top of his head. The inside of his ears is light pink and he has pink pads on the bottoms of his feet.
Film appearances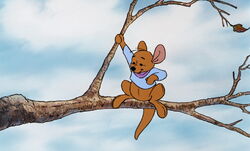 Roo makes minor appearances in the first two segments of the film. In Winnie the Pooh and the Honey Tree, he is first seen with his mother Kanga, as they are watching Christopher Robin fix Eeyore's tail. Roo is delighted when the tail is fixed properly. Later on, he assists in Pooh's removal from Rabbit's door, at the very end of the line pulling Eeyore's tail, but accidentally ends up pulling it off, when Gopher comes along to help Roo.
In Winnie the Pooh and the Blustery Day, Roo is seen momentarily with Kanga. They both see Piglet being blown like a kite by the wind, with Pooh holding on to Piglet by his unraveled scarf. Roo asks to fly Piglet after Pooh is finished. During the flood, Roo travels to Christopher Robin's house with Kanga and Tigger. There, Roo is the one to discover the bottle containing Piglet's message.
Roo has a larger role in the third segment, Winnie the Pooh and Tigger Too. During wintertime, Roo goes to play in the snow with Tigger. At one point, Tigger and Roo bounce up a tree. Unfortunately, Tigger discovers his fear of heights and remains trapped. Christopher Robin, Kanga, and other animals come to the aid of the pair. Roo jumps down and lands on Christopher Robin's coat, which they were using as a net. But Tigger is only about to come down with some assistance from the narrator, after which Tigger promises never to bounce again. On the ground, Rabbit holds Tigger to his promise but reneges after Roo notes how much he likes the bouncy Tigger.
Roo first appears playing Pooh Sticks with Pooh, Piglet, and Rabbit. They find Eeyore drifting away in the river, but are able to save him. When Tigger is accused of bouncing Eeyore into the water, Roo doesn't pay it much thought, only hoping to play with Tigger. Later on, Roo is present at Eeyore's birthday party, and lastly during the Pooh Sticks game with all the Hundred Acre Wood gang. When Kanga tells Roo that it is time to go home, the latter tries to protest by claiming he is not sleepy (while yawning as he does).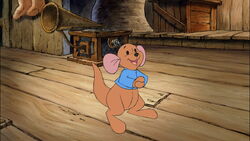 In this film as the deuteragonist, Tigger longs to find his relatives and Roo decides to join him on his search. At Tigger's tree house, the duo uncovers a locket that Tigger believes was given to one of his family members. With high hopes, Tigger and Roo send a letter inviting the other Tiggers to a family reunion in the Hundred Acre Woods. Soon enough, the letter is never replied to, and Roo heads home. That night, Roo tells his mother of the event and they decide to write a family oriented letter to Tigger. When he received the letter, Tigger thought it was from his actual family and becomes overjoyed after believing they are making their way for a visit. Roo and the others then pose themselves as Tiggers but the charade is revealed when Roo attempts to perform the famous Whoop-de-Dooper Loop-de-Looper Alley-Ooper Bounce. Heartbroken, Tigger leaves the Hundred Acre Woods to find his relatives. Roo, Pooh, Piglet, Rabbit, and Eeyore set off in a blizzard to find Tigger and bring him home. After an avalanche, Christopher Robin explains that Roo and the others are Tigger's real family. Tigger is pleased with the realization and even deems Roo his little brother, giving him the Tigger family locket as a gift.
In this film, Piglet leaves the Hundred Acre Woods, feeling out of place because of his diminutive size. Roo and the others then head out to find him, using the pictures in Piglet's scrapbook as a map. While searching, each picture brings a fond memory that reminds the friends of how heroic Piglet is. One memory goes back to when Roo was being dragged away by a river, only to be saved by Piglet, though Pooh was the one that received the credit. At one point during the search, Tigger and Rabbit engage in an argument, resulting in the book being dropped into the river and drifted away. Roo and the others head back home for a moment but become inspired to run back out to try again. Pooh spots the book on the log over a waterfall and attempts to retrieve it. The bear nearly falls until Piglet arrives. The friends reunite, and Piglet is deemed a hero.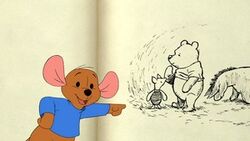 Roo stars in his own movie as the protagonist. In the film, Roo, along with his friends is excited about Easter, which is fast approaching. However, Rabbit has decided to replace the day with Spring Cleaning Day, which he made up. While cleaning Rabbit's home, Roo finds Easter decorations and throws a surprise Easter Party, but Rabbit is upset. Roo resolves to try to cheer Rabbit up. Later on, they learn from Tigger, who had spoken with Rabbit, that Rabbit had become upset after last year's celebration. When the friends wanted a fun Easter, rather than the orderly one Rabbit had planned, they had chosen Tigger to be the Easter Bunny over Rabbit. Roo wants Rabbit to be happy, and so he and the others try to make a plan to cheer Rabbit up. They begin to work, when Rabbit comes in, having had a change of heart, and Easter goes on as planned. In the film, he acted as Tiny Tim from The Christmas Carol.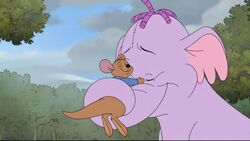 Roo is the protagonist in this film. Here, Rabbit, Tigger, Piglet, Pooh, and Eeyore head off on the very first Heffalump Expedition. However, Roo is excluded because he is too young. After the gang heads off into Heffalump Hollow, Roo decides to head in to catch a Heffalump himself, proving to be a hero. Instead, he meets and befriends a young Heffalump named Lumpy. The two become very close but Lumpy is soon enough ambushed by Tigger, Rabbit, Piglet, and Pooh, who think Roo is being attacked. Lumpy gets caught in a Heffalump trap but Roo frees him. Lumpy then departs the scene but Roo ends up trapped in a thicket made of trees. Lumpy quickly calls his mother for help and the large Heffalump succeeds to vacuum up Roo with her trunk. Thanks to the friendship of Lumpy and Roo, the Heffalumps make peace with Pooh and the others.
Roo plays a supporting role in the this last animated feature. He is more often seen in his mother's pouch. He was first seen with his mother, receiving a message from Pooh about an important meeting to take place. There, Roo and his friends learn that Eeyore's tail is missing and a prize is to be distributed to the one that can find it, or a substitute. Roo suggests a firecracker as the prize but the rest of the gang decide on honey. At Owl's house, Owl tries to interpret a note left by Christopher Robin and Roo openly questions the fact if Owl can or not. Eventually, Owl deduces that Christopher Robin was kidnapped by a creature called the Backson. The others are curious to know what the beast looks like, and Roo provides some chalk for Owl to draw it. Roo and his mother join the rest of the gang on an expedition hunt for the beast. Roo uses his crayons and toys as bait to lure the creature into a deep pit. Later on, something is caught in the pit and Rabbit, Kanga, and Owl argues about who should check until Roo suggests Piglet. It is revealed that Pooh is trapped, and soon enough, the rest of the gang is as well. Once they escape, Christopher Robin appears, explaining that he was only at school. When Pooh finally finds Eeyore's actual tail, Roo and the others reward him with an oversized jar of honey.
In the beginning, Roo is seen celebrating Christopher Robin's good-bye party with his mother and friends. Roo eats some of the cake that Christopher baked for everyone and bounces with Tigger before passing out, sleeping in Kanga's arms. Years later, Roo and his friends mysteriously disappear due to Owl's broken weather vane making a scary noise which caused Roo and the others to think that a Heffalump is nearby. This prompts Pooh to reunite with a grown-up Christopher Robin where he returns to the Hundred Acre Wood for the first time in years. However, Roo and the others don't recognize Christopher, thinking he is a Heffalump. It is Roo who convinces Christopher to prove to them that he is their friend which he manages to successfully do by pretending to defeat a Heffalump. Roo embraces Christopher and reassures him that he'll find Pooh somewhere after the two had an argument earlier on. This gives Christopher the realization where Pooh is and meets him at their usual spot where the two reconcile.
The next morning, when Christopher realizes he's late for work and says his daughter is important to him, Roo asks why she isn't with him if she is so important to him. At the end of film, Roo meets Christopher Robin's daughter Madeline (whom he takes a liking to) and wife Evelyn. As Roo and his friends enjoy a picnic together, Roo starts to bounce with Tigger and Madeline.
Television appearances
In this series, Roo was represented by a standard puppet, unlike the other characters who were played by humans in adult-sized puppet costumes. In early episodes, Roo is a toddler and is usually seen either in Kanga's pouch, a high chair or on the back of Eeyore or Tigger. In later episodes, he appears to be preschool age and walked around more. He shares a song with Tigger called "Be a Buddy, Be a Pal".
Roo is a secondary character in the animated series. He features prominently in the episodes "The Old Switcheroo" and "The Bug Stops Here". In "The Old Switcheroo", Roo is trying to avoid a bath, so Tigger switches him with Piglet. However, Kanga believes that Roo is merely acting like Piglet. In "The Bug Stops Here", Roo, along with Owl's young Cousin Dexter, is being babysat by Pooh. Pooh takes the pair to see Christopher Robin, who shows them his science project, a bug. When the bug disappears, Roo must help Pooh and Dexter find a new bug.
Roo is a semi-regular character and featured in a number of stories. In one installment, he makes up his own dance, "The Roo", featured in the song "Do the Roo". In another story, he is sick in bed and dreams of being a cowboy in the song "Call Me Buck-a-Roo".
Roo plays a supporting role in the series, often seen alongside Lumpy. Together, Lumpy and Roo often partake in their own adventures and occasionally joins the Super Sleuths in their mysteries. One installment, "How to Say I Love Roo" focuses on Roo trying to find an "I Love You Day" gift for his mom, Kanga. In another installment, "Roo's Pebble in the Pond", Roo learns that even small acts of kindness can have a big effect.
Other shows
Roo is seen as a guest in House of Mouse, usually in Kanga's pouch. Roo was also present during "The Ludwig Von Drake Song" and in Mickey's Magical Christmas: Snowed in at the House of Mouse.
Video games
Roo makes an appearance in the game. Near the end, Kanga asked Tigger to find Roo after he got lost inside the crystal cave.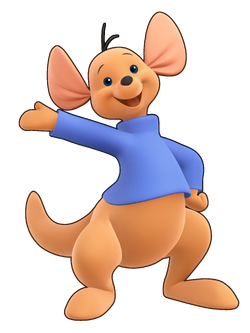 Roo appears in many of the mini-games in the 100 Acre Wood. The games he shows up in are Tigger's Giant Pot, Pooh's Muddy Path, Balloon Bounce, and The Exposition. In Kingdom Hearts, he is a big help in the Bouncing Spot page area where he helps Sora by catapulting him into the trees to get special items or Rare Nuts for Owl and he helps Sora by giving advice with Tigger's challenges.
In Kingdom Hearts, Roo is one of Pooh's friends that he is looking for.
In Kingdom Hearts: Chain of Memories, Roo is one of Pooh's friends that must be found for Sora to complete the 100 Acre Wood.
In Kingdom Hearts II, Roo is seen with Kanga and Tigger and also helps Sora with the others find Pooh in the Spooky Cave. He is also seen when Sora says goodbye to the gang.
Roo appears in Kingdom Hearts III, alongside Lumpy. They meet Sora again, and prepare for a festival.
Roo appears in the Many Adventures of Winnie the Pooh mini-game. In the story, Roo and the others are planning a surprise birthday party for Pooh bear and ask the player for help.
Roo makes rare appearances in the Disney theme parks, inside the pouch of his mother. The character is almost exclusive to parades, though a walkaround version has appeared in Disney Live! productions.
In terms of likeness, Roo is seen in a number of Winnie the Pooh-related merchandise, as well as The Many Adventures of Winnie the Pooh attraction in Disneyland, Magic Kingdom, Hong Kong Disneyland, and Shanghai Disneyland.
Roo can be spotted in Kanga's pouch in the Magic Kingdom's seasonal Mickey's Once Upon a Christmastime Parade. Roo has also appeared inside his mother's pouch during the Halloween season and has even made rare meet-and-greet appearances during this time.
In Tokyo Disneyland, Roo makes several appearances in the attraction Pooh's Hunny Hunt.
In France, Roo made a live appearance inside his mother's pouch in Winnie the Pooh and Friends, too!.
Gallery
References
v - e - d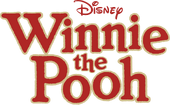 Songs
Movie Songs
Winnie the Pooh and the Honey Tree: "Winnie the Pooh" • "Up, Down, Touch the Ground" • "Rumbly in My Tumbly" • "Little Black Rain Cloud" • "Mind Over Matter"
Winnie the Pooh and the Blustery Day: "A Rather Blustery Day" • "The Wonderful Thing About Tiggers" • "Heffalumps and Woozles" • "Rain, Rain, Rain Came Down, Down, Down" • "Hip-Hip-Hooray!"
Boo to You Too! Winnie the Pooh: "I Am Not Afraid" • "I Wanna Scare Myself"
Pooh's Grand Adventure: The Search for Christopher Robin: "Forever & Ever" • "Adventure is a Wonderful Thing" • "If It Says So" • "Wherever You Are" • "Everything is Right"
A Winnie the Pooh Thanksgiving: "Hooray, Hooray!" • "Berrily We Roll Along" • "Our Thanksgiving Day" •
Winnie the Pooh: Seasons of Giving: "Seasons of Giving"
The Many Songs of Winnie the Pooh: "It Really Was a Woozle, Yes it Was"
Sing a Song with Pooh Bear: "Kanga Roo Hop" • "Harvest What You Grow" • "My Song"
Winnie the Pooh: A Valentine for You: "Girls are Like Boys" • "When the Love Bug Bites" • "Places in the Heart"
Winnie the Pooh: A Very Merry Pooh Year: "Jingle Bells" • "Snow Snows" • "Happy Pooh Year" • "Hunny, No Not For Me" • "Auld Lang Syne"
The Tigger Movie: "Someone Like Me" • "Whoop-de-Dooper Bounce" • "Lull-a-Bee" • "Round My Family Tree" • "How to Be a Tigger" • "Your Heart Will Lead You Home"
Piglet's Big Movie: "If I Wasn't So Small" • "A Mother's Intuition" • "With a Few Good Friends" • "Sing-Ho (For the Life of a Bear)" • "The More It Snows (Tiddely-Pom)" • "The More I Look Inside" • "Comforting to Know"
Springtime With Roo: "We're Huntin' Eggs Today" • "Sniffley Sniff" • "Easter Day With You" • "The Way It Must Be Done"
Pooh's Heffalump Movie: "Little Mr. Roo" • "The Horribly Hazardous Heffalumps" • "The Name Game" • "Shoulder to Shoulder" • "In the Name of the Hundred Acre Wood/What Do You Do?"
Pooh's Heffalump Halloween Movie: "Trick 'R Treating With Our Friends" • "Brave Together"
Winnie the Pooh: "The Tummy Song" • "A Very Important Thing to Do" • "The Winner Song" • "The Backson Song" • "It's Gonna Be Great" • "Everything is Honey" • "Pooh's Finale"
Christopher Robin: "Goodbye, Farewell" • "Busy Doing Nothing" • "Christopher Robin"
Television Songs
Welcome to Pooh Corner: "Welcome to Pooh Corner Theme Song" • "Try a Little Something New" • "The Right Side" • "Yes, I Can" • "You're the Only You" • "I Hum to Myself" • "Please and Thank You" • "Responsible Persons" • "You're the One and Only One" • "Welcome to Pooh Corner Ending Theme"
The New Adventures of Winnie the Pooh: "Pooh Bear" • "'Cause It's Make Believe" • "The Floating Song" • "Nothing's Too Good for a Friend" • "Under the Bed" • "I Don't Have A Name" • "King of the Beasties" • "The End" • "Pirates is What We'll Be" • "Tigger the Private Ear is Here"
The Book of Pooh: "Everyone Knows He's Winnie the Pooh" • "Goodbye for Now" • "Your Best Wishes" • "On the Double" • "Who is Me" • "Think, Think, Think" • "What Piglets Are" • "I Watch for Signs" • "We're Making a Cake" • "If I Could Be Big" • "Isn't That Funny?" • "Everyone Wants a Valentine" • "That's What We Do" • "Keep it Simple" • "Have You Got a Book For Me?" • "Give It a Try" • "On Your Way Back Home" • "The Birdbird Song" • "Nightmare Wranglers" • "Carry On" • "What's Your Name, River" • "Where Do Words Go?" • "Under a Spelling Bee's Spell" • "Adventure" • "Mental Altitude" • "I Want to Know Everything Now" • "Happy Tailiversary" • "Get Growin'" • "Tigger's Lullaby" • "Perfect Party" • "If We Were Talkin'" • "Someone New to Meet" • "My Hero" • "Broken Friendships" • "Do the Roo" • "Call Me Buck-a-Roo" • "At Chez Piglet" • "Nothing Ever Happens" • "Too Much Honey" • "Lost in a Book"
My Friends Tigger and Pooh: "A Few Simple Rules" • "Bouncin'" • "The Grass is Greenier" • "The Password Song" • "Underneath the Same Sky" • "One Big Happy Family" • "Think, Think, Think" • "The Question Song" • "Floating in a Cloud" • "Different Can Be Good" • "The Little Things You Do" • "There's a Party" • "No More Fun In the Snow" • "Butterflies" • "What Makes a Pony a Pony" • "When We Work Together" • "Christmas Comes Tomorrow" • "Time to Go (On a Trek Through the Snow)" • "Snowman Song"
Miscellaneous: "Luv-a-bye" • "Playtime Song" • "Learning Song" • "Friendship Song" • "Snug as a Bear Can Be" • "The Scrapbook Song"

v - e - d
Characters
Main Characters: Sora • Riku • Kairi • King Mickey • Donald Duck • Goofy • Roxas • Axel/Lea • Naminé • Xion • Aqua • Terra • Ventus


Villains: Xehanort • Ansem • Xemnas • Maleficent • Pete • Vanitas • Xigbar/Braig • Xaldin • Vexen • Lexaeus • Zexion • Saïx/Isa • Demyx • Luxord • Marluxia • Larxene • Terra-Xehanort • Young Xehanort • Xehanort's Guardian
Other Characters: Jiminy Cricket • Ansem the Wise/DiZ • Yen Sid • Master Eraqus • Dilan • Even • Aeleus • Ienzo • Lingering Will • Hayner • Pence • Olette • Kairi's Grandma • Riku Replica • Jiminy's Journal • Foretellers • Master of Masters • Luxu • Ephemer • Skuld • Chirithy • Lauriam • Elrena
Original Monsters: Heartless • Nobodies • Unversed • Dream Eater
Disney Characters introduced in Kingdom Hearts: Queen Minnie • Daisy Duck • Pluto • Chip and Dale • Huey, Dewey, and Louie • Magic Brooms • Alice • White Rabbit • Doorknob • Cheshire Cat • Queen of Hearts • Card Soldiers • Tarzan • Jane Porter • Clayton • Terk • Kerchak • Kala • Sabor • Hercules • Philoctetes • Hades • Cerberus • Rock Titan • Ice Titan • Aladdin • Abu • Jasmine • Genie • Carpet • Jafar • Iago • Peddler • Cave of Wonders • Pinocchio • Geppetto • Monstro • Cleo • Ariel • Flounder • Sebastian • Ursula • King Triton• Flotsam and Jetsam • Glut • Jack Skellington • Zero • Sally • Oogie Boogie • Lock, Shock, and Barrel • Dr. Finkelstein • Mayor of Halloween Town • Peter Pan • Tinker Bell • Captain Hook • Mr. Smee • Wendy • Crocodile • Merlin • Winnie the Pooh • Tigger • Piglet • Eeyore • Rabbit • Owl • Roo • Bees • Beast • Belle • Snow White • Cinderella • Fairy Godmother • Aurora • Pongo • Perdita • Dalmatian Puppies • Simba • Mushu • Dumbo • Bambi • Chernabog
Disney Characters introduced in Kingdom Hearts II: Flora, Fauna, and Merryweather • Maleficent's Raven • Scrooge McDuck • Mulan • Li Shang • Shan Yu • Hayabusa • Yao, Ling, and Chien Po • The Emperor • Lumiere • Cogsworth • Mrs Potts • Chip • Wardrobe • Pegasus • Megara • Pain and Panic • Hydra • Horace Horsecollar • Clarabelle Cow • Clara Cluck • Jack Sparrow • Elizabeth Swann • Will Turner • Captain Barbossa • Bo'sun • Jacoby • Twigg • Cursed Crew • Prince Eric • Attina • Andrina • Santa Claus • Skeletal Reindeer • Timon • Pumbaa • Nala • Rafiki • Scar • Shenzi, Banzai, and Ed • Mufasa • Kiara • Pridelanders • Hyenas • Tron • Master Control Program • Commander Sark • Kanga • Gopher • Stitch • Chicken Little
Disney Characters introduced in Birth by Sleep: Prince Phillip • Maleficent's Goons • Doc • Grumpy • Happy • Sleepy • Bashful • Sneezy • Dopey • The Prince • Evil Queen • Magic Mirror • Prince Charming • Jaq • Lady Tremaine • Anastasia • Drizella • Lucifer • Grand Duke • Grand Councilwoman • Captain Gantu • Jumba • Experiment 221 • Lost Boys
Disney Characters introduced in Dream Drop Distance: Quasimodo • Esmeralda • Phoebus • Judge Claude Frollo • Victor, Hugo, and Laverne • Kevin Flynn • Sam Flynn • Quorra • CLU • Rinzler • Black Guards • Blue Fairy • Beagle Boys • Chernabog's Minions • Julius
Disney Characters introduced in Kingdom Hearts χ: Mad Hatter • March Hare • Razoul • Royal Guards • Maurice • Gaston
Disney Characters introduced in Kingdom Hearts Union χ: Sultan • Samson • Vanellope von Schweetz • Fix-It Felix Jr. • Sergeant Calhoun • King Candy • Sour Bill • Cy-Bugs • Hero's Duty Troops
Disney Characters introduced in Kingdom Hearts III: Zeus • Apollo • Athena • Hermes • Lava Titan • Tornado Titan • Little Chef • Woody • Buzz Lightyear • Rex • Hamm • Sarge • Green Army Men • Little Green Men • Rapunzel • Flynn Rider • Pascal • Maximus • Mother Gothel • Sulley • Mike Wazowski • Boo • Randall Boggs • Child Detection Agency • Trailer Son and Mom • Elsa • Anna • Kristoff • Olaf • Sven • Marshmallow • Hans • Mr. Gibbs • Tia Dalma • Davy Jones • Kraken • Cutler Beckett • Baymax • Hiro Hamada • Go Go Tomago • Honey Lemon • Fred • Wasabi • Lumpy • Wreck-It Ralph
Disney Characters introduced in Kingdom Hearts Dark Road: Tweedledee and Tweedledum
Disney Characters introduced in the manga: Caterpillar • Chi-Fu
Square Enix Characters: Leon • Cloud • Moogle • Others
v - e - d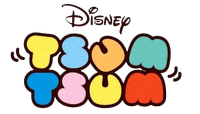 Disney
Mickey & Friends:

Mickey • Minnie • Donald • Daisy • Goofy • Pluto • Chip and Dale • Oswald • Ortensia • Duffy • ShellieMay • Gelatoni • StellaLou • CookieAnn • 'Olu Mel • Huey, Dewey, and Louie • José Carioca • Panchito Pistoles • Clarabelle Cow • Horace Horsecollar • Max Goof • Clarice • Pete • Scrooge McDuck • Ludwig Von Drake • Dr. Frankenollie • Julius

Pooh and Pals: Pooh • Tigger • Piglet • Eeyore • Rabbit • Owl • Roo • Kanga • Gopher • Christopher Robin • Lumpy
Lilo & Stitch: Stitch • Lilo • Scrump • Pleakley • Jumba • Angel • Leroy • Dr. Hämsterviel • Ugly Duckling • Sparky • 627 • Gigi • Babyfier • Yang • Slushy • Shortstuff • 625 • Amnesio • Dupe • Sample • Clip • Tank • Yin • Hunkahunka • Plasmoid
Silly Symphonies: Donald Duck • Big Bad Wolf • Practical Pig • Fiddler Pig • Fifer Pig • Ugly Duckling
Snow White and the Seven Dwarfs: Snow White • Evil Queen • Doc • Grumpy • Happy • Bashful • Sneezy • Sleepy • Dopey
Pinocchio: Pinocchio • Jiminy Cricket • Figaro • Cleo • Geppetto • Blue Fairy • Honest John and Gideon • Lampwick • Monstro
Fantasia: Mickey • Yen Sid • Chernabog • Hyacinth Hippo • Ben Ali Gator
Dumbo: Dumbo
Bambi: Bambi • Thumper • Miss Bunny • Friend Owl • The Great Prince of the Forest
The Three Caballeros: Gauchito • Burrito
The Adventures of Ichabod and Mr. Toad: Mr. Toad
Cinderella: Cinderella • Jaq and Gus • Prince Charming • Fairy Godmother • Lady Tremaine • Lucifer • Suzy • Perla • Bruno
Alice in Wonderland: Alice • Mad Hatter • March Hare • Dormouse • White Rabbit • Cheshire Cat • Tweedle Dum and Tweedle Dee • Queen of Hearts • King of Hearts • Caterpillar • Dinah • Oysters
Peter Pan: Peter Pan • Tinker Bell • Wendy Darling • John Darling • Michael Darling • Captain Hook • Mr Smee • Nana • Tick Tock • Tiger Lily
Lady and the Tramp: Lady • Tramp • Si and Am • Jock • Trusty • Peg
Sleeping Beauty: Aurora • Phillip • Maleficent • Flora • Fauna • Merryweather • Diablo • Samson • King Stefan • Goon • Owl • Rabbit
Mary Poppins: Mary Poppins • Bert • Penguin Waiter • Carousel Horse
One Hundred and One Dalmatians: Cruella De Vil • Lucky • Patch • Rolly
The Jungle Book: Mowgli • Baloo • Bagheera • Shere Khan • Kaa • King Louie • Hathi, Jr. • Raksha
Pete's Dragon: Elliott
The Fox and the Hound: Tod • Copper
The Aristocats: Marie • Berlioz • Toulouse • Duchess • Thomas O'Malley
The Rescuers: Bernard • Bianca
Oliver & Company: Oliver • Dodger • Tito • Rita • Francis • Einstein
The Little Mermaid: Ariel • Flounder • Sebastian • Eric • Ursula • Triton • Max • Scuttle
Beauty and the Beast: Belle • Beast • Lumiere • Cogsworth • Mrs. Potts • Chip • Maurice • Philippe • Gaston • LeFou
Aladdin: Aladdin • Abu • Genie • Jasmine • Jafar • Sultan • Iago • Rajah
The Nightmare Before Christmas: Jack Skellington • Sally • Zero • Lock, Shock, and Barrel • Oogie Boogie • Dr. Finkelstein • Mayor of Halloween Town • Santa Claus
The Lion King: Simba • Nala • Timon • Pumbaa • Zazu • Rafiki • Scar • Ed
Pocahontas: Pocahontas • John Smith • Meeko • Flit • Percy
Hercules: Hercules • Megara • Hades
Mulan: Mulan • Li Shang • Mushu • Fa Zhou • Khan
The Emperor's New Groove: Kuzco • Yzma • Kronk
Mickey, Donald, Goofy: The Three Musketeers: Mickey Mouse • Minnie Mouse • Donald Duck • Goofy
Chicken Little: Chicken Little
The Princess and the Frog: Tiana • Dr. Facilier
Tangled: Rapunzel • Flynn Rider • Pascal • Maximus • Mother Gothel • Queen Arianna • King Frederic • Cassandra • Fidella • Pub Thug
Wreck-It Ralph: Wreck-It Ralph • Fix-It Felix Jr.
Frozen: Anna • Elsa • Olaf • Kristoff • Sven • Hans • Snowgies • Bruni
Big Hero 6: Hiro • Baymax • Fred • Wasabi • Honey Lemon • Go Go Tomago • Tadashi Hamada • Yokai • Mochi
Zootopia: Judy Hopps • Nick Wilde • Mayor Lionheart • Flash • Yax • Gazelle • Chief Bogo • Clawhauser • Finnick • Mr. Big • Bellwether • Jerry Jumbeaux Jr.
Moana: Moana • Maui • Pua • Heihei • Tamatoa • Kakamora
Chip 'n Dale Rescue Rangers: Chip • Dale • Gadget • Monterey Jack
Phineas and Ferb: Perry
The Lion Guard: Kion • Ono • Bunga • Beshte • Fuli
DuckTales (2017): Scrooge McDuck • Huey, Dewey, and Louie • Webby Vanderquack
Kingdom Hearts: Sora • Riku • Kairi • Aqua • Xemnas • Ansem, Seeker of Darkness • Ventus • Terra • Chirithy • Lea • Young Xehanort
UniBEARsity: Mocha • Pudding • Whip • Puffy • Mont • Blanc • Souffle • Blue Rose • Charmant • Portiron • Rogue Rose • Fauve • Lucien • Horloge • La Mer • Ma Puce
Sofia the First: Sofia • Minimus • Skye
Elena of Avalor: Elena
Enchanted: Giselle
Disney Fairies: Periwinkle • Rosetta • Silvermist
The Sword in the Stone: Wart • Merlin
Oliver & Company: Oliver
Raya and the Last Dragon: Raya • Sisu
Twisted Wonderland: Grim • Riddle Rosehearts • Azul Ashengrotto • Leona Kingscholar • Kalim Al-Asim • Vil Schoenheit • Idia Shroud • Malleus Draconia • Dire Crowley • Mirror of Darkness