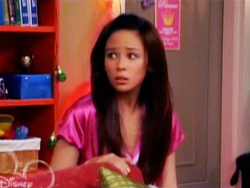 Ruby Donahue is a famous actress and singer within the Wizards of Waverly Place world. Alex mentions she is a big fan of her, and even owns her CD. She is portrayed by Malese Jow.
History
Ruby Donahue grew up on a ranch in Montana, and eventually start her own charity. After achieving fame, she created her own price-conscious barrette line. Ruby has also experimented with music, which Alex describes as "sensitive but mildly angry rock" songs.
In Night of the Halloween Sorority Party Disaster 2, Ruby plays Bambi, the sensitive one.
Personality
As seen in "Movies", Ruby appears to be friendly, but not very bright. She initially did not want to do a horror movie, but agreed because her agent wanted her to do one.
v - e - d
Objects
Alex's Wand • Justin's Wand • Max's Wand • Russo Portal
Community content is available under
CC-BY-SA
unless otherwise noted.