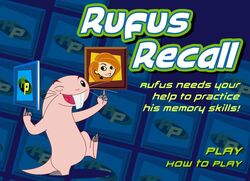 Kim Possible Rufus Recall Game is an online video game.
Description
Choose a tile and find it's match, if they match they disappear. Don't let the piles go too high!
Choose a tile and find its match by clicking another one.
If they match, they disappear. If they don't, remember what you saw and keep on clicking!
Watch for these special tiles:
Bomb clears all times in that row.
Lightning slows the clock so click fast.
Computer shows all times on the screen.
Be careful! If a column reaches the top of the screen, it's game over.
Community content is available under
CC-BY-SA
unless otherwise noted.