Boba Fett Returns - The Loop
Play Sound
"Yes! We did it! Rumble wins! Yeah, one for the thumb!"
―Rumble
Rumble is the main antagonist of the Disney Fairies television special Pixie Hollow Games. He is a storm-talent sparrow man.
Background
Rumble participated in Pixie Hollow Games for many years. He and his partner Glimmer have won four wins together, which made them a favorite of the public and the most famous team in Pixie Hollow.
As a four time Pixie Hollow Games champion, Rumble is aiming for another victory. Going to for the fifth championship ring, he dedicated himself to training for the games year around. His intense training kept his from bringing seasons to the Mainland, but made him the most competitive player.
Official Description
Rumble is a Storm-talent sparrow man who is arrogant with a fragile ego. Rumble will do anything to win - even cheat. He also refers to himself in the third person.
Development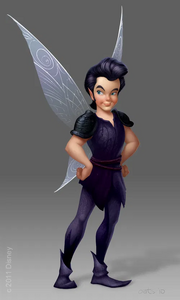 During on the early stage development of Pixie Hollow Games Rumble and his original vision was inspired and conceived as a sort of a Disney version of John Travolta's Danny Zuko from Grease. According to designer Chris Oatley, who worked on his early design, it was fun to be able to play and with some classic Disney Villain qualities while designing this character.[1] Ultimately, the character was be and looked too villainous, but director Bradley Raymond, when seen this version of Rumble, said, that he don't want the character to telegraph "bad guy" too strongly.[1]
Due to this, work began on a new design for the Rumble, during the creation of which already to reference different soccer players.[2] Designer Zaruhi Galstyan created two more full sketches of Rumble, one of which depicted him with with short brown hair, a small beard of the same color and stupid sight. The second was similar in overall appearance to his final design, but a more slender body. In the end, his body evolved into a more athletic David Beckham type by the final film and his costume was made of black and white irises, which was unusual, since a lot of the Fairies characters costumes that are made of flower petals. However, for Rumble in the first time was created a costume with an iridescent effect.
Voice
Jeff Bennett, a well-known voice actor in the Disney, originally claimed on the role of Rumble and was even approved by casting director Jason Henkel.[3] However, in the end it was decided to replace him, citing the fact that he should have already voiced two characters in Pixie Hollow Games, Fairy Gary and Clank. As a result, Jason Dolley, another actor in Disney, was invited on the role of Rumble, and Jason Henkel after casting was pleased with his new candidacy.
Personality
"Rumble is the most competitive storm sparrow man. He's going for the fifth, which has never been done before. So he's all about winning and he treats teammate like dirt, cuz it's all about him, it's all about winning. He's not as much like a mean as he just is out to win. He's self-centered and a little bit naive in a weird kind of combination."
―Jason Dolley, the voice actor of Rumble[4]
Selfish and arrogant Rumble became a four time Pixie Hollow Games champion, which only inflates his ego. He adoring the attention that was came with he being the champion and constantly boast off his winning rings on his fingers. Wherein, he became pompous to the point that he caused Glimmer have to humiliated and feeding his ego, just to cheer up yourself, when they arrived second on the first round. He was also convinced that garden fairies not capable of anything and even was taunts the Rosetta and Chloe just to humiliate them, like fairies of this talent.
Rumble displays self-centered and narcissistic tendencies, his most obvious ones being his obsessive craving for victory and success, exaggerated feelings of self-importance and entitlement. However, his lust for win does not stem from a mere desire for win, but rather an a desire to preserve his fame as champion. Having adopted an fragile ego, Rumble craving admiration for him and reacts extremely painfully to failures, which negatively affects on his already instability emotional condition, as this seen, when he arrived second on the leapfrogging. Due to this he often praise himself as the best, which seems to give him moral comfort.
Rumble also detests being "second best" and always gets angry, when someone starts to surpass him, as it was, when Rosetta and Chloe pulled ahead during the teacup challenge. Therefore he will do anything, even to meanness and cheat, in order to win, if will begin lose. This is especially evident, when he was use Glimmer's lightning abilities to destroy one of the wheels of competitors Rosetta and Chloe's cart, while saying ("I'm winning") in such a tone, as if this is only it so should be. However, this ultimately led to Glimmer was seen his true self and turning against him, in the end leading to his lose and the disintegration of their team.
While rather muscular, he proves to have a small amount of intelligence. This is evident when he speaks in the third person. He also attracted on the games to the point that, sings the Pixie Hollow Games anthem in his sleep.
Physical appearance
Rumble is a slender and muscular sparrow men with fair skin and clear wings on his back and, like all fairies and sparrow men, is small and hand-sized. He has blue eyes, pointy ears and black long hair, among which you can see two short pigtails.
On the games, he wears an bicolor dark indigo and silver sports outfit, whose color is typical of the storm fairies and the same bicolor shoes.
Appearances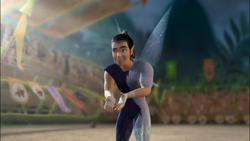 Rumble is first seen at the night of the start games. He and his partner Glimmer represent the storm talent fairies and sparrow men in the games and make a impressive emergence, when Glimmer casts lightning and Rumble strikes it and creates thunderclaps. They are the heavy favorites to win the competition due to their winning streak and having winners rings for almost every finger and want to add another thumb ring.
When the first game called leapfrogging was begins, Rumble competes alongside everyone else, but storm fairies came in second after animal fairies, which made Rumble upset. To cheer up, he caused Glimmer to have to boast his ego, after which he flies away, is again determined to win. The next day, Rumble and Glimmer continue to compete in games such as dragonfly water skiing, twigspheres, and mouse polo, and always came in first during each game. But in the teacup challenge, they waste lead again, this time to Rosetta and Chloe, then try to catch up. Storm fairies end up taking first place again, when Chloe slides down into the slime but because Rosetta, afraid of getting dirty, is not with her, they are placed last. This was caused laugh Rumble and he begins to taunt Chloe and Rosetta, making fun of her fear of dirt, and then flies away.
When the last game called derby cart race was begins, storm fairies taking the lead, but Rosetta was, conquer her fear, announces she has a plan to win the games. The race starts with storm talents taking the lead, but Vidia and Zephyr take a shortcut and crash, then Terence and Fairy Gary try the pond but land in it, leaving just the garden and storm fairies. Rosetta and Chloe take the mudhill shortcut and successfully make it and get ahead of the storm fairies. However, Rumble cheated using Glimmer's lightning power to zap girls' cart wheels, which leads to the crash. Seeing their cart destroyed, Rosetta and Chloe push their cart over the finish line and finish together. While Rumble celebrates his victory, Queen Clarion announces that the garden fairies are the winners. Rumble protests, until she shows him that Glimmer abandoned him just before the finish line for cheating, giving the victory to the garden fairies, because both team members had to cross the finish line together in order to win. Rosetta and Chloe broke their losing streak and they celebrate with their friends. Later, Rosetta teases Rumble by putting the ring on her thumb and showing it to him.
Printed media
Disney Fairies Graphic Novel: Team Spirit
Rumble appears in this book and plays the same role as in the film, with a few exceptions. Rumble and his partner Glimmer represent the storm talent fairies and wants nothing more than to win. They came in second during the first event, however, unlike the movie, the book did not show Rumble caused Glimmer to have to boast his ego. During the rest of the games they came in first many times, but at the last event Rumble cheated using Glimmer's lightning power to zap Rosetta and Chloe's cart wheels. Glimmer decided not to cross the finish line, which made Rosetta and Chloe win.
Video games
Disney Fairies: Fawn's Leapfrog Rase
Rumble appears in this game alongside Vidia as Fauna's rivals in the leapfrogging race. He is the head of Team Storm and almost always the winner in frog races. Rumble's team, like Fawn's team, is made up of two frogs standing one in front of the other.
The race consists of five different stages and goal of the game is to reach the four checkpoints before the timer at the top middle of the screen reaches zero, before the Rumble and Vidia. This means that for each stage only have fifteen seconds, otherwise will have to restart the entire race. Also Fawn can benefit from a little bonus every time start a new stage of the race. When a star icon will appear, was can to perform a super jump.
Relatonships
"Why don't you worry about your own game?!"
―Rumble to Glimmer
Rumble and Glimmer have been teammates in the games for a long time and together have won four victories, receiving rings on all fingers, except the thumb. And although in games they always acted harmoniously and in good team spirit, Rumble did not appreciate Glimmer highly and cocky treated her because of his inflated ego. This seen, when he forced her for humiliated and fuel his ego and, later, reprimanded her, when she praised Rosetta for a good game. Glimmer disliked Rumble for such a bad attitude, but did not contradict him, probably because of the common goal of winning. However, when Rumble go for the cheat and forced her to unleash a lightning bolt, breaking the card of Rosetta and Chloe, Glimmer openly went against him, refusing to cross the finish line, which led to the defeat of their team. After that, their relationships, most likely, turned cold, if not hostile.
"Rumdle: "You really made Rumble laugh! All that bumbling and stumbling, just so you wouldn't get dirty?!"
Rosetta: "Get lost, thunder head!"
―Rumble and Rosetta
Initially, Rosetta was like one of Rumble's rivals in games and he practically did not pay attention to her, considering garden fairies to be incapable of anything. However, when she and Chloe pulled ahead during the teacup challenge, he got angry and tried to get around them, which he succeeded thanks to the fact that Rosetta refused to go down the muddy slide. After that, probably wishing finally to take they away the determination and humiliate, Rumble began to taunted her and her fear of dirt, after which he emphasized the inability of garden fairies to anything but beauty. However, this led to the fact that their relationship began to deteriorate and Rosetta began to be hostile to Rumble, calling him ("thunder head"). She then became determined to win to the point that during the derby cart she turned her cart on mudhill mountain despite her fear of dirt. In the end, Rosetta still won, despite Rumble's cheating and later even taunted him, showed her ringed thumb at him.
"What? But Rumble crossed the finish line first!"
―Rumble to Queen Clarion
Like all Pixie Hollow fairies, Rumble treated Queen Clarion with respect as she was their queen. However, when she called Rosetta and Chloe the winners, he openly began to contradict her and her decision until she told him why he lost.
Gallery
Trivia
Jason Dolley, Rumble's voice actor, portrays P.J. Duncan in the Disney Channel series, Good Luck Charlie, and Pete Ivey in another Disney movie, Hatching Pete.
According to interview with Jason Dolley, Rumble participated in Pixie Hollow Games 14 years in a row, however during this time he managed to win only four victories.[4]

It is noting that Rumble won all his victories with Glimmer as a partner. Before Glimmer managed to secure a spot on the team, Rumble had never win on a games.

Although Rumble was lose at the games due to Glimmer's refusal to cross the finish line, remains is unknown, did the Pixie Hollow learned of his cheating.
Rumble is the only resident of Pixie Hollow which the remain villainous of the Disney Fairies franchise, as the other antagonists from Hollow, Vidia and Zarina, are reformed.

It is noteworthy that he is the only male villain from Pixie Hollow.

Rumble's name comes from "Rumble" which is a shaking.
References
External links