"It's knucklepuck time!"
―Russ' battle cry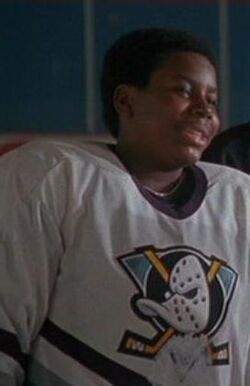 Russ Tyler (portrayed by Kenan Thompson) is a hockey player who plays at the Defencemen Position and wears number 56. Tyler was part of the Team USA in the Goodwill Games in the film D2: The Mighty Ducks. He is a local boy from Los Angeles who teaches the team how to play "for real" following a major upset against Team Iceland in D2. He is recruited into the roster following Adam Banks' wrist injury. Russ fashions his trademark "knucklepuck", a slapshot that curves in a sine curve rather than a direct, straight shot, and is very loquacious. He later attended Eden Hall Academy, as seen in D3: The Mighty Ducks.
Playing Style
Russ' playing style is more undefined than the rest of the Duck's. The only skill that has been on display throughout the course of the films has been his knuckle puck shot.
Community content is available under
CC-BY-SA
unless otherwise noted.