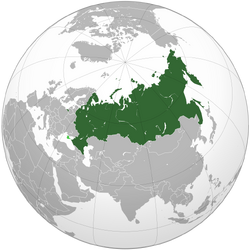 Russia, (Russian: Россия, tr. Rossiya) also officially known as the Russian Federation (Russian: Российская Федерация, tr. Rossiyskaya Federatsiya), is a country in northern Eurasia. It is a federal semi-presidential constitutional republic, comprising 85 federal subjects.
In 1988, Roy Disney and Mickey Mouse made an appearance to Moscow, the Capital city, where Mickey met the mascot of the Moscow 1980 Olympics, Misha.
On March 1, 2022, Disney suspended all theatrical releases in Russia due to its invasion of Ukraine.
Appearances
Cities and Locations
People born in Russia
Gallery