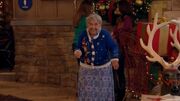 Ruth McCorkin is a McCorkin cousin from Nova Scotia in Dog With a Blog. She's portrayed by Helen Slayton-Hughes.
Character History
At the McCorkin reunion at Christmas, Avery, Tyler, and Chloe convinced her family to think their all name Ruth and that Ruth is their grandmother. When she arrived, she thought their her relatives as well.
Trivia
She's 80-years old.
She's from Nova Scotia.