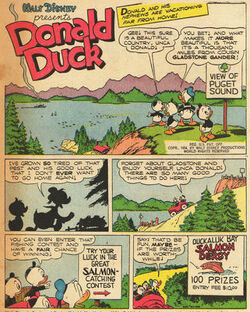 Salmon Derby is a comic story by Carl Barks about the rivalry between Donald Duck and Gladstone Gander.
Plot
Donald and his nephews are on a vacation away from Duckburg where Donald is happy for being away from his cousin Gladstone, they notice that there is a fishing contest (with first prize a fancy automobile), so Donald takes a boat and tries to catch the biggest fish. Donald quickly hooks a sixty pounder but meanwhile at the ticket office Gladstone enters the race, he gets a motor boat and enters the lake where he meets Donald and cost him his fish.
Then, Gladstone hooks a seventy pounder so the nephews try to help Donald, they meet and Indian chief who helps them to catch an eighty pounder, they hook it to Donald's rod but suddenly a speedboat hits Donald's boat leaving donald knocked out on its front and sending Donald's fish into Gladstone's boat. Gladstone wins the contest but donald saves a little girl that was stranded on the speedboat receiving $10,000 as reward from her father, buying a car twice the size of Gladstone's.
External links
| | |
| --- | --- |
| | This page uses content from the English Wikipedia. The article or pieces of the original article was at Salmon Derby. The list of authors can be seen in the page history. As with Disney Wiki, the text of Wikipedia is available under the GNU Free Documentation License. |
Community content is available under
CC-BY-SA
unless otherwise noted.