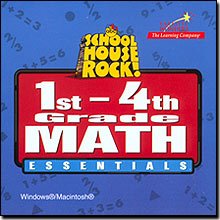 Schoolhouse Rock!: 1st-4th Grade Math Essentials Deluxe is a Schoolhouse Rock! PC video game developed by Creative Wonders in 1997.
Description
Lucky Seven Sampson, the rabbit, needs your help. He wants to put together a band from the people in Funky Numberland, and he needs your help to do it.
Because, you see, each member of his band has to finish doing something before they can come down the garage and practice. So, you are going to have to help them out with their math-related problems. But, each time you help them, you receive coins, which will be helpful when you go on "The Road to Fame."
Players must gather all seven members of the band, and then set out on the "Road to Fame," trying to make it to the concert within 30 days. They need to keep at least 30 coins at the end to pay for publicity, and if they run out of coins along the way, they must go back to Funky Numberland, earn more coins, and start again.
This game is almost identical to Schoolhouse Rock!: Math Rock, except that a second CD-ROM, complete with a number of Math-related arcade games, has been added to the package.
Gallery
Community content is available under
CC-BY-SA
unless otherwise noted.