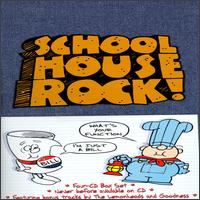 The
Schoolhouse Rock! soundtrack
is a television soundtrack based on the animated television series
Schoolhouse Rock!
, released by Rhino Records on
June 1
,
1996
, and contains 52 tracks. It includes the cancelled Computer Rock songs. In
2018
, the album was inducted into the National Recording Registry by the Library of Congress.
Track listing
Disc one
Schoolhouse Rocky
Elementary, My Dear
Three is a Magic Number
The Four-Legged Zoo
Ready or Not, Here I Come
My Hero, Zero
I Got Six
Lucky Seven Sampson
Figure Eight
Naughty Number Nine
The Good Eleven
Little Twelvetoes
My Hero, Zero; performed by The Lemonheads (bonus track)
Disc two
Schoolhouse Rocky
Unpack Your Adjectives
Lolly, Lolly, Lolly, Get Your Adverbs Here
Conjunction Junction
Interjections
Rufus Xavier Sarsaparilla
Verb: That's What's Happening
A Noun is a Person, Place or Thing
Busy Prepositions
The Tale of Mr. Morton
Dollars and Sense
Tax Man Max
$7.50 Once a Week
Where the Money Goes
Disc three
Schoolhouse Rocky
No More Kings
Fireworks
The Shot Heard 'Round the World
The Preamble
Elbow Room
The Great American Melting Pot
Mother Necessity
Sufferin' Till Suffrage
I'm Just A Bill
Three-Ring Government
Electricity, Electricity! performed by Goodness (bonus track)
Disc four
Schoolhouse Rocky
The Body Machine
Do the Circulation
Electricity, Electricity!
The Energy Blues
Interplanet Janet
Telegraph Line
Them Not-So-Dry Bones
A Victim of Gravity - Performed by The Tokens
Introduction
Software
Hardware
Number Cruncher
Community content is available under
CC-BY-SA
unless otherwise noted.