The Screamin' Banshee is the antagonist in Mater and the Ghostlight.
Appearances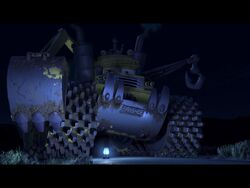 "The Screamin' Banshee lurks outside of Radiator Springs in Ornament Valley. The Banshee waits for anyone who wanders out alone in the darkness of night. He is rarely spotted but is well known through myths and legends. Nothing can make the Banshee show fear. However, he is a bit puzzled by Mater."[1]
He was seen at the end of Mater and the Ghostlight, with Mater in front of him. However, Mater doesn't know that it's the Screamin' Banshee and warns him of himself. Then, he drives away, drives back, says goodnight, then drives away again, leaving the Banshee puzzled.
Trivia
Screamin' Banshee's name is based on the Irish legend of the Banshee, who is traditionally a female spirit; however, Mater calls the Banshee a "he".
Screamin' Banshee is one of two cars that has an excavator's bucket as a jaw. The second is Dr. Frankenwagon's Monster.
In 2010, the Italian-published Cars Magazine's issue 31 contained a one-page comic story involving the Banshee (known in the Italian-language version of thew short as "la Strega urlante", "the Screaming witch" and referred to as a female), though the name is never said, titled "Chi urla, adesso?" ("Who is screaming, now?"). It (referred to in the comic as a male), accompanied by Mater, meets Lightning McQueen and Luigi, but, before Mater is given the time to explain, Lightning salutes him as "ragazzone" ("big boy"), and then, as it rages, Mater, escaping, explains that he hates that name.
This vehicle is a hybrid of a Crane (Hook Arm), a Large Dump Truck (Wheels), an Excavator (Bucket arm and mouth), and a typical commercial freight truck (chassis).
References
| | |
| --- | --- |
| | This page uses Creative Commons Licensed content from the Pixar Wiki. The list of authors can be seen in the page revision history (view authors). As with Disney Wiki, the text of the Pixar Wiki is available under the CC-BY-SA license. |