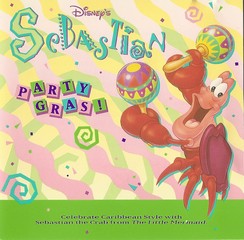 Sebastian: Party Gras! is the second of three original albums inspired by Disney's The Little Mermaid film. Many of the songs are cover versions of classic calypso or reggae songs, or other songs recorded in a calypso or reggae style. All of the songs are performed by Samuel E. Wright as Sebastian the Crab.
Track listing
"Sing Along"- Alphonsus Cassell 4:54
"Iko Iko" - Barbara Anne Hawkins, Joan Marie Johnson, Jesse Thomas, Maralyn Jones, Joe Jones, Rose Lee Hawkins, Sharon Jones 3:52
"Limbo Rock" - Jon Sheldon, Billy Strange 2:32
"Carousel" - Lawrence Dermer, Joe Galdo, Rafael Vigil 4:07
"I'm a Crustacean" 3:03
"Octopus's Garden" - Ringo Starr 2:50
"Give a Little Love" - Albert Hammond, Diane Warren 4:01
"In De Congaline" - Alan Sheppard, Dean Straker 3:11
"Twist and Shout" - Phil Medley, Bert Russell 3:11
"Coconut" - Harry Nilsson 3:44
"Life is a Magic Thing" - 4:05
"What a Wonderful World" - Bob Thiele, George David Weiss 4:05
Personnel
Credits for Party Gras! adapted from Allmusic.
Terry Bates - assistant engineer
Andy Grassi - assistant engineer
Joe Pirrera - assistant engineer
Willie Pevear - engineer, mixing
Bruce Botnick - mastering
Harold J. Kleiner - executive producer
Eric Silver - associate producer
Shepard Stern - producer
Thomas Cain - backing vocals
Erin Dorris - backing vocals
Ricky Dorris - backing vocals
Tionna Dorris - backing vocals
Kim Fleming - backing vocals
Vicki Hampton - backing vocals
Shannon Holland - backing vocals
Donna McElroy - backing vocals
Michael Mishaw - backing vocal
Tiffany Sims - backing vocals
Tomeka Sims - backing vocals
Kenneth "Scat" Springs - backing vocals