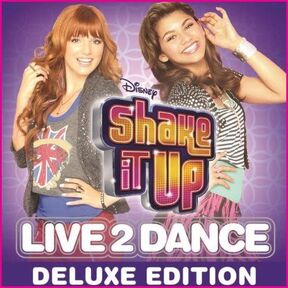 Shake It Up: Live 2 Dance
is the Season 2 soundtrack of the
Disney Channel
sitcom
Shake It Up
. Tracks include 'Up Up and Away', 'Something To Dance For' and 'TTYLXOX'. It was released March 20,
2012
.
Track listing
'Whodunit' by Adam Hicks and Coco Jones
'TTYLXOX' by Bella Thorne
'Up Up and Away' by Blush
'Show Ya How' by Adam Irigoyen and Kenton Duty
'Make Your Mark' by Drew Ryan Scott
'Don't Push Me' by Coco Jones
'Turn It On' by Amber Lily
'Moves Like Magic' by Adam Trent
'Critical' by TKO and Nevermind
'Bring The Fire' by YLWA
'Where's The Party' by Jenilee Reyes
'Surprise' by TKO, Nevermind and SOS
'Something to Dance For/TTYLXOX Mash-up' by Zendaya and Bella Thorne
Deluxe Edition Bonus Tracks
'Edge Of The Mirror' by Emme Rose
'Total Access' by TKO, Nevermind and SOS
Target Bonus Tracks
'The Star I R' by Caroline Sunshine
'Overtime' by Robyn Newman
'A Space In The Stars' by Drew Seeley
Community content is available under
CC-BY-SA
unless otherwise noted.