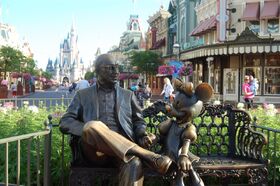 Sharing the Magic is a bench statue of Roy O. Disney and Minnie Mouse that first appeared on Main Street, U.S.A. at the Magic Kingdom in October 1999. Much like its sibling statue "Partners", it was sculpted by Imagineer Blaine Gibson. Installed in Town Square by the flag pole and next to Walt Disney World's dedication plaque, it serves as a symbol of Roy's efforts to bring his brother Walt's dreams for Florida to life.
Blaine has described the posing of the figures (which was inspired by early photos of Roy sitting on a bench next to costumed characters) thusly:
"Roy is sitting back in the bench which indicates he was there first and Minnie came to him, not that he came up to her to ask why she was sitting down and not working (laughs). Also he is holding her hand underneath so he is supporting it, just like he always supported Walt's dreams. Roy was very underrated."
―Blaine Gibson
Like Partners, the statue has been replicated elsewhere, including the Walt Disney Studio lot in Burbank and at Tokyo Disneyland.
Gallery