| | |
| --- | --- |
| | Shenzi, Banzai, and Ed is a featured article, which means it has been identified as one of the best articles produced by the Disney Wiki community. If you see a way this page can be updated or improved without compromising previous work, please feel free to contribute. |
Shenzi, Banzai, and Ed are the secondary antagonists of Disney's 1994 animated feature film, The Lion King. They are a trio of spotted hyenas who were loyal followers and henchmen of Scar. Known for their sadism and haunting laughter, the hyenas dwell in the Elephant Graveyard. Because of their destructive habits, the hyenas are outcast from the Pride Lands. By forming an alliance with Scar, they hope to usurp the lions and overrun the Pride Lands, thus allowing themselves and other hyenas the freedom to eat as much as they desire.
Scar has an extremely low opinion of them, considering them to be clueless and amateurish - but still cared for them by regularly providing food prior to allowing them and the rest of the hyenas into the Pride Lands to gain hunting rights and eventually more to scavenge.
Background
The hyenas were featured in two spin-off books of The Lion King, set before the events of the original film.
In the first book of the novelization series, The Lion King: Six New Adventures, A Tale of Two Brothers, the young hyenas appear at the beginning where they surround a helpless Rafiki who had just arrived in the Pride Lands. King Ahadi comes to his rescue just in time, with his sons Mufasa and Taka (Scar) in tow, and demands that the hyenas leave. Later, Scar meets with the hyenas, the story revealing that he asked for their help. Shenzi advises Scar to make himself look good by making Mufasa look bad. Taka is intrigued by the suggestion and plans to incite a cape buffalo called Boma to fight Mufasa. His plan goes badly and his eye is wounded by the buffalo herd in the process, hence the nickname "Scar".
In another book Friends in Need, the teenage hyenas appear again at the beginning, where they are preparing to boil a teenage Zazu in the elephant graveyard, as in the first film. A teenage Mufasa passes by, scares the hyenas away and befriends Zazu.
Voices
In The Lion King, Shenzi, Banzai, and Ed are voiced by Whoopi Goldberg, Cheech Marin, and Jim Cummings, respectively. Shenzi was originally going to be male and played by Tommy Chong, reuniting him with his old comedy partner Cheech Marin, who was playing Banzai, but apparently, the two had had a falling out. As such, the filmmakers decided to go with "Cheech and Whoopi." Unlike Marin or Cummings, Goldberg never reprised her role as Shenzi outside of the movies. Instead, she was voiced by Tress MacNeille in Timon & Pumbaa and various video games, by Monie Mon in Kingdom Hearts II and by Jenifer Lewis in Sorcerers of the Magic Kingdom. On the odd occasion that Marin was unavailable, Banzai, was voiced by Rob Paulsen in Timon & Pumbaa and Simba's Mighty Adventure.
In The Lion King remake, Shenzi is voiced by Florence Kasumba, while Kamari and Azizi are voiced by Keegan-Michael Key and Eric Andre, respectively.
Appearances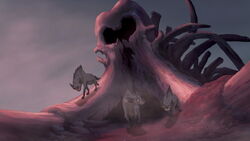 The hyenas first appear in the Elephant Graveyard into which Simba and Nala venture. The hyenas, secretly under the orders of Simba's uncle Scar, chase the cubs in an attempt to kill them. While in pursuit, Shenzi catches up with Nala and is about to attack her when she is scratched by Simba, which results in three visible blood-like claw marks on her cheek. The hyenas manage to capture Zazu and push him into a 'birdie boiler' and corner the cubs but are thwarted by the arrival of Simba's father, Mufasa. They try to flee but Mufasa quickly subdued them and pinned them to the ground warning them not to come near his son again. The hyenas are then scared off by a frightening roar by Mufasa.
Later while the hyenas are talking, Scar arrives in the elephant graveyard to berate the hyenas for failing to kill Simba. However, after Banzai and Shenzi ask sardonically whether Scar should kill Mufasa to claim the throne while feasting on a zebra's leg that Scar supplied to them (Banzai: "Yeah. What are we supposed to do - kill Mufasa?"), they unwittingly gave him an idea: he then informs them of the newly-formed plan to kill both Mufasa and Simba during the song "Be Prepared" while promising them unlimited food. Shenzi is the first to shout out, "Long live the king!" about Scar, and the entire pack follow her lead as she laughs madly.
Afterwards, they help Scar carry out his plan to kill Mufasa by triggering a wildebeest stampede. Immediately after Mufasa is killed, Scar makes Simba feel guilty for Mufasa's death, then tells Simba to run away and never return. He proudly watches Simba run away from him with an evil grin as the hyenas show up behind him and commands them to kill Simba too. When Simba reaches the end of gorge, he hears growling and turns to see Shenzi, Banzai, and Ed approaching him with vicious grins, prompting Simba hurry out of the gorge and come across a big cliff-like hill. Simba is hesitant to go down this hill at first, but when he sees the hyenas catching up with him, he is forced to jump down it. Simba rolls down the hill while the hyenas run and leap down very fast and nearly catch him. Below the hill however, lies a big bed of dense thorny bushes that Simba manages to run through leading him to a desert, while the hyenas stop following him due to these thorny bushes being too dense for them to make their way through. Banzai accidentally falls into this bed, while he, Shenzi, and Ed are trying to stop themselves from landing in it, but only ends up coming out the same way he went in covered with thorns while Shenzi and Ed insanely laugh at his pain. While Banzai works on pulling the thorns out of him and spits some at Ed's nose, he claims that they still have to finish the job. Shenzi decides that Simba is as good as dead out alone in the scorching desert, and if he survives and decides to come back, they'll kill him then which Banzai yells out to Simba. Shortly after, the entire hyena clan enters the Pride Lands when Scar assumes the throne.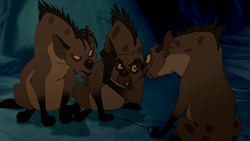 After several years of overhunting into Scar's reign, the hyenas' excessive presence in the Pride Lands has damaged the ecological balance at the same time a severe drought hits the kingdom. The trio comes to Scar's cave to inform him that there's no food or water and that the lionesses refuse to follow his orders (to which Scar neglects). Banzai even secretly confesses to both Shenzi and Ed that things were much better under Mufasa's reign than Scar's, despite the hyenas living in the elephant graveyard in exile, implying some remorse over their role in Mufasa's death. Scar is furious, but a nervous Shenzi elbows Banzai and he quickly corrects himself by saying that he simply said, "¿Qué Pasa?" Still touchy about Banzai's remark and angry at being compared unfavorably to his brother, Scar throws them out without listening to their complaints.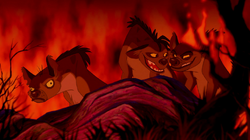 When a young adult Simba returns to overthrow Scar, Shenzi, Banzai, and Ed grow worried once Scar sees Simba alive and well and glares at them, prompting them to gulp and back away. However, they demonstrate their continued loyalty to Scar by joining the fight on his side, but most hyenas are defeated or flee the Pride Lands, while Shenzi and Banzai are ruthlessly beaten up by Pumbaa for calling him a "pig" while Ed watches in horror. Shenzi, Banzai, and Ed follow Scar and Simba at the top of Pride Rock to assist Scar, who has been cornered by Simba. However, when they overhear Scar try to thrust all blame for the events on them to Simba, claiming that Mufasa's death was all their idea, they get angry and alert the rest of the clan to what they just heard.
After Scar is defeated by Simba, he finds himself surrounded by the fallen hyenas and greets them casually, but they reveal they overheard him calling them the enemies. Scar desperately tries to explain that he didn't really mean what he said, but Shenzi, Banzai, Ed, and the entire clan have had enough of his lies, derogatory treatment, and broken promises of never going hungry again. Without hesitation, they close in to leap on Scar and devour him alive as flames rise around them.
In the direct-to-video sequel The Lion King II: Simba's Pride, they don't appear in the sequel, although they are mentioned by Nuka, who says that the graveyard has become more creepy ever since the hyenas left the territory.
It is possible that the hyenas Nuka mentioned weren't Shenzi, Banzai, and Ed, but several unnamed hyenas since hundreds were shown during the villains' song, and many were seen running off during the climax in the original film. Only some of them (Shenzi, Banzai, and Ed among them) were sent to the lower area where they eat Scar. Those who did not fall below presumably returned to the elephant graveyard, and later "ran off". It's equally possible that the hyena trio survived the fire after murdering Scar, returned to the Elephant Graveyard, and soon fled the wasteland, leaving it dormant of hyenas. As a result, the fate of Shenzi, Banzai, and Ed remains unknown.
Scar's death at the jaws of his hyena henchmen seems to be ignored by (or not disclosed to) Zira as she mentions to Kovu that Simba killed Scar and outcasted the lions who supported him. During Simba's conversation with an adolescent Kovu, it's assumed that Simba informed Kovu of the true cause of Scar's death, and it's likely that after the Outsiders are re-united with the Pride Landers, they were informed of how Scar was betrayed and murdered by the hyenas.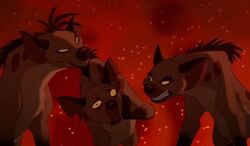 In the direct-to-video midquel The Lion King 1½, the hyenas have a fairly major role in setting the story rolling and serve as the film's main antagonists (seeing as Scar has no lines and makes only brief appearances). Despite being the main antagonists, they only appear twice in the film.
In their first appearance, they attack a meerkat colony while Timon, who is the sentry on duty for the colony, is daydreaming. They fail to catch any meerkats, but this incident drives Timon to leave the colony to find where he truly belongs. This scene occurs shortly before Simba is born.
The hyenas make an appearance again during the film's climax at Pride Rock. Some anonymous hyenas are seen chasing Timon and Pumbaa into a cave (after the Hula song in the first film) and are driven away by Pumbaa's flatulence. Timon and Pumbaa insult the hyenas to get them away from Simba so that he has a better chance against Scar - Ed, as usual, laughs at the joke, and Banzai hits him, while Shenzi tells them, "For your last meal, you're gonna eat those words." Eventually, Timon and Pumbaa are cornered by the hyenas.
Timon first balances plates then performs the can-can, which stalls the hyenas briefly, then breakdances with Pumbaa, which Shenzi applauds to before simply agreeing with Banzai to eat them. Finally, he proposes to Shenzi as a desperate move to buy time for his mother and Uncle Max as they dig a tunnel, which she turns down, becoming more and more disgusted at his proposal. Banzai seems to realize Timon is trying to buy time for something, and says, "I say we skip the wedding and get straight to the buffet!" However, Timon decided to risk his life by getting past Shenzi and finish the tunnel which cause her and all the other hyenas to fell into it in time to meet Scar once Simba defeated him.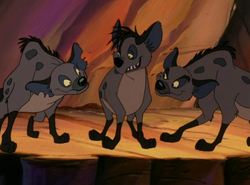 The three hyenas made occasional appearances in the TV series The Lion King's Timon & Pumbaa. While Jim Cummings reprised his role as Ed, Tress MacNeille and Rob Paulsen replaced Whoopi Goldberg and Cheech Marin as Shenzi and Banzai. While still as vicious and threatening as they are in the movie, the hyenas become more neutral as the show progresses. Though they are at first shown to be more dim-witted in comparison to the original film, they become wiser near the end of their first appearance and in later episodes, often coming up with clever ways to get their meal, though many of them end in failure.
The hyenas have their own segments titled "The Laughing Hyenas", which involve the trio searching for food after running away from the Pride Lands. Outside of their own segments, they appeared in flashbacks in "Doubt of Africa" and "Once Upon a Timon" and made a non-speaking appearance in "Space Ham".
In "Cooked Goose", two snooty cheetahs, Cheetato and Cheetata, have found that the Hyena Trio is disturbing their hunts, so they decide to send them on wild goose chases to get them out of the way. First, they try giving them a treasure map where X marks the spot, but the hyenas don't know how you spell 'X'. Then they try catapulting the hyenas via Serengeti Shuttle into a volcano, but the hyenas just come back, suspicious about the lack of seatbelts, airbags, and lack of peanuts. Finally, they decide to split the hyenas up, telling each one that they are the brains of the bunch and giving them directions to the North Pole. Unfortunately, the hyenas meet up there and realize they've been conned. Back in the Serengeti, they find the Cheetahs again, who are so stuffed from eating that they cannot outrun the hyenas. Just as the hyenas are about to eat them, a wild goose arrives and asks them which way is south, as he's headed for a wild goose convention. The five of them direct him, then chase him.
In "Big Top Breakfast", the hyenas are walking along, complaining about how hungry they are. Banzai comments that he's so hungry he could eat a circus monkey, and a crate with Simon the circus monkey on it lands on the three of them. They promptly start arguing about who gets to eat him, allowing him to escape. Shenzi suggests that they pretend to be monkeys and hide in a barrel, and Banzai suggests that "Hey, we can build an environment suitable and comfortable for all species in the class known as Chimpanzee." Ed, however, discovers that the crate the monkey landed with is full of circus stuff. Shenzi promptly constructs an elaborate circus, and posing as ringmaster, gets Simon to dive into their cooking pot. He breaks out and hides in a circus cannon, which Banzai fires. The cannon explodes and the hyenas are left charred and monkey-less. Banzai complains that he is so hungry that he could eat a blue whale, and one promptly lands on the three of them.
In "Can't Take a Yolk", Shenzi wakes up and wakes up Banzai, who wakes up Ed. While Banzai and Ed fight, Shenzi spots a mother ostrich nursing an egg and persuades Banzai that the egg would make an excellent breakfast. First, they attempt to creep up on the egg but find it's heavily alarming. Then they try to crush the mother ostrich with a large rock but get crushed themselves. Then they try to tunnel up under the egg, but end up tunneling to China, and get crushed by a cart. Then they redirect an elephant to crush both mother and egg but get crushed by the elephant. Finally, Shenzi has them disguise themselves as ostriches and persuades the mother to put her head in the sand, while they steal the egg and substitute a rock. However, as they argue over who gets to eat the egg, it hatches into a huge ostrich, and they are knocked into a canyon and squashed by a large rock.
In "TV Dinner", The hyenas observe a nature documentary made about an armadillo in the Serengeti. The three of them decide that they too can be stars and get great meals. For the host Martin Pardon, Shenzi demonstrates ballet dancing, Banzai performs a singing act and Ed attempts slapstick comedy, but they are turned down abruptly. When the armadillo gets a movie deal, they are offered jobs but decide that they'd rather be directors and have Martin Pardon for lunch.
Whilst the hyena trio do not return in the series, but they are heavily alluded multiple times. According to a promotional video for The Lion Guard: Return of the Roar, Janja, and his clan (who serve as the main antagonists of the first season) are descendants of Shenzi, Banzai, and Ed's clan. In addition, in a teaser for the pilot episode, a cave painting of Scar and the hyenas ruling the Pride Lands are also shown. Much like their ancestors, Janja's clan is greedy and over-hunts, and makes numerous schemes to kill the Lion Guard and take over the Pride Lands.
In Season 2, the original hyenas are referenced more, both through paintings of them with Scar, and through mentions by the characters although the trio is not specifically named or referenced to. Janja is apparently unaware of the cause of Scar's death, believing he burned alive during his fight with Simba at Pride Rock, and later decide to summon Scar's ghost in order to battle the Pride Lands. In "The Scorpion's Sting", when Bunga and Makini argue over the cause of Scar's defeat, Bunga shows a painting of Timon and Pumbaa distracting the hyenas with their hula dance, which he claims to be the reason why Simba was able to get to Scar.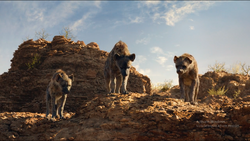 They appear in the 2019 photorealistic remake. In this film, Ed is renamed "Azizi" while Banzai is renamed "Kamari". While Azizi and Kamari's roles are largely the same as their originals, Shenzi is portrayed as a serious leader and doesn't have any trace of the comical side of her original. Shenzi's position as the matriarch of her group is also shown clearly to the point that Azizi and Kamari fear her (the novelization based on the film's plot also describes her as a hyena queen). She is also far more defiant, openly declaring that Mufasa doesn't rule over her and doesn't hesitate to try to eat Simba and Nala despite being warned by Zazu that doing so would mean starting a war against Mufasa, reasoning that the hyenas and lions have always been at war. However, she's still smart enough to know how strong Mufasa is, so she lets him go when he rescues Simba and Nala so as to not jeopardize her clan's safety. Also, there is a running gag in the film where Azizi has a personal space issue with Kamari and keeps getting too close to him.
Unlike in the original, the hyenas are not allied with Scar from the very beginning. They started an alliance with Scar only after Scar personally came to the Elephant Graveyard and revealed his plan to overthrow Mufasa with a promise that the hyenas will be allowed to hunt in the Pride Lands. Following Scar's plan, Shenzi and the others start the stampede that resulted with Mufasa's death and chase after Simba who survived. Instead of falling and running through a thornbush, Simba falls off a cliff. Shenzi orders the boys to go down and make sure he's dead, then she wanders off. Too afraid to go down the cliff and believe that no cub would be able to survive that fall, Kamari and Azizi decide to tell Shenzi and Scar that they ate Simba. However, Simba is shown to have survived the fall much to the hyenas' lies.
After the hyenas begin to live in the Pride Lands, they became Scar's personal hunting group, with Scar himself leading them, while the lionesses can only watch from the Pride Rock. Overhunting for years, the Pride Lands became a wasteland with most of the surviving herds leaving the Pride Lands in a disastrous famine. Kamari and Azizi later chase Zazu and banish him from the Pride Lands while Shenzi takes Sarabi to talk to Scar about his kingdom's update. To force Sarabi to become his queen so that the lionesses will accept him as king, Scar enforces a law that the lioness can only eat the hyenas' leftovers much to his selfish tyranny.
During the confrontation between Simba and Scar, the hyenas support Scar and defend him when Scar orders Simba and his supporters to be killed. In the ensuing battle, Shenzi spots Nala, whom she failed to eat when they first met, and attacks the lioness as she has been wanting to eat her. Despite being smaller, Shenzi puts up a considerable fight against Nala, but is ultimately overpowered and thrown off the rock. Shenzi survives and she, Kamari, and Azizi race to the top of Pride Rock to assist Scar who has been cornered by Simba. However, when they overhear Scar's attempt to pin the blame of Mufasa's death on them and plan to kill them, they angrily leave to inform the other hyenas that they were being used by Scar.
Furious with his attempt to double cross them, the hyenas corner Scar after he is defeated by Simba. Scar tries to reason with them, but they refuse to buy his excuses with Shenzi saying that there was only one true thing Scar ever said; that a hyena's belly is never full. The hyenas attack Scar, who fights back, but quickly overwhelm him with their superior numbers and eat him alive. After Scar's death, Shenzi, Kamari, and Azizi, along with the whole hyena clan, leave the Pride Lands.
The hyenas made cameo appearances in several House of Mouse episodes. They're notably seen near the beginning of the premiere episode "The Stolen Cartoons".
In "House of Turkey", the hyenas are anxiously waiting to eat Mr. Turkey, but when they learn that he's a guest performer and not an entrée, they briefly try to eat Pumbaa.
In "Donald's Pumbaa Prank", they were seen at their table about to eat Zazu.
In "House of Crime", Shenzi can be seen in a cage along with other villains before they all disappear.
The hyenas were also part of the entourage of Disney Villains featured in Mickey's House of Villains; They can be seen in a crowd shot during "It's Our House Now!", with Banzai having particular focus alongside such figures as the Queen of Hearts and Kaa.
Other appearances
Shenzi and Ed appear in the animated blooper reel featured in the Diamond Edition release of The Lion King. In the special feature, Shenzi is shown showcasing her hyena laugh for a take, while a seemingly annoyed Ed stands by.
In the episode "Scar and Lion King Friends" of Disney Crossy Road: The Animated Series, Shenzi, Banzai, and Ed are ordered by Scar to capture Simba; they are met with unsuccessful results in their attempts.
Printed media
In the fifth installment of the saga, Shell Game, Shenzi, Banzai, and Ed appear as henchmen to the Overtakers. They are usually guarding important places or objects.
Descendants: Isle of the Lost
Shenzi, Banzai, and Ed are among the villains imprisoned on the Isle of the Lost. They are the parents of young hyenas given to the children of the villains (however, it's unclear if the trio fathered the cubs, if just Banzai or Ed fathered the cubs with Shenzi or if they individually mated with other hyenas).
The Lion King: Nature Fun And Learn Series
In this official magazine, Shenzi, Banzai, and Ed's ages are revealed in a puzzle. At the beginning of the movie, Shenzi is 2 years old while Banzai and Ed are 3. Following hyena social and biological habits, females become pregnant with one or two cubs every other year, and males migrate from their birth clans at maturity and spend several months wandering to find a new clan, while the females remain. This means Shenzi is not related to Banzai or Ed, and they must have only recently joined the hyena clan. Additionally, Shenzi must have only very recently have become the Matriarch, having only just reached sexual maturity herself, which might explain why she accepted Scar's offer of an alliance.
In one story it is told that the hyenas guard the borders of the Pride Lands, and they are diverted by monkeys throwing rotten fruit so that Nala can escape finding help. In another, it is said that there was a flash flood during Scar's reign that briefly trapped Shenzi.
Video games
While hyenas were a common enemy in the Lion King SNES release, none of the hyenas fought were Shenzi, Banzai, or Ed. Even the end-of-level boss hyena on the first level was not one of them. Once defeated, each hyena performed Ed's drooling 'salute' briefly before collapsing, but these hyenas lacked Ed's bitten ears.
Banzai appears at the end of the "Simba's Exile" level, but only to deliver his line "If you ever come back, we'll kill ya!"
Ed appears in the "Shadowlands" (referring clearly to Elephant Graveyard) section, mostly in two of its games: the Xylobone (he serves sometimes as the player's opponent, or he may let him or her play it freely) and the Stone Card Matching game (as one of three possible movie-exclusive character opponents, the other two being Simba and Nala). He also seems to appear in the maze game, but no hyena is ever specified there.
The hyenas first appear in the "Graveyard" level, chasing Simba as he tries to escape the elephant graveyard. At the end of the level, all three must be defeated before the player can win. The hyenas later appear in the "Return of the King" level, trying to prevent Simba from reaching Scar.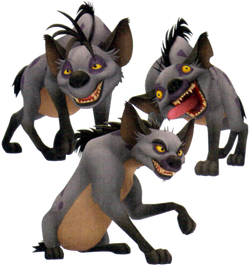 In this video game, Kingdom Hearts II, the trio play a relatively minor role in their homeworld "The Pride Lands", where it largely follows the story of the film.
In the game, the trio and the Clan are desperate for food and try to eat Sora, Donald, and Goofy. Banzai almost killed Sora but were stopped when Scar roared. The hyena trio ran off to Scar to see what he wanted along with the other hyenas.
The hyena trio is seen once again at Pride Rock and was about to attack them, but Scar roared then the hyena trio looked up and saw Scar and Pete. When Nala knocked down Scar and told Sora, Donald, and Goofy to run, the three heroes ran with Shenzi, Banzai, Ed, and the other hyenas in pursuit. Sora, Donald, Goofy, and Nala managed to get away from the hyenas. The hyena trio is later seen again at Pride Rock preventing Simba from getting to Scar. Sora then told Simba to go after Scar while his friends handle the hyenas. Timon and Pumbaa knocked the hyenas into the air but they were chased into Pride Rock by the hyena trio and the other hyenas. Sora, Donald, and Goofy battled the hyena trio inside Pride Rock. The trio was easily defeated and ran out of Pride Rock.
Later on in the game, the trio of hyenas have fought again for information on the source of Scar's ghost. They know nothing of the ghost and taunt Simba about it. They also seem to have somewhat of a grudge against Sora, Donald, and Goofy, as it was thanks to their part in overthrowing Scar that they were sent back to the elephant graveyard to only eat scraps.
The hyenas have also made prominent appearances in the musical, having been given more dialogue and a much more expanded role than in the movie. They even appear during the first part of The Madness of King Scar in which Shenzi and Banzai give their complaints to Scar over a shortage of food and water and tell Scar that he is adored. They also have their own song, Chow Down when Simba and Nala enter the Elephant Graveyard.
Appearances by the hyenas at Walt Disney Parks and Resorts are extremely rare. In the parks, they walk upright instead of on all four legs. All three have a very awkward-looking hunchback posture.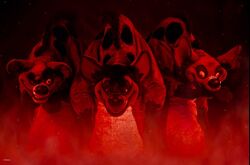 To date, their most reliable presence has been as part of the Walt Disney World Resort's annual Mickey's Not-So-Scary Halloween Party event. They also made appearances during Unleash the Villains in 2014.
The hyenas appear alongside Scar in Sorcerers of the Magic Kingdom. Here, Hades revives Scar from the dead and recruits him in a take-over plot. Scar, needing henchmen to assist him, convinces the hyenas that he is invincible through magic and must obey his commands. They reluctantly agree to do so and are ordered to start an elephant stampede to crush anyone who interferes. Banzai notices the park guests and battles them, but he is quickly defeated. Soon after, the park guests must reveal Scar's lies by injuring him in front of the hyenas. Once Scar's lies are revealed, Shenzi gathers the clan and departs, leaving Scar without aid.
Shenzi, Banzai, and Ed's likenesses are also featured in Disney's Art of Animation Resort.
In 2004, they were featured in The Lion King Carnival event.
They would also appear in Disneyland Paris for the 2013 event Disney Dreamers Everywhere!.
Gallery
Relationships
Trivia
Although they are officially spotted hyenas (Crocuta crocuta), they have fewer spots, bigger ears and a streak of mane on their back, like striped hyenas (Hyaena hyaena).
Shenzi's position as leader is like hyenas in real life, as they are a matriarchal society. This matriarchy also tends to run in families as cubs of high-ranking hyenas get aggressive hormonal boosts. To have any power, male hyenas must perform services for high-ranking females, implying that Banzai and Ed are courting Shenzi in order to be allowed to hunt and work with her.
The official "Lion King Fun And Learn Series" stated in a puzzle that at the start of the movie, Shenzi is 2 years old and Banzai and Ed are both 3 years old. Since male hyenas leave their birth clans at adolescence it is very likely Banzai and Ed are from another clan, while Shenzi has only just taken command of the clan.
Ernie Sabella, who voiced Pumbaa in the film, originally auditioned for the role of Shenzi. But after Nathan Lane, who previously worked with Sabella on Guys and Dolls and were already good friends, auditioned for the role of Zazu, Lane and Sabella were instead cast as Timon and Pumbaa, respectively.
During the villain song "Be Prepared", Shenzi is the first to scream out to the pack, "Long live the king!" before bursting into laughter. The pack then follows her command, proving that she is the Matriarch of the entire pack, not just the primary trio.
Shenzi was originally going to be male and voiced by Tommy Chong, who is best known for his collaborations with Cheech Marin, who voices Banzai. However, Chong was unavailable when Cheech Marin chose to voice Banzai. Chong would, however, later voice Yax the Yak in Disney's later success, Zootopia.
In early production of The Lion King, Shenzi, Banzai, and Ed were cape dogs but were later changed to spotted hyenas.
Despite Ed's behavior, his voice actor, Jim Cummings, insists that Ed "knows the score". He believes Ed understands everything going on, but pretends to be less intelligent so that he can 'get away' with certain things.
The way Shenzi, Banzai, Ed, and the rest of the hyenas surround Scar is similar to what the wolves from Beauty and the Beast were originally supposed to do to Gaston at the end of the film.
In the Kingdom Hearts series, Banzai came the closest to killing Sora out of any villains in the series - due to the hero transforming into a lion cub and being unfamiliar with his new anatomy - and was only unable to since Scar called for him and the others.
According to The Lion King: The Junior Novelization, when Shenzi, Banzai, and Ed finally kill Scar out of revenge for betraying them and the other hyenas, they describe his death as being "a king fit for a meal."

Ironically, this was a deleted line from the film which Shenzi was supposed to say when they cornered Simba and Nala.
Other novelizations such as the Mouseworks Novelization omit the Hyenas' role in Scar's death, and instead indicate that Scar merely fell to his death during his fight with Simba.

In an early script for the climax of The Lion King, Banzai was originally going to be flung onto the ribcage imprisoning Zazu, thus freeing him and allowing him to peck Banzai on the head, then Ed comes to help. The two come close to killing Zazu when Timon and Pumbaa ram them from behind and send them flying to a burning tree, likely to their deaths.
In early production of The Lion King II: Simba's Pride, Banzai was slated to return, once again voiced by Cheech Marin, but was allegedly, for unknown reasons, removed from the final cut of the film.
In a storyboard for The Lion King 1 1/2, Timon and Pumbaa were going to have a run-in with the hyenas at the Elephant Graveyard, however this scene was cut.
It has been revealed that Janja (the main antagonist of The Lion King's spin-off series The Lion Guard) and his clan are descendants of Shenzi, Banzai, and Ed's clan, but it's still never revealed what happened to the previous clan and to Shenzi, Banzai, and Ed themselves.
Just after Shenzi and Banzai are beaten up and tossed out by Pumbaa in response to the latter being called a pig, the three hyenas make whimpering sounds while scrambling to flee in a similar manner to dogs. In actuality, hyenas are not related to dogs despite their canid-like appearances, belonging to the feliform family.
Banzai's design appears to be the base for generic hyenas of the rest of the clan.
The only line pronounced by Ed which is not a laugh is in the song "Be Prepared", when he recites the verse "Yes, our teeth and ambitions are bared" with the other two.

Ed's voice actor, Jim Cummings, had to replace Jeremy Irons when recording part of that song.
External links
v - e - d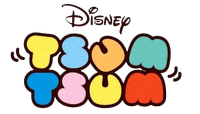 Disney
Mickey & Friends:

Mickey • Minnie • Donald • Daisy • Goofy • Pluto • Chip and Dale • Oswald • Ortensia • Duffy • ShellieMay • Gelatoni • StellaLou • CookieAnn • 'Olu Mel • Huey, Dewey, and Louie • José Carioca • Panchito Pistoles • Clarabelle Cow • Horace Horsecollar • Max Goof • Clarice • Pete • Scrooge McDuck • Ludwig Von Drake • Dr. Frankenollie • Julius

Pooh and Pals: Pooh • Tigger • Piglet • Eeyore • Rabbit • Owl • Roo • Kanga • Gopher • Christopher Robin • Lumpy
Lilo & Stitch: Stitch • Lilo • Scrump • Pleakley • Jumba • Angel • Leroy • Dr. Hämsterviel • Ugly Duckling • Sparky • 627 • Gigi • Babyfier • Yang • Slushy • Shortstuff • 625 • Amnesio • Dupe • Sample • Clip • Tank • Yin • Hunkahunka • Plasmoid
Silly Symphonies: Donald Duck • Big Bad Wolf • Practical Pig • Fiddler Pig • Fifer Pig • Ugly Duckling
Snow White and the Seven Dwarfs: Snow White • Evil Queen • Doc • Grumpy • Happy • Bashful • Sneezy • Sleepy • Dopey
Pinocchio: Pinocchio • Jiminy Cricket • Figaro • Cleo • Geppetto • Blue Fairy • Honest John and Gideon • Lampwick • Monstro
Fantasia: Mickey • Yen Sid • Chernabog • Hyacinth Hippo • Ben Ali Gator
Dumbo: Dumbo
Bambi: Bambi • Thumper • Miss Bunny • Friend Owl • The Great Prince of the Forest
The Three Caballeros: Gauchito • Burrito
The Adventures of Ichabod and Mr. Toad: Mr. Toad
Cinderella: Cinderella • Jaq and Gus • Prince Charming • Fairy Godmother • Lady Tremaine • Lucifer • Suzy • Perla • Bruno
Alice in Wonderland: Alice • Mad Hatter • March Hare • Dormouse • White Rabbit • Cheshire Cat • Tweedle Dum and Tweedle Dee • Queen of Hearts • King of Hearts • Caterpillar • Dinah • Oysters
Peter Pan: Peter Pan • Tinker Bell • Wendy Darling • John Darling • Michael Darling • Captain Hook • Mr Smee • Nana • Tick Tock • Tiger Lily
Lady and the Tramp: Lady • Tramp • Si and Am • Jock • Trusty • Peg
Sleeping Beauty: Aurora • Phillip • Maleficent • Flora • Fauna • Merryweather • Diablo • Samson • King Stefan • Goon • Owl • Rabbit
Mary Poppins: Mary Poppins • Bert • Penguin Waiter • Carousel Horse
One Hundred and One Dalmatians: Cruella De Vil • Lucky • Patch • Rolly
The Jungle Book: Mowgli • Baloo • Bagheera • Shere Khan • Kaa • King Louie • Hathi, Jr. • Raksha
Pete's Dragon: Elliott
The Fox and the Hound: Tod • Copper
The Aristocats: Marie • Berlioz • Toulouse • Duchess • Thomas O'Malley
The Rescuers: Bernard • Bianca
Oliver & Company: Oliver • Dodger • Tito • Rita • Francis • Einstein
The Little Mermaid: Ariel • Flounder • Sebastian • Eric • Ursula • Triton • Max • Scuttle
Beauty and the Beast: Belle • Beast • Lumiere • Cogsworth • Mrs. Potts • Chip • Maurice • Philippe • Gaston • LeFou
Aladdin: Aladdin • Abu • Genie • Jasmine • Jafar • Sultan • Iago • Rajah
The Nightmare Before Christmas: Jack Skellington • Sally • Zero • Lock, Shock, and Barrel • Oogie Boogie • Dr. Finkelstein • Mayor of Halloween Town • Santa Claus
The Lion King: Simba • Nala • Timon • Pumbaa • Zazu • Rafiki • Scar • Ed
Pocahontas: Pocahontas • John Smith • Meeko • Flit • Percy
Hercules: Hercules • Megara • Hades
Mulan: Mulan • Li Shang • Mushu • Fa Zhou • Khan
The Emperor's New Groove: Kuzco • Yzma • Kronk
Mickey, Donald, Goofy: The Three Musketeers: Mickey Mouse • Minnie Mouse • Donald Duck • Goofy
Chicken Little: Chicken Little
The Princess and the Frog: Tiana • Dr. Facilier
Tangled: Rapunzel • Flynn Rider • Pascal • Maximus • Mother Gothel • Queen Arianna • King Frederic • Cassandra • Fidella • Pub Thug
Wreck-It Ralph: Wreck-It Ralph • Fix-It Felix Jr.
Frozen: Anna • Elsa • Olaf • Kristoff • Sven • Hans • Snowgies • Bruni
Big Hero 6: Hiro • Baymax • Fred • Wasabi • Honey Lemon • Go Go Tomago • Tadashi Hamada • Yokai • Mochi
Zootopia: Judy Hopps • Nick Wilde • Mayor Lionheart • Flash • Yax • Gazelle • Chief Bogo • Clawhauser • Finnick • Mr. Big • Bellwether • Jerry Jumbeaux Jr.
Moana: Moana • Maui • Pua • Heihei • Tamatoa • Kakamora
Chip 'n Dale Rescue Rangers: Chip • Dale • Gadget • Monterey Jack
Phineas and Ferb: Perry
The Lion Guard: Kion • Ono • Bunga • Beshte • Fuli
DuckTales (2017): Scrooge McDuck • Huey, Dewey, and Louie • Webby Vanderquack
Kingdom Hearts: Sora • Riku • Kairi • Aqua • Xemnas • Ansem, Seeker of Darkness • Ventus • Terra • Chirithy • Lea • Young Xehanort
UniBEARsity: Mocha • Pudding • Whip • Puffy • Mont • Blanc • Souffle • Blue Rose • Charmant • Portiron • Rogue Rose • Fauve • Lucien • Horloge • La Mer • Ma Puce
Sofia the First: Sofia • Minimus • Skye
Elena of Avalor: Elena
Enchanted: Giselle
Disney Fairies: Periwinkle • Rosetta • Silvermist
The Sword in the Stone: Wart • Merlin
Oliver & Company: Oliver
Raya and the Last Dragon: Raya • Sisu
Twisted Wonderland: Grim • Riddle Rosehearts • Azul Ashengrotto • Leona Kingscholar • Kalim Al-Asim • Vil Schoenheit • Idia Shroud • Malleus Draconia • Dire Crowley • Mirror of Darkness
v - e -

d

Disney
Mickey Mouse & Friends:

Mickey • Minnie • Donald • Daisy • Goofy • Pluto • Fifi • Pete • Clarabelle Cow • Horace Horsecollar • Willie the Giant • Chip and Dale • Mortimer Mouse • Chief O'Hara • Detective Casey • Butch the Bulldog • Golden Harp • Father Time • Peter Pig


The Lion King: Simba • Nala • Shenzi, Banzai, and Ed • Ostrich • Gazelle • Rhino • Hippo • Zebra • Blue Beetle • Grub • Zazu • Rafiki • Timon • Pumbaa • Mufasa • Scar
Tangled: Rapunzel • Flynn Rider • Stabbington Brothers • Pub Thugs • Attila • Vlad • Big Nose • Hook Hand • Ulf • Shorty • Pascal • Maximus • Mother Gothel • The King • The Queen • Captain of the Guards • Warthog • The Lantern
Wreck-It Ralph: Ralph • Vanellope • Felix • Sgt. Calhoun • King Candy • Taffyta Muttonfudge • Candlehead • Surge Protector • Gene • Nicelanders • Rancis Fluggerbutter • Other Sugar Rush Racers • Sour Bill • Blue Racer • General Hologram
Big Hero 6: Hiro Hamada • Baymax • Robert Callaghan • Go Go Tomago • Honey Lemon • Wasabi • Fred • Fred's Dad • Tadashi Hamada • Cass • Yama • Alistair Krei • Heathcliff • Abbigail Callaghan • Attila • Sergeant Gerson • Cass
Zootopia: Judy Hopps • Nick Wilde • Flash • Clawhauser • Gazelle • Yax • Bogo • Mayor Lionheart • Bellwether • Doug • Finnick • Mr. Big • Mr. Otterton • Manchas • Gideon • Jerry Jumbeaux Jr. • Nanga • Priscilla • Mr. Hopps • Mrs. Hopps • Business Lemming • Duke Weaselton • Fru Fru • Kozlov • Officer McHorn • Wrangled • Wreck-It Rhino • Pig Hero 6
The Jungle Book: Mowgli • Kaa • Baloo • Akela • Raksha • Gray • Shere Khan • Colonel Hathi • King Louie • Bandar-Log Monkey • Flying Squirrel • Crocodile • Peacock • Vulture • Elephant • Bee Hive
Alice Through the Looking Glass: Alice Kingsleigh • Dormouse • Tweedledee and Tweedledum • Cheshire Cat • Bandersnatch • Bayard • White Queen • March Hare • White Rabbit • Mad Hatter • Absolem • Time • Wilkins • Humpty Dumpty • Red Queen • Borogrove • Frog Delivery Man • Gentleman Fish • Vegetable Soldier • Vegetable Servant • Vegetable Executioner • Armored Chess Piece
Pirates of the Caribbean: Jack Sparrow • Will Turner • Elizabeth Swann • Joshamee Gibbs • Tia Dalma • James Norrington • Marty • Cotton • Bootstrap Bill Turner • Pintel • Ragetti • Angelica • Blackbeard • Prison Dog • Maccus • Davy Jones • Helmsman • Philip Swift • Syrena • Captain Salazar • Ghost Lesaro • Shansa • Henry Turner • Carina Smyth • The Redhead • Murtogg • Mullroy • Treasure Chest • Stray Cat • Tiny • Pirate With Pigs • Ghost Shark • Ghost Seagull • Auctioneer
Aladdin: Aladdin • Jasmine • The Sultan • Prince Achmed • Gazeem • Razoul • Rajah • Iago • Abu • Genie • Jafar • Magic Carpet • Pink Flamingo • Beggar Jafar • Golden Scarab Beetle • Magic Lamp • Snake Charmer • Golden Camel
The Nightmare Before Christmas: Jack Skellington • Sally • Lock, Shock, and Barrel • Oogie Boogie • Easter Bunny • Santa Claus • Behemoth • Wolfman • Corpse Family • Mummy Boy • Mayor of Halloween Town • Dr. Finkelstein • Jewel • Zero
Mulan: Mulan • Yao, Ling, and Chien Po • Fa Li • Fa Zhou • Hayabusa • Khan • Cri-Kee • Little Brother • Mushu • Shan Yu • Captain Li Shang • The Emperor of China • The Matchmaker • General Li • Grandmother Fa • First Ancestor Fa • Chi-Fu • Great Stone Dragon
Moana: Moana • Sina • Frigatebird • Chief Tui • Gramma Tala • Pua • Frigatebird • Kakamora Chief • Maui • HeiHei • Ghost Matai • Eel • Tamatoa • Frog Monster • Sloth Monster • Eight Eyed Bat • Chicken Feed • Maui's Hook • The Ocean
Beauty and the Beast: Belle • Maurice • Chip Potts • Mrs. Potts • Gaston • LeFou • FrouFrou • Chapeau • Plumette • Beast • Cogsworth • Lumiere • The Enchantress
Lilo & Stitch: Lilo Pelekai • Nani Pelekai • David Kawena • Mrs. Hasagawa • Mertle Edmonds • Stitch
DuckTales: Scrooge McDuck • Donald Duck (Classic) • Huey, Dewey, and Louie • Webbigail Vanderquack • Mrs. Beakley • Beagle Boys (Big Time, Burger, and Bouncer) • Gyro • Darkwing Duck • Falcon Graves • Pixiu Chinese Dragon • Peghook's Ghost • Launchpad McQuack • Hack and Slash Smashnikov • Gizmoduck • Shadow Magica • Ma Beagle • Flintheart Glomgold • Pharaoh Toth-Ra • Headless Man-Horse
v - e - d
Characters
Main Characters: Sora • Riku • Kairi • King Mickey • Donald Duck • Goofy • Roxas • Axel/Lea • Naminé • Xion • Aqua • Terra • Ventus


Villains: Xehanort • Ansem • Xemnas • Maleficent • Pete • Vanitas • Xigbar/Braig • Xaldin • Vexen • Lexaeus • Zexion • Saïx/Isa • Demyx • Luxord • Marluxia • Larxene • Terra-Xehanort • Young Xehanort • Xehanort's Guardian
Other Characters: Jiminy Cricket • Ansem the Wise/DiZ • Yen Sid • Master Eraqus • Dilan • Even • Aeleus • Ienzo • Lingering Will • Hayner • Pence • Olette • Kairi's Grandma • Riku Replica • Jiminy's Journal • Foretellers • Master of Masters • Luxu • Ephemer • Skuld • Chirithy • Lauriam • Elrena
Original Monsters: Heartless • Nobodies • Unversed • Dream Eater
Disney Characters introduced in Kingdom Hearts: Queen Minnie • Daisy Duck • Pluto • Chip and Dale • Huey, Dewey, and Louie • Magic Brooms • Alice • White Rabbit • Doorknob • Cheshire Cat • Queen of Hearts • Card Soldiers • Tarzan • Jane Porter • Clayton • Terk • Kerchak • Kala • Sabor • Hercules • Philoctetes • Hades • Cerberus • Rock Titan • Ice Titan • Aladdin • Abu • Jasmine • Genie • Carpet • Jafar • Iago • Peddler • Cave of Wonders • Pinocchio • Geppetto • Monstro • Cleo • Ariel • Flounder • Sebastian • Ursula • King Triton• Flotsam and Jetsam • Glut • Jack Skellington • Zero • Sally • Oogie Boogie • Lock, Shock, and Barrel • Dr. Finkelstein • Mayor of Halloween Town • Peter Pan • Tinker Bell • Captain Hook • Mr. Smee • Wendy • Crocodile • Merlin • Winnie the Pooh • Tigger • Piglet • Eeyore • Rabbit • Owl • Roo • Bees • Beast • Belle • Snow White • Cinderella • Fairy Godmother • Aurora • Pongo • Perdita • Dalmatian Puppies • Simba • Mushu • Dumbo • Bambi • Chernabog
Disney Characters introduced in Kingdom Hearts II: Flora, Fauna, and Merryweather • Maleficent's Raven • Scrooge McDuck • Mulan • Li Shang • Shan Yu • Hayabusa • Yao, Ling, and Chien Po • The Emperor • Lumiere • Cogsworth • Mrs Potts • Chip • Wardrobe • Pegasus • Megara • Pain and Panic • Hydra • Horace Horsecollar • Clarabelle Cow • Clara Cluck • Jack Sparrow • Elizabeth Swann • Will Turner • Captain Barbossa • Bo'sun • Jacoby • Twigg • Cursed Crew • Prince Eric • Attina • Andrina • Santa Claus • Skeletal Reindeer • Timon • Pumbaa • Nala • Rafiki • Scar • Shenzi, Banzai, and Ed • Mufasa • Kiara • Pridelanders • Hyenas • Tron • Master Control Program • Commander Sark • Kanga • Gopher • Stitch • Chicken Little
Disney Characters introduced in Birth by Sleep: Prince Phillip • Maleficent's Goons • Doc • Grumpy • Happy • Sleepy • Bashful • Sneezy • Dopey • The Prince • Evil Queen • Magic Mirror • Prince Charming • Jaq • Lady Tremaine • Anastasia • Drizella • Lucifer • Grand Duke • Grand Councilwoman • Captain Gantu • Jumba • Experiment 221 • Lost Boys
Disney Characters introduced in Dream Drop Distance: Quasimodo • Esmeralda • Phoebus • Judge Claude Frollo • Victor, Hugo, and Laverne • Kevin Flynn • Sam Flynn • Quorra • CLU • Rinzler • Black Guards • Blue Fairy • Beagle Boys • Chernabog's Minions • Julius
Disney Characters introduced in Kingdom Hearts χ: Mad Hatter • March Hare • Razoul • Royal Guards • Maurice • Gaston
Disney Characters introduced in Kingdom Hearts Union χ: Sultan • Samson • Vanellope von Schweetz • Fix-It Felix Jr. • Sergeant Calhoun • King Candy • Sour Bill • Cy-Bugs • Hero's Duty Troops
Disney Characters introduced in Kingdom Hearts III: Zeus • Apollo • Athena • Hermes • Lava Titan • Tornado Titan • Little Chef • Woody • Buzz Lightyear • Rex • Hamm • Sarge • Green Army Men • Little Green Men • Rapunzel • Flynn Rider • Pascal • Maximus • Mother Gothel • Sulley • Mike Wazowski • Boo • Randall Boggs • Child Detection Agency • Trailer Son and Mom • Elsa • Anna • Kristoff • Olaf • Sven • Marshmallow • Hans • Mr. Gibbs • Tia Dalma • Davy Jones • Kraken • Cutler Beckett • Baymax • Hiro Hamada • Go Go Tomago • Honey Lemon • Fred • Wasabi • Lumpy • Wreck-It Ralph
Disney Characters introduced in Kingdom Hearts Dark Road: Tweedledee and Tweedledum
Disney Characters introduced in the manga: Caterpillar • Chi-Fu
Square Enix Characters: Leon • Cloud • Moogle • Others