Sheriff Scaley Briggs is a virtual character from Penn Zero: Part-Time Hero. He is the sheriff of Big Butte in Dinosaur Cowboy World. Beau Bridges voices him.
In the episode "The Old Old West", Scaley Briggs first happens upon Penn and company thinking they have committed "grand theft dino". He lassoes them and throws them in prison. After one of the townsfolk shouts to him what has actually happened, he accompanies Penn and company to stop Rippen and Principal Larry, who have trampled the bank and made off with the loot. Scaley tells them he was fired from his job due to his aging, and he seeks to prove that deep inside, he's still the hero he was once.
In the episode "Amber", Scaley has found it hard to concentrate ever since his daughter Amber left him since he didn't consider her worthy of being his deputy.
Trivia
Ever since black hats started selling out to the general public, Sheriff Briggs finds it difficult distinguishing the good citizens from the criminals.
Sheriff Briggs doesn't understand basic mathematics.
He sleeps in a casket, since it was the cheapest bed he could afford. Because of this, some might mistake him for being dead.
v - e - d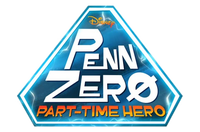 Locations
Middleburg • Middleburg Central High • The Odyssey • Fish Stick on a Stick • North Pole • Knight World • Superhero World • Arabian World • Plush Toy World • Clown World • Dinosaur Cowboy World • Cereal World • Old English World • Giant Monster World • Zombie World • Space World • Ocean World • Color World • Musical Fairy Tale World • Caveman Spy World • Future Barbarian World • Ultrahyperball World • Demon World • Alien World • Galaxy World • Temple World • Dragon World • Gothic Mystery World • Plant World • Animal Barbarian World • Toy World • Outer Space Court World • Robot World • Pirate World • Fairymania World • Steampunk World • Ball World • Ghost World • Rock, Paper, Scissor World • Beast World • Anime World • Sitcom World • Nothingness • Most Dangerous World Imaginable • Least Dangerous World Imaginable
Objects
Multi-Universe Hologram Uplink • Multi-Universe Transprojector • Pigoilet • The QPC Unit • Vortex Tops • Specs