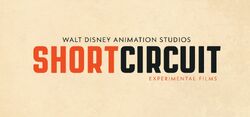 Short Circuit is a series of animated short films produced by Walt Disney Animation Studios filmmakers and artists. The films are independent shorts that are meant to "take risks in both visual style and story". Similar to its sister series SparkShorts from Pixar, it is meant to showcase new talent from within the industry.[1] It is expected to air on Disney+ in Spring 2020.
Episodes
No. in
Series
No. in
Season
Title
Air date
01
01
Exchange Student
Spring 2020
A tale about an Earthling girl who feels like an outsider at a school for aliens.
02
02
Just a Thought
Spring 2020
What happens when your innermost thoughts take on a life of their own?
03
03
Jing Hua
Spring 2020
The short follows a grieving woman who pays tribute to her recently departed teacher with a magical form of kung fu.
04
04
Elephant in the Room
Spring 2020
A lost baby elephant is taken in by a boy and his father to work on their banana plantation. As the two quickly bond, the boy discovers that his new best friend yearns for her family and home in the wild.
05
05
Puddles
Spring 2020
A young boy discovers that puddles can be portals to a fantastical world. But, he struggles to get his sister's attention away from her phone to see the magic in the world around her.
06
06
Lightning in a Bottle
Spring 2020
During a thunderstorm, a young boy's effort to capture lightning in a glass bottle as part of a science fair project succeed beyond his wildest expectations, but is shocked when he discovers the consequences of this unnatural feat.
07
07
Zenith
Spring 2020
A luminous stag...bounds through the universe, leaving a galaxy of stars in its wake. When it accidentally creates a black hole that threatens everything, the stag must make a decision that will leave a lasting impression.
08
08
Drop
Spring 2020
09
09
Fetch
Spring 2020
Gallery
References
Community content is available under
CC-BY-SA
unless otherwise noted.