"Sidekick Clio" is the fifty-fourth episode of the Disney Junior animated series, Sofia the First. It premiered on July 22, 2015, and is the final episode of the second season.
Plot
At Royal Prep, the students are giving Hildegard, who is going on vacation for a week, a going away party planned by Princess Clio. After putting her going away presents in her flying coach, Hildegard flies way, leaving Clio sad. In the auditorium, the students meet their new theater teacher, Miss Elodie. She announces that they are doing Hello Polly, a musical about a parrot searching for a runaway sister, and gives everyone lists of assignments and tells them that tryouts are Friday. Clio offers to help Sofia get ready for the play since she doesn't know what to do with herself with Hildegard gone.
Sofia arrives at the Royal Palace of Corinthia and discovers sides of Clio she has not shown because of Hildegard and, through a duet, discovers Clio's talents. Clio tells Sofia that she does everything Hildegard wants because she's her best friend. Hildegard has never let Clio do what she likes just because she herself does not like it. Sofia tells Clio that she should do something she wants to do and that just because Hildegard is her best friend, it does not mean Clio has to do everything Hildegard wants. Meanwhile, Roland enlists Cedric to help James with the stage effects, to the sorcerer's annoyance. Though he quickly warms up to the idea when the other children proclaim his magic as the best they've seen, he butts heads with Miss Elodie for going a bit overboard in the process, resulting in the stage backdrop being destroyed when he conjures up a jungle and monkeys. Sofia gets Clio to sing in front of Miss Elodie who insists that she take part in the school play. However, Hildegard comes back early due to a warm spell in North Freezenberg. She is furious that Clio and Sofia are trying out for the play and demands that Clio choose between her and the play despite Sofia disagreeing. Predictably, Clio chooses Hildegard, to Sofia's disappointment.
Amber helps Sofia bring Hildegard and Clio inside the auditorium, where Hildegard is furious that Amber brought her in the theater, so Miss Elodie could get Clio to try out. Sofia tells Clio that she can make her own choices, but Hildegard insists that Clio cannot. However, fed up with being bossed around, Clio insists on trying out for the play much to Hildegard's chagrin. Hildegard protests that she and Clio do everything together, and Clio points out that they always do everything Hildegard wants to do, and now Clio wants to do her own thing. Hildegard is angry that Clio is doing her own thing, and storms off.  Amber follows and tells her that Clio has made her choice, and that now she has too choose if having a best friend is truly more important to her than always having things your way or not.
Clio does the play, having gotten the lead role of Polly, with Princess Kari playing Polly's sister Molly, and the play is a success. Hildegard arrives in time for the final number and, after the play, reconciles with Clio, telling her that from now on she doesn't have to do everything she does.
Cast
Songs
Goofs
For some strange reason, there are two "Juns" and another "Clio" onstage during the play. One is on the ground dressed like a flamingo, and the other is suspended on a wire in her Fauna costume from "Princess Butterfly." The other Clio is also in her leopard costume from the same episode, though on closer inspection she appears to be Sofia's character model in Clio's leopard costume.
When the princes and princesses were waiting to try out for the play, Prince Hugo was at the back of the line behind Prince Frederick. But after the backdrop broke during Khalid's audition, Hugo was already on the stage, finishing his audition, and after him came Princess Kari with Frederick still waiting in line.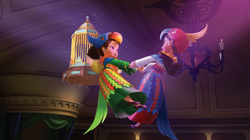 The sleeves on Kari's parrot costume are blue, but when she and Clio sing "On these wings of a dream", Kari's sleeves are white.
Trivia
This is the first time Sofia visits Clio's home kingdom, Corinthia.
Princes Hugo and Axel's father, King Garrick is seen in the front row of the audience. This episode marks his second appearance (not including his appearance in a flashback in "Gizmo Gwen"), the first being "The Flying Crown". This is the first time he appears without Axel.
In this episode it is revealed that Hildegard makes Clio do her homework and pour tea at her tea parties.
It is revealed in this episode that Amber has learned how to sew, as Sofia promised to teach her in "Princess Butterfly".
This is Cedric's last appearance in the second season.
This is the first time Clio's palace is seen in the show. It has many elements of Classical Greek architecture about it, specifically ionic columns. This and the name of the kingdom, Corinthia, implies that it was inspired by Ancient Greece and the Mediterranean region, as Corinth was a city in Greek mythology.
Many of the princes and princesses wear their Halloween costumes from "Princess Butterfly" as part of the show. These include Jun (Fauna), Jin (suit of armour), Hugo (bat), Frederick (giraffe), Lakshmi (fish) and Derek (marching band).
Cedric introduces himself to Miss Elodie as "Cedric the Sensational", the nickname Sofia gave him in "Mystic Meadows".
Sofia sang a Mother Goose song in this episode, which is The Itsy Bitsy Spider.
Hello Polly is a pun on Hello Dolly! which its songs and clips are heard in WALL-E.
This is the second time Jenna Lea Rosen (singing voice of Clio) and Ariel Winter sing a duet, the first being "The Princess Stays in the Picture" where Rosen was the singing voice for Hildegard in the song Know It All.
This is an episode that features two songs. This is the first time they are both duets.
Professor Popov makes a cameo in a picture.
This is second time Clio has a different hairstyle.
This is the second time Amber provides for Hildegard the same maternal role Sofia normally provides for her. The first time was in "The Princess Test".
This is the third time Clio wears a different dress.
This is the last episode to introduce new characters in the second season.
Roland shows that he's finally accepted that Cedric is not as bad at magic as he originally thought.
During the play, Roland and Miranda are wearing the same clothes they wore to Sofia's welcome ball in Once Upon a Princess.
The bird costumes from "Four's a Crowd" are seen in the closet of the dressing room.
Moral:

Friends are more important than always having things your way.
You shouldn't have to give up something you love just because a friend doesn't like it.
International premieres
Gallery
v - e - d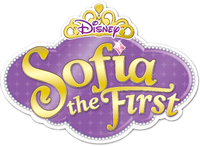 Characters
Princess Sofia • Queen Miranda • King Roland II • Prince James • Princess Amber • Princess Hildegard • Cedric the Sorcerer • Wormwood • Baileywick • Robin • Mia • Clover • Whatnaught • Goodwyn the Great • Winifred the Wise • Jade • Ruby Hanshaw • Princess Clio • Prince Zandar • Princess Jun • Prince Hugo • Minimus • Princess Vivian • Crackle • King Marcus and Queen Cecily • Trolls• Lucinda • Prince Jin • Magic Carpet • Jasper • Prince Khalid • Meg and Peg • Madam Ubetcha • Prince Desmond • Miss Nettle • Sir Gillium • Professor Popov • Helen Hanshaw • Oona • Queen Emmaline • Cora • Plank • Aunt Tilly • Wilbur the Wombeast • Sven • Emperor Quon • Empress Lin-Lin • Rex • Prince Axel • King Garrick • Electra • Vaughan and Vance • Marla • Sir Bartleby • Sir Maxwell • Sir Finnegan • Gwen • Chef Andre • Sofia the Worst • Lady Joy • Lord Gilbert • Wu-Chang • Jade Jaguar • Sir Dax • Boo • Princess Lani • Mamanu • Kamea and Halia • Praline • Freedo • Princess Zooey • Princess Astrid • Slickwell • Greylock the Grand • Princess Ivy • Dragons of Enchancia • Winter • Whiskers • Glacia the Ice Witch • Elliot, Amy, and Kurt • Tizzy • Master Erwin • Bryce Twigley • Button, Benngee, and Brody • Mossy • Carol of the Arrow • Jane • Princess Kari • Miss Elodie • Fluke • Slim • Shelly • Flip • Mantacorn • Onyx and Opal • Wendell Fidget • Mrs. Fidget • Saffron • Muck, Gunk, and Grime • Spruce • Ballerina • Mazzimo • Prince Roderick • Gavin • Kazeem • Sergeant Fizz • King Habib and Queen Farnaz • Chief Gnuckles • Flinch • Grotta • Elfonso • Elfred • Milo the Snake • King Henrik • Cordelia the Conjuror • Calista • Morgana • Crispy • Barley • Sassofras • Professor Zacharias Fleeber • Grand Mum • Gemina and Argus • Count Barnstorm • Sir Oliver • Sir Jaxon • Willawing • Kai • Princess Charlotte • Morris • Zinessa • King Philip and Queen Everly • Lily • Indigo • Marty and Maple • Mandy • Grimtrix • Wriggley, Pumpkin, and Chester • Skye • Piccolo • Baron Von Rocha • Professor Pecullian • Sea Monsters • Malachite and Fig • Omar • Prisma • Azurine • Orion • Vega • Chrysta • Sizzle • Cinder • Singe • Mare of the Mist • King Roland I • Roma • Giggling Goblin • Captain Quivers • Twitch • Vor • Nerissa


Elena of Avalor: Princess Elena • Princess Isabel • Francisco • Luisa • Shuriki • Alacazar • Zuzo • Mateo • Migs, Luna, and Skylar • Rafa • Chancellor Esteban • Armando • King Raul and Queen Lucia • Naomi Turner
Guest Characters: Flora, Fauna, and Merryweather • Cinderella • Jasmine • Magic Carpet • Belle • Ariel • Aurora • Snow White • Mulan • Rapunzel • Tiana • Merida • Olaf • Merlin • Archimedes