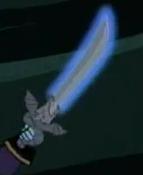 The
Silver Cutlass
is a magical sword featured in the episode "Cap'n Drakken" from the television show
Kim Possible
.
History
Not much is known about the sword. It was once owned by the pirate Captain Black-Eye Brown, who once attacked the town of Port Mystic Cove Haven. However the town defeated him, sinking his ship and taking the Silver Cutlass. The town kept the sword on display inside the town's light house. It was stolen by Drakken and Shego when Drakken was under the control of the spirit of Captain Black-Eye Brown.
Powers
The sword has the ability to call Captain Black-Eye Brown's Ship to the weilder of the sword. The sword can also fire energy blasts.
Trivia
This is the second magic sword to appear on the show, the first being the Lotus Blade.
This is the second sword used by a villian but the first sword to be used by two villians in the same episode It was first used by a possessed Drakken and then by Shego who took it after Remy the parrot dropped it.
Gallery