Wiki Targeted (Entertainment)
Play Sound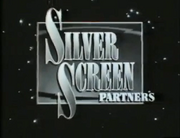 Silver Screen Partners refers to four limited partnerships organized as an alternative funding source for movies. The managing general partner for the partnerships was Silver Screen Management, Inc.
Former U.S. President George W. Bush was a member of Silver Screen Management, Inc.'s Board of Directors from 1983 to 1993. This became a part of the campaign issue over Hollywood's "pervasiveness of violence", centered around Silver Screen Management Board's approval of the highly violent horror-suspense film The Hitcher, when Bush ran for president in 2000.
History
The original Silver Screen Partners, L.P. was organized by Roland W. Betts, New York film investment broker, to fund movies for HBO in 1982. HBO made a 50% guarantee on their investment for exclusive cable rights. Another 40% was guaranteed by Thorn EMI, a British firm, for foreign distribution and foreign TV and videocassette markets. Additional income was lined up for domestic videocassette sales. HBO's film division was just starting out so film output was slow. In 1984, the first HBO/Silver Screen movie Flashpoint was released through Tri-Star Pictures as were all the HBO/Silver Screen films.
Organized in 1985, Silver Screen Partners II, LP financed films for The Walt Disney Company with $193 million. In January 1987, Silver Screen III began financing movies for Disney with $300 million raised, the largest amount raised for a film financing limited partnership by E.F. Hutton.
Silver Screen's fourth limited partnership was also set up to finance Disney's studios. On October 23, 1990, The Walt Disney Company formed Touchwood Pacific Partners I which would supplant the Silver Screen Partnership series as their movie studios' primary source of funding. In 1991, Silver Screen Partners III along with the other production companies were sued for copyright infringement over Who Framed Roger Rabbit's "End Title" song.
Structured
The partnerships pay for the movie's production costs and share in the gross dollars in all markets from theater to television. Limited partners received their return before the production company can defray any of their expenses. This is preferred by investors as it guarantee some return if the film fails or has budget overrun and from the producer's overhead. Nor can profits from a single film be used to cover losses on other films, but this makes the partnership some what risky.
List of notable Silver Screen Partners films
| Title | Release Date | Co-Production with | Budget | Gross |
| --- | --- | --- | --- | --- |
| Baby: Secret of the Lost Legend | March 22, 1985 | Touchstone Pictures | | $14,972,297 |
| Return to Oz | June 21, 1985 | Walt Disney Pictures | $25,000,000 | $11,137,801 |
| The Black Cauldron | July 24, 1985 | Walt Disney Pictures and Walt Disney Feature Animation | $25 million | $21,288,692 |
| My Science Project | August 9, 1985 | Touchstone Pictures | | $4,122,748 |
| The Journey of Natty Gann | September 27, 1985 | Walt Disney Pictures | N/A | $9,708,373 |
| One Magic Christmas | November 22, 1985 | Walt Disney Pictures | N/A | $13,677,222 |
| Down and Out in Beverly Hills | January 31, 1986 | Touchstone Pictures | $14 million | $91,411,255 |
| Off Beat | April 11, 1986 | Touchstone Pictures | | $4,117,061 |
| Ruthless People | June 27, 1986 | Touchstone Pictures | | $71,233,101 |
| The Great Mouse Detective | July 2, 1986 | Walt Disney Pictures and Walt Disney Feature Animation | $14 million | $38,625,550 |
| Tough Guys | October 3, 1986 | Touchstone Pictures | $18 million | $21,458,229 |
| The Color of Money | October 17, 1986 | Touchstone Pictures | $13,800,000 | $76,728,982 |
| Outrageous Fortune | January 30, 1987 | Touchstone Pictures | $25 million | $65,864,741 |
| Tin Men | March 6, 1987 | Touchstone Pictures | $11,000,000 | $25,411,386 |
| Ernest Goes to Camp | May 22, 1987 | Touchstone Pictures | $3,000,000 | $23,509,382 |
| Benji the Hunted | June 17, 1987 | Walt Disney Pictures | | $22,257,624 |
| Adventures in Babysitting | July 1, 1987 | Touchstone Pictures | $7 million | $34,368,475 |
| Stakeout | August 5, 1987 | Touchstone Pictures | $28,215,000 | $65,673,233 |
| Can't Buy Me Love | August 14, 1987 | Touchstone Pictures | | $31,623,833 |
| Hello Again | November 6, 1987 | Touchstone Pictures | | $20,419,446 |
| Three Men and a Baby | November 25, 1987 | Touchstone Pictures | $15 million | $167,780,960 |
| Good Morning, Vietnam | December 23, 1987 | Touchstone Pictures | $13 million | $123,922,370 |
| Shoot to Kill | February 12, 1988 | Touchstone Pictures | | $29,300,090 |
| D.O.A. | March 18, 1988 | Touchstone Pictures | $29 million | $12,706,478 |
| Return to Snowy River | April 15, 1988 | Walt Disney Pictures | | $13,687,027 |
| Big Business | June 10, 1988 | Touchstone Pictures | $20 million | $40,150,487 |
| Who Framed Roger Rabbit | June 22, 1988 | Amblin Entertainment and Walt Disney Feature Animation | $70 million | $329,803,958 |
| Cocktail | July 29, 1988 | Touchstone Pictures | $20 million | $171,504,781 |
| The Rescue | August 5, 1988 | Touchstone Pictures | | $5,855,392 |
| Heartbreak Hotel | September 30, 1988 | Touchstone Pictures | | $5,509,417 |
| The Good Mother | November 4, 1988 | Touchstone Pictures | $32 million | $4,764,606 |
| Ernest Saves Christmas | November 11, 1988 | Touchstone Pictures | $6,000,000 (estimate) | $28,202,109 |
| Oliver & Company | November 18, 1988 | Walt Disney Pictures and Walt Disney Feature Animation | | $74,151,346 |
| Beaches | December 21, 1988 | Touchstone Pictures | | $57,041,866 |
| Three Fugitives | January 27, 1989 | Touchstone Pictures | $15 million | $40,586,886 |
| Disorganized Crime | April 14, 1989 | Touchstone Pictures | $20 million | $7,724,000 |
| Dead Poets Society | June 9, 1989 | Touchstone Pictures | $16.4 million | $235,860,116 |
| Honey, I Shrunk the Kids | June 23, 1989 | Walt Disney Pictures | | $222,724,172 |
| Turner & Hooch | July 28, 1989 | Touchstone Pictures | $21 million | $71,079,915 |
| Cheetah | August 18, 1989 | Walt Disney Pictures | $5 million | $8,153,677 |
| An Innocent Man | October 6, 1989 | Touchstone Pictures | | $20,047,604 |
| Gross Anatomy | October 20, 1989 | Touchstone Pictures | $25 million | $11,604,598 |
| The Little Mermaid | November 17, 1989 | Walt Disney Pictures and Walt Disney Feature Animation | $40 million | $211,343,479 |
| Blaze | December 13, 1989 | Touchstone Pictures | $18 million | $19,131,246 |
| Where the Heart Is | February 23, 1990 | Touchstone Pictures | $22 million | $1,106,475 |
| Pretty Woman | March 23, 1990 | Touchstone Pictures | $14 million | $463,407,268 |
| Ernest Goes to Jail | April 6, 1990 | Touchstone Pictures | | $25,029,569 |
| Spaced Invaders | April 27, 1990 | Touchstone Pictures | $5 million | $15,369,573 |
| Fire Birds | May 25, 1990 | Touchstone Pictures | $22 million | $14,760,451 |
| Dick Tracy | June 15, 1990 | Touchstone Pictures | $46 million | $162,738,726 |
| Betsy's Wedding | June 22, 1990 | Touchstone Pictures | $26 million | $19,740,070 |
| Taking Care of Business | August 17, 1990 | Hollywood Pictures | $14 million | $20,005,435 |
| Mr. Destiny | October 12, 1990 | Touchstone Pictures | $20 million | $15,379,253 |
| The Rescuers Down Under | November 16, 1990 | Walt Disney Pictures and Walt Disney Feature Animation | | $27,931,461 |
| Three Men and a Little Lady | November 21, 1990 | Touchstone Pictures | | $71,609,321 |
| Green Card | December 23, 1990 | Touchstone Pictures | | $29,888,235 |
| White Fang | January 18, 1991 | Walt Disney Pictures | $14 million | $34,793,160 |
| Run | February 1, 1991 | Hollywood Pictures | $16 million | $4,409,328 |
| Scenes from a Mall | February 22, 1991 | Touchstone Pictures | $3 million | $9,563,393 |
| The Marrying Man | April 5, 1991 | Hollywood Pictures | $26 million | $12,454,768 |
| Oscar | April 26, 1991 | Touchstone Pictures | $35 million | $23,562,716 |
| One Good Cop | May 3, 1991 | Hollywood Pictures | | $11,276,846 |
| What About Bob? | May 17, 1991 | Touchstone Pictures | $35 million | $63,707,829 |
| Wild Hearts Can't Be Broken | May 24, 1991 | Walt Disney Pictures | | $7,294,835 |
| The Rocketeer | June 21, 1991 | Walt Disney Pictures and Touchstone Pictures | $42 million | $62,000,000 |
| The Doctor | July 24, 1991 | Touchstone Pictures | $24 million | $38,120,905 |
| V.I. Warshawski | July 26, 1991 | Hollywood Pictures | $24 million | $11,128,309 |
| True Identity | August 23, 1991 | Touchstone Pictures | $15 million | $4,693,236 |
| Paradise | September 18, 1991 | Touchstone Pictures | $34 million | $18,634,643 |
| Deceived | September 27, 1991 | Touchstone Pictures | $30 million | $28,738,096 |
| Ernest Scared Stupid | October 11, 1991 | Touchstone Pictures | | $14,143,280 |
| Billy Bathgate | November 1, 1991 | Touchstone Pictures | $48,000,000 | $15,565,363 |
| Beauty and the Beast | November 22, 1991 | Walt Disney Pictures and Walt Disney Feature Animation | $25 million | $418,460,691 |
| Father of the Bride | December 20, 1991 | Touchstone Pictures | | $89,325,780 |
| Blame It on the Bellboy | March 6, 1992 | Hollywood Pictures | | $3,104,545 |
| Noises Off | March 20, 1992 | Touchstone Pictures | $19 million | $2,280,148 |
| Straight Talk | April 3, 1992 | Hollywood Pictures | | $21,202,099 |
| Newsies | April 10, 1992 | Walt Disney Pictures | $15 million | $2,819,485 |
| Passed Away | April 24, 1992 | Hollywood Pictures | | $4,030,793 |
| Honey, I Blew Up the Kid | July 17, 1992 | Walt Disney Pictures | $32 million | $58,662,452 |
| Captain Ron | September 18, 1992 | Touchstone Pictures | $24 million | $22,518,097 |
| The Mighty Ducks | October 2, 1992 | Walt Disney Pictures | $10,000,000 | $50,752,337 |
| Consenting Adults | October 16, 1992 | Hollywood Pictures | | $21,591,800 |
| The Distinguished Gentleman | December 4, 1992 | Hollywood Pictures | | $46,666,502 |
| Aspen Extreme | January 22, 1993 | Hollywood Pictures | $14 million | $8,041,049 |
| Homeward Bound: The Incredible Journey | February 3, 1993 | Walt Disney Pictures | | $41,833,324 |
| A Far Off Place | March 12, 1993 | Walt Disney Pictures | | $12,890,752 |
| Born Yesterday | March 26, 1993 | Hollywood Pictures | $14 million | $17,952,857 |
External links