"Skiddley Whiffers" is a Season 3 episode of Phineas and Ferb.
Synopsis
Phineas, Ferb and the gang build a giant version of a childhood game, using Danville as the central location. Meanwhile, Candace, torn between busting her brothers and playing the fun game, ends up playing along with them so that she can carry on her title of "Skiddley Whiffers Queen." On the other side of town, Dr. Doofenshmirtz is trying to deal with Vanessa growing up and wanting to be a typical teenager. He drops her off on a camping trip with her friends, but can't cope with leaving her alone, so he disguises himself as a fellow camper, and along with Agent P's help, tries to protect her.
Plot
Candace and the boys take a particular interest in "Skiddley Whiffers", a childhood game something like a cross between "Monopoly" and "Mousetrap". Candace boasts of her constant winning with her brothers and asks for a greater challenge, to which Phineas replies "Ferb, I know what we're gonna do today".
In the meantime, Major Monogram and Carl celebrate Perry's 999th entry into the lair. He even gets an occasional shirt, made by Carl. Monogram informs Perry that Heinz Doofenshmirtz went to Danville National Park. Doofenshmirtz is revealed to have taken his daughter and her friends camping in the forest. He is not, however, very keen on leaving his little girl alone, even though Vanessa keeps telling him that she is 16, which is almost adult. Eventually, he complies and leaves.
Phineas presents the gang with the brothers' newest Big Idea: giant Skiddley Whiffers pieces that are to be used by everybody to move around Danville; the distance to be measured on the basis of the results of rolling an electronic dice. Surprisingly enough, Candace decides to join them in playing, even though at first she traditionally wants to bust them. At the same time, an expert on survival in the wild (Doofenshmirtz looking like a hippie.) comes to the youngsters' camp. He gets on to reviewing the camp's safety conditions, finding fault with the tent's distance from the cliff or the fact that the food lies on a table rather than hangs from a tree, packed in a sack for fear of bears. He gets back to his minivan for some life vests.
The gang keeps moving around Danville, enjoying all the attractions the game provides. Perry the Platypus finds Dr. Doofenshmirtz who explains to him that he has not prepared any scheme for today because he needs to "overprotect" his daughter. He remembers himself being chased by a swarm of bees while camping, back in Gimmelshtump, due to which he rolls down a cliff and a hydrant gets inside his leg (he was unable to have it operated because of the hydrant's closeness to an artery). He stresses his anxiety when Candace's snooker piece accidentally steps on his van, crushing it to the ground. Eventually, Perry agrees to help him. Doofenshmirtz get back to the camp and protecting his daughter and her friends from all imaginable threats. After a while, Perry comes out of the woods, disguised as a bear. Vanessa is disappointed in Perry for participating in her father's idea. She is angry at her father (whom she has already recognized) for not trusting her. Heinz admits his overcautious and leaves with Perry, to whom he says that he is through with ruling his daughter's life. The almanac he throws away while saying this, however, hits a hive that hangs from a tree and causes it to collapse, thus unleashing a swarm of angry bees.
The gang is at the closing stage of the game, Candace is, however, left behind. She decides not to give up and demands that she be given the dice. When she rolls it, she is declared the winner. Back at the camp, Dr. Doofenshmirtz confides his parental problems in Perry when he hears Vanessa scream. Her three friends and she are put up against a wall and they all admit they are allergic to bees. Heinz rushes to save them by pouring down all the honey from the hive onto him and jumping into the lake, thus distracting the bees' attention from the youngsters. Johnny, Vanessa's boyfriend, says that her father is totally psychotic, to which she replies "Yes. Yes he is" with a faint smile on her face.
Candace boasts of her victory and rushes to Linda to bust her brothers. She, however, trips over a "victory bell" and accidentally sets the electronic dice on "All move", thus making all the game pieces leave the backyard. Linda asks Phineas what they were up to all day, to which he replies that they were playing "Skiddley Whiffers" with Candace and when Linda asks her daughter whether she enjoyed it, Candace eventually admits that she actually did. The last scene takes place at the camp again, with Doofenshmirtz having being stung by the bees all over his body and forced to borrow the Carl shirt from Perry the Platypus, despite the fact that it is far too small for an adult human.
Cast
Songs
Goofs
When the game started, Candace went before Baljeet. But when Candace got the winning turn, she was after Baljeet. (although it is shown that Skiddley Whiffers does have very strange rules so the turns could have gotten rearranged).
As the beehive fell, it breaks in half, but when Doofenshmirtz takes the beehive to save Vanessa it is not broken.
When Candace wins again, she said she won 19 out of 24. But she only lost 1 to Phineas and 1 to Ferb.
The T-shirts commemorate Perry's 999th lair entrance. However in "Misperceived Monotreme", he has his 100th battle with Dr. Doofenshmirtz. Since these battles occur essentially after each time he goes to the lair, the numbers are badly off—even if "entrance" counts both for getting assignments and debriefing afterward.
After Candace says "Yes, yes I did" a dark mark appears on the sky right next to her head.
Before Candace receives the die after Baljeet throws it to her madly, Candace appears in front of a hose. However, before she was thrown the die, she was seen on the corner of the sidewalk.
When Candace show the scoreboard she says that she had won the last 12 games in a row, but there are more than 12 check marks in a row on her column.
Just before Doofenshmirtz throws the almanac, there's a frame where a tree in the background phases in front of his mouth.
Trivia
Another episode in which Vanessa scolded her father for his actions. She tells him that she wants some good time with her friends alone and he keeps popping up. In response, Heinz sighs sadly and apologizes to Vanessa for all the actions he and Perry cause, and he and Perry leave Vanessa and her friends all alone.
This is the only episode in which Johnny and Vanessa use the running gags.
Gallery
v - e - d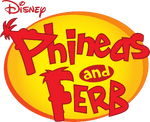 Episodes
Season One: "Rollercoaster" • "Candace Loses Her Head" • "The Fast and the Phineas" • "Lawn Gnome Beach Party of Terror" • "The Magnificent Few" • "S'Winter" • "Are You My Mummy?" • "Flop Starz" • "Raging Bully" • "Lights, Candace, Action!" • "Get That Bigfoot Outta My Face!" • "Tree to Get Ready" • "It's About Time!" • "Jerk De Soleil" • "Toy to the World" • "One Good Scare Ought to Do It!" • "A Hard Day's Knight" • "I, Brobot" • "Mom's Birthday" • "Journey to the Center of Candace" • "Run Away Runway" • "I Scream, You Scream" • "It's a Mud, Mud, Mud, Mud World" • "The Ballad of Badbeard" • "Dude, We're Getting the Band Back Together" • "Ready for the Bettys" • "The Flying Fishmonger" • "Phineas and Ferb Get Busted!" • "Greece Lightning" • "Leave the Busting to Us!" • "Crack That Whip" • "The Best Lazy Day Ever" • "Boyfriend From 27,000 B.C." • "Voyage to the Bottom of Buford" • "Put That Putter Away" • "Does This Duckbill Make Me Look Fat?" • "Traffic Cam Caper" • "Bowl-R-Ama Drama" • "The Monster of Phineas-n-Ferbenstein" • "Oil on Candace" • "Unfair Science Fair" • "Unfair Science Fair Redux (Another Story)" • "Out to Launch" • "Got Game?" • "Comet Kermillian" • "Out of Toon" • "Hail Doofania!"


Season Two: "The Lake Nose Monster" • "Interview With a Platypus" • "Tip of the Day" • "Attack of the 50 Foot Sister" • "Backyard Aquarium" • "Day of the Living Gelatin" • "Elementary My Dear Stacy" • "Don't Even Blink" • "Chez Platypus" • "Perry Lays an Egg" • "Gaming the System" • "The Chronicles of Meap" • "Thaddeus and Thor" • "De Plane! De Plane!" • "Let's Take a Quiz" • "At the Car Wash" • "Oh, There You Are, Perry" • "Swiss Family Phineas" • "Hide and Seek" • "That Sinking Feeling" • "The Baljeatles" • "Vanessassary Roughness" • "No More Bunny Business" • "Spa Day" • "Phineas and Ferb's Quantum Boogaloo" • "Phineas and Ferb Musical Cliptastic Countdown" • "Bubble Boys" • "Isabella and the Temple of Sap" • "Cheer Up Candace" • "Fireside Girl Jamboree" • "The Bully Code" • "Finding Mary McGuffin" • "Picture This" • "Nerdy Dancin'" • "What Do It Do?" • "Atlantis" • "Phineas and Ferb Christmas Vacation!" • "Just Passing Through" • "Candace's Big Day" • "I Was a Middle Aged Robot" • "Suddenly Suzy" • "Undercover Carl" • "Hip Hip Parade" • "Invasion of the Ferb Snatchers" • "Ain't No Kiddie Ride" • "Not Phineas and Ferb" • "Phineas and Ferb-Busters!" • "The Lizard Whisperer" • "Robot Rodeo" • "The Beak" • "She's the Mayor" • "The Lemonade Stand" • "Phineas and Ferb Hawaiian Vacation" • "Summer Belongs to You!" • "Nerds of a Feather" • "Wizard of Odd" • "We Call it Maze" • "Ladies and Gentlemen, Meet Max Modem!" • "The Secret of Success" • "The Doof Side of the Moon" • "Split Personality" • "Brain Drain" • "Rollercoaster: The Musical!" • "Make Play" • "Candace Gets Busted"
Season Three: "The Great Indoors" • "Canderemy" • "Run, Candace, Run" • "Last Train to Bustville" • "Phineas' Birthday Clip-O-Rama!" • "The Belly of the Beast" • "Moon Farm" • "Ask a Foolish Question" • "Misperceived Monotreme" • "Candace Disconnected" • "Magic Carpet Ride" • "Bad Hair Day" • "Meatloaf Surprise" • "Phineas and Ferb Interrupted" • "A Real Boy" • "Mommy Can You Hear Me?" • "Road Trip" • "Tour de Ferb" • "Skiddley Whiffers" • "My Fair Goalie" • "Bullseye!" • "That's the Spirit" • "The Curse of Candace" • "Escape from Phineas Tower" • "Lotsa Latkes" • "Ferb Latin" • "A Phineas and Ferb Family Christmas" • "Tri-Stone Area" • "Doof Dynasty" • "Excaliferb" • "Phineas and Ferb and the Temple of Juatchadoon" • "Monster from the Id" • "Gi-Ants" • "The Remains of the Platypus" • "Mom's in the House" • "Perry the Actorpus" • "Let's Bounce" • "Bully Bromance Break Up" • "Quietest Day Ever" • "Doonkleberry Imperative" • "Meapless in Seattle" • "Delivery of Destiny" • "Buford Confidential" • "The Mom Attractor" • "Cranius Maximus" • "Agent Doof" • "Minor Monogram" • "What a Croc!" • "Sleepwalk Surprise" • "Sci-Fi Pie Fly" • "Sipping with the Enemy" • "Tri-State Treasure: Boot of Secrets" • "Doofapus" • "Norm Unleashed" • "Where's Perry?" • "Ferb TV" • "When Worlds Collide" • "What'd I Miss?" • "Road to Danville" • "This is Your Backstory" • "Blackout!"
Season Four: "For Your Ice Only " • "Happy New Year!" • "Fly On the Wall" • "Bully Bust" • "My Sweet Ride" • "Der Kinderlumper" • "Sidetracked" • "Primal Perry" • "Mind Share" • "Backyard Hodge Podge" • "Bee Day" • "Bee Story" • "Great Balls of Water" • "Where's Pinky?" • "Phineas and Ferb Musical Cliptastic Countdown Hosted by Kelly Osbourne" • "Knot My Problem" • "Just Desserts" • "La Candace-Cabra" • "Happy Birthday, Isabella" • "Love at First Byte" • "One Good Turn" • "Mission Marvel" • "Thanks But No Thanks" • "Troy Story" • "Druselsteinoween" • "Terrifying Tri-State Trilogy of Terror" • "Face Your Fear" • "Cheers for Fears" • "Steampunx" • "Just Our Luck" • "Return Policy" • "Live and Let Drive" • "Phineas and Ferb Save Summer" • "Father's Day" • "Imperfect Storm" • "The Return of the Rogue Rabbit" • "It's No Picnic" • "The Klimpaloon Ultimatum" • "Operation Crumb Cake" • "Mandace" • "Phineas and Ferb: Star Wars" • "Lost in Danville" • "The Inator Method" • "Night of the Living Pharmacists" • "Tales from the Resistance: Back to the 2nd Dimension" • "Doof 101" • "Act Your Age" • "Last Day of Summer" • "O.W.C.A. Files"