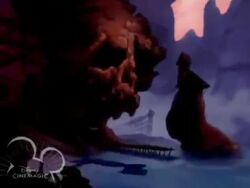 The Skull Cave is a location in The Legend of Tarzan, appearing as the working place for Ian McTeague (chief-in-command) and the rest of the miners and the cause of a serious poisoning of the river in the episode Tarzan and the Poisoned River
In The Legend of Tarzan
In the episode Tarzan and the Poisoned River, the mine are responsible for poisoning the river that supplies major parts of the jungle with water, resulting in many animals and humans, being poisoned by the toxic water. Not knowing what has caused the river to become so toxic, Tarzan alongside Jane and Professor Archimedes decides to rent a boat and travel upstream to find the source of the poison. During their expedition, they are captured by Basuli and his patrol of troops under suspicion that they are responsible for the poison in the river seeing as they are dressed like "the strangers".
Tarzan is however able to convince the leader of Basuli's tribe, that they are not responsible for the poison and his allowed to continue his expedition, on the condition that Jane and Archimedes remains captured as a sign of proof that his not lying to them. Tarzan, now along with a reluctant Basuli, travel further upstream until they find the source which turns out to be the Skull Cave. The poison were the toxic remains after the exploitation of the natural minerals that the cave was harvesting.
Tarzan and Basuli try to shut it down peacefully at first but when the chief of the working team refuses to do so, they decides to do it the hard way. Summoning the rest of the tribe as well as some of the gorillas, Tarzan and Basuli are able to make a dam that cuts the water supply completely, resulting in production grinding to a halt in the mine as they can not extract the minerals they need without water. Angered, the miners follows the river bank until they find Tarzan's dam.
Demanding the water supply be restored, the chief unknowingly fulfills Tarzan's plans to destroy the mine completely. Tarzan listens to his demand, and commands Tantor to demolish the dam by removing one of it's most essential components in the form of a stone that bears its entire weight. As a result, the dam collapses and causes a massive tsunami. The miners flee the scene in terror, and can't do anything but watch as the tsunami floods the valley, destroying the mine and all their hard work. The miners leave the island never to be seen again. As a result of the cave's destruction, the water is once again drinkable. Tarzan and his friends are later made honorable members of the tribe, and gain a new ally.