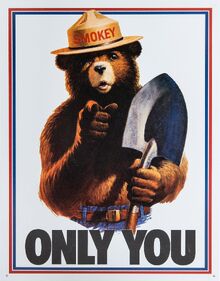 Smokey Bear (often called Smokey the Bear or Smokey) is a mascot of the United States Forest Service created in 1944 to educate the public about the dangers of forest fires. Prior to Smokey's creation, Disney loaned the Bambi characters to the Forest Service for a similar awareness campaign the previous year. He made a cameo in Disney's Humphrey the Bear cartoon short, In the Bag, as well as in the Academy Award winning short, It's Tough to Be a Bird.
Appearances
When Humphrey tries to get rid of the litter by burning it, Smokey comes in, stomping on the fire, and says his famous catchphrase, "Remember, only you can prevent forest fires."
Smokey makes a brief cameo as one of the potential ideas for symbols of Julius Caesar's two empires.
Ads
A couple of Smokey Bear ads feature footage and characters from Bambi and, at one point, Sleeping Beauty.
Gallery
Community content is available under
CC-BY-SA
unless otherwise noted.