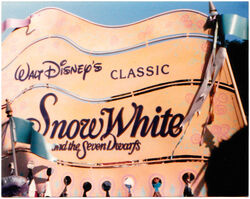 Snow White's Golden Anniversary Celebration was a parade that ran at Main Street, U.S.A. in Disneyland from early summer until fall of 1987 to commemorate the 50th anniversary of Snow White and the Seven Dwarfs. It ran twice daily for 12 minutes each.
Synopsis
The lineup began with banner-carriers on horseback followed by banner pushers, Donald Duck and a host of dancing lords and ladies.
Riding alone atop a float of topiaries with a "Once upon a time" banner behind him, Goofy read the proclamation handbill from the previous post. In another video, Mickey Mouse and Minnie Mouse are on this float with Goofy. This addition to the lineup may have occurred later in the year. It appears that Mickey and Minnie were originally located near the end of the parade in their own horse-drawn carriage or in front on the banner pushers on horseback.
Dancing mirror-carriers proceeded the Evil Queen's float where she conversed with the Magic Mirror. Dopey followed in a giant washtub.
More dancers led the way for Chip and Dale with Daisy Duck who were busy cleaning a "cottage" float.
Three dancing wheelbarrow pushers came next, followed by the rest of the Dwarfs--either on or marching in front of a diamond mine float.
It's interesting that this section also included six dancing and spinning diamonds. However, after a couple of weeks, they were removed from the parade. Have not heard the reason why.
Accompanied by the Pinocchio gang, two cast members pulled a diamond cart behind the Dwarfs' float.
Dancing crows pranced in front of the Old Witch and her smoking cauldron float.
If Mickey and Minnie weren't at the front of the parade with Goofy, they would be here in a horse-draw carriage. And in some cases they ride on horseback. In close pursuit were additional dancing characters including Alice. Then more lords and ladies.
This was of course way before the time of Jasmine, Tiana, and Rapunzel, and it even predates Ariel and Belle. So for the finale, the only other Disney princesses, Aurora, and Cinderella, danced with their princes in front of Snow White and the Prince who waved from their float.
Gallery