In order to generate publicity for Snow White and the Seven Dwarfs, the film and its characters were the subject of an extensive marketing campaign second only to that of Mickey Mouse. Merchandise of the film continues to be produced and sold today.
Comic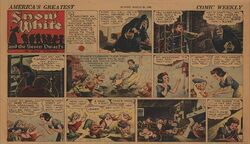 A comic strip adaptation of Disney's Snow White and the Seven Dwarfs was released to coinside with the release of the film. The comic strip was written by Merril de Marris and drawn by Hank Porter. Used in the strip are a number of story ideas that were ultimately abandoned in the film, including a more elaborate and comical meeting between the Prince and Snow White (in which Snow White creates a 'dummy' of her dream prince, which the real Prince sneaks into), and an entire storyline in which the Witch kidnaps the Prince to prevent him from saving Snow White[1]. Both of these abandoned concepts were notably recycled for use in Sleeping Beauty[2]. The film's general release happened just before, in the comic, the dwarfs discover Snow White in their cottage, a cliffhanger perhaps intended to encourage readers to watch the film to see how the story continued. The comic was packaged and released as a comic book, in 1944, 1951, 1987 and 1995 by Dell, Gold Key, Gladstone and Marvel[3][1].
Home video release
Main article: Snow White and the Seven Dwarfs (video)
Vintage Merchandise and Popularity
Examples of merchandise available during 1938 can be found in newspaper clippings. Such items included seed packets [4], glasses[5], books, and dolls[6]. Fashion also took Snow White as inspiration for hats[7], while the 343rd bomb squad had Snow White painted on a B-24D Liberator[8]. The Liberator was a heavy bomber plane introduced in 1941 during World War II.
References
↑ Robin Allan, "Walt Disney and Europe" (Indiana University Press, Indiana, 1999) ISBN 0-253-21353-3
↑ Snow White Seed Packets (1938, February 4). The Capital Journal.
↑ Snow White and the Seven Dwarfs Glasses (1938, February 3). The Chillicothe Constitution-Tribune.
↑ Snow White Books and Dolls (1938, May 4). The News-Review
↑ Impish Hats are Inspired by Snow White, Dwarfs (1938, January 29). The Evening Independent.
Community content is available under
CC-BY-SA
unless otherwise noted.