"Exploratio Continua!"
―SEA Motto

The Society of Explorers and Adventurers or the S.E.A. is a fictional organization in various attractions at the Disney theme parks, originating in Tokyo DisneySea with a major expansion in scope beginning with Hong Kong Disneyland's Mystic Point area.
History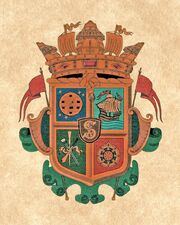 The Society was first founded on August 12, 1538 in Italy at Porto Paradiso. Consisting of scientists, explorers, researchers, artists, travelers and adventurers from around the globe, S.E.A. is dedicated to the continued exploration of the world's oceans and exotic lands. Four guiding concepts are represented on SEA's original Fortress Explorations crest: Adventure (represented as a Galleon), Romance (an Armillary Sphere), Discovery (a Compass), and Innovation (Artist Tools), selected as the best ways to represent the original charter and mission statement, which simply read "We the Society of Explorers and Adventurers shall acquire knowledge through exploration".
A more detailed Mission Statement of the Society reads:
"The mission of the Society of Explorers and Adventurers is to collect, conserve, and curate valuable cultural and artistic artifacts from around the world and make them available to the public in an artistically pleasing and sensitive manner. It is furthermore the mission of the organization to equip and mount socio-cultural expeditions to discover, explore, chronicle and protect the artistic achievements of human society, past and present, exalted and forgotten."
―SEA Mission Statement found at Oceaneer Lab and Mystic Manor

Prominent members of the group in the late 1800s included Harrison Hightower III, Lord Henry Mystic, Barnabas T. Bullion, Mary Oceaneer, Dr. Albert Falls, and President Jason Chandler.
Members
Currently unpictured members alluded to in Skipper Canteen and the Tropical Hideaway include Chef Tandaji, Sango Sio, and Luana Teixeira.
An Explorers Hall of Fame at Fortress Explorations features many historical figures, though only one, Sir Francis Drake, would fit a chronological criteria for actual membership. This was later explained as being a hall of "Honorary Members" in supplementary material for Soaring: Fantastic Flight. The fortress itself is also haunted by the ghost of Leonardo da Vinci.
Behind the scenes
Created for Tokyo DisneySea and first being named in the Fortress Explorations walkthrough attraction, S.E.A. was inspired by Pleasure Island's Adventurers Club at Walt Disney World. When the club closed with the rest of Pleasure Island, props from the club were spread around the various parks and resorts, and some of these props' new homes resulted in the Adventurers Club being retconned as Merriweather Adam Pleasure's chapter of S.E.A.
A more aggressive effort to expand S.E.A. on an international scale began with the opening of Mystic Manor for Hong Kong Disneyland in 2013. A portrait featuring Lord Henry Mystic and Harrison Hightower with other members of the Society (many of which were caricatures of Imagineers who worked on the project) was created as a springboard for potential expansion down the line, with Mary Oceaneer arriving on the Disney Cruise Line's Disney Magic the following year in 2014. References to SEA would emerge in the Magic Kingdom in 2013 with Barnabas T. Bullion's addition to Big Thunder Mountain's queue and the Skipper Canteen in 2016. At the D23 Destination D 2016: Amazing Adventures event, Imagineers and Disney Parks and Resorts president Bob Chapek remarked that SEA's emergence in parks around the globe would continue in the years ahead. Other plans for S.E.A. would affect works like the Tales from Adventureland which initially intended to use S.E.A. before the author was instructed to not use it, resulting in the book series's "Jungle Explorers Society".
Appearances
Tokyo DisneySea
Mediterranean Harbor
The original headquarters of the Society is located at theFortress Explorations attraction, which still serves as a place for inducting new members. Another SEA facility at the harbor is the Magellan's restaurant.
Tower of Terror
Harrison Hightower III was a member of the Society of Explorers and Adventurers that often operated in corrupt and illegal methods in collecting artifacts. This would become his downfall when in 1899, his discovery of Shiriki Utundu in a remote African village, would lead to his demise and the closure of his home at Hotel Hightower. By openly disbelieving and scoffing at any notion of the idol's power, he angered the trickster god and disappeared on New Year's Eve that year. The hotel was re-opened to tours in 1912 by the New York Preservation Society, though Hightower's restless spirit still remains in the hotel, tormented by Shiriki Utundu.
Soaring: Fantastic Flight
This attraction is themed to the Museum of Fantastic Flight, the abode of late-S.E.A. member Camellia Falco whose ghost still haunts it.  In the queue, portraits showing Camellia as a S.E.A. member including her initiation with Lord Henry Mystic being seen in the crowd and then club-secretary Jason Chandler having witnessed her initiation.
Hong Kong Disneyland
Mystic Manor
Set at Henry Mystic's outpost in Mystic Point in 1909, Lord Henry Mystic established a home and meeting place for the Society in a remote rainforest in 1880 and opened parts of his home to the public as an art museum in 1896. Henry Mystic's pet monkey Albert ends up getting into trouble when he opens a recently acquired Balinese Music Box with the magical ability to bring inanimate objects to life.
Haunted Halloween
Since SEA became a part of the park with Mystic Point, some of the Adventureland offerings during the park's Halloween events have incorporated the organization into their stories.
In 2014, Horrors of the Amazon focused around an adventurer named Jonas Brisbane who hoped to join their ranks. In 2015, the story of the Jungle Cruise overlay Curse of the Emerald Trinity was instigated by Professor Reed, a man kicked out of SEA for his greedy actions and desire for forbidden artifacts.
Walt Disney World
Big Thunder Mountain Railroad
Big Thunder Mining Company owner, Barnabas T. Bullion, is identified as a member of the Society in letters in the queue corresponding with Jason Chandler. Both he and a colleague at the Museum of the Weird, known as Madame Zarkov (who also has been known to frequent Merriweather Adam Pleasure's Adventurers Club), advise against further mining activity at the mountain in light of the various supernatural happenings plaguing the site.
Skipper Canteen
At this Magic Kingdom restaurant, Doctor Albert Falls had a special S.E.A. meeting room in a hidden room behind his library. Club fezzes belonging to Falls, Henry Mystic, Albert, Mary Oceaneer, Merriweather Adam Pleasure can be found in a display case and maps featuring legendary creatures drawn by Oceaneer and Chandler can be seen hanging on the walls. The Canteen also features an expansive library, with books written by many of S.E.A's prominent members, as well as "Voice of the Jungle" Albert Awol and the famous Captain of the Nautilus, Captain Nemo.
Disney's Typhoon Lagoon
A 2017 addition to Typhoon Lagoon, Miss Adventure Falls is a family-style raft attraction that takes guests on a splashing journey through the fabled Captain Mary Oceaneer's past. Legend has it that Captain Oceaneer, a treasure-hunting heroine, and along with her other pet parrot Duncan have traveled across the sea collecting unique artifacts before she became stranded at Typhoon Lagoon many years ago by a rogue storm.
United Kingdom Pavilion
The Pavilion's Kidcot station, themed as the library of the Royal Adventurers's Society, features a "Society of Explorers and Adventurers Handbook" amongst its titles, alongside production artwork from Atlantis: The Lost Empire and books also found at Skipper Canteen.
AbracadaBar
Located at Disney's BoardWalk Inn, this bar once acted as a lounge for some of the worlds most famous magicians and illusionists. However, this all changed on Friday 13th September 1940, when every magician inside disappeared without a trace and have never been seen again. Among the magicians props around the lounge is a S.E.A Fez, indicating that once of the magicians may have been a member of the society.
Disneyland
Only a few small S.E.A. references have been implemented at Disneyland thus far.
Big Thunder Mountain Railroad
A portrait of Big Thunder Mining Company owner Barnabas T. Bullion can be seen through the windows of the Panhandle Hotel in the town of Rainbow Ridge, hanging on a wall in the building's lobby.
On Big Thunder Trail, cargo being sent to Jason Chandler is seen loaded on a red stagecoach along the trail.
The Tropical Hideaway
Opened in December 2018 as an extension of Walt Disney's Enchanted Tiki Room, The Tropical Hideaway restaurant features a display of canoe paddles marked with names and expeditions of different S.E.A. members, notably marking the first mention of Camellia Falco, ahead of her upcoming appearance in Tokyo DisneySea's Soaring: Fantastic Flight.
Bengal Barbecue
The Bengal Barbecue also appears to have been used as an outpost for S.E.A, with the 1899 club portrait hanging on the wall. Also displayed is a photograph of Professor R. Blauerhimmel in the cockpit of a biplane, accompanied by postcards to persons known as Elizabeth Doer and Bessie Steele. Most interestingly there hangs a photograph of Charlie Allnut and Rose Sayer, aboard the Jungle Cruise vessel the "Zambezi Miss". On board with them is Albert the Monkey, faithful companion of Lord Henry Mystic, and a photograph of S.E.A Member and proprietor of the Jungle Navigation Company, Dr Albert Falls.
Allnut and Sayer are characters featured in The African Queen (1951), played by Humphrey Bogart and Katherine Hepburn, the movie acting as one of the major inspirations for the Jungle Cruise attraction itself. 
Disneyland Paris
Only a few connections to S.E.A have been established at Disneyland Paris thus far.
Colonel Hathi's Pizza Outpost
Luggage near the entry signage for the former "Explorers Club Restaurant" features a S.E.A. patch amongst the travel stickers stuck onto them. The Explorers Club acted much like the Adventurers Club of Florida, giving diners the opportunity to dine with famous explorers such as David Livingstone and Ernest Hemingway. Even though the Explorers Club has now closed, it's logo can still be found within the current restaurant, as well as scattered throughout the queue of the nearby Indiana Jones et le Temple du Péril.
Cafe Hyperion
The Discoveryland restaurant takes the form of large hanger in which S.E.A Member Captain Brieux has docked his airship, The Hyperion. Guests are invited to dine beneath the famous airship, surrounded by displays showing the various locations to which the Captain has travelled to. Though the character and film have been connected to S.E.A., the restaurant itself currently bears no direct references to the organization.
Disney Cruise Line
In the Oceaneer's Lab, on the Disney Magic and Disney Wonder, numerous portraits of Mary Oceaneer, and her Parrot; Salty, can be found. These portraits show Mary to be a Treasure Hunter and a Diver, with her diving suit on display, in the Oceaneer Lab, as well as treasure found on an expedition to Castaway Cay.
The Lab also features connections to other S.E.A members, a portrait of Lord Henry Mystic, a newspaper article detailing the disappearance of Harrison Hightower III, as well as a Captains Hat, said to be a gift from Dr. J. L. Baterista.
v - e - d
Attractions
Typhoon Lagoon Surf Pool • Castaway Creek • Ketchakiddee Creek • Keelhaul Falls • Maydays Falls • Gang Plank Falls • Humunga Kowabunga • Storm Slides • Shark Reef • Bay Slides • Crush 'n' Gusher • Miss Adventure Falls
Community content is available under
CC-BY-SA
unless otherwise noted.