Sofia the Worst (also known as Bad Sofia) is an evil copy of Princess Sofia, who appeared in the Sofia the First episode, "Sofia the Second".
Background
Personality
Sofia the Worst looks and sounds like the real Sofia, but her personality is the complete opposite. Instead of being kind and caring, she is a badly behaved little girl, who likes to cause trouble and wreak havoc just for fun
Physical Appearance
Sofia the Worst looks like her good-aligned counterpart, but with a pink dress.
Role in the Series
Bad Sofia makes her debut in "Sofia the Second", where she appears after Sofia creates her with Cedric's copying spell so she could go to the Highland Hootenanny and keep her promise to show Lady Joy around the castle at the same time. Sofia gives her a doll and tells her what to do, which she happily agrees to. After Sofia leaves, Sofia the Worst reveals her true colors as an evil twin to Clover, who realizes Sofia messed up the spell when she made her. When Clover tries to go warn the real Sofia, Bad Sofia grabs him, locks him into Wormwood's cage, and runs off to where she meets Joy. After the real Sofia leaves, Bad Sofia causes trouble throughout the castle, until she finally gets bored with Joy and ditches her so she can go to the Hootenanny.
At the Hootenanny, Bad Sofia bumps into the real Sofia, who asks her what she's doing here and who's playing with Joy. Sofia the Worst tells her she's here to have fun and who's playing with Joy is her problem. After Sofia tells her she's not being very nice, Bad Sofia tells her "That's because I'm not very nice. I'm a bad Sofia." She then proceeds to tell the real Sofia "You can call me Sofia the Worst." She then throws the entire Hootenanny into chaos, until the real Sofia throws her into a barn and locks her in.
Bad Sofia escapes and follows the real Sofia back to the castle, where she causes even more trouble by knocking over Gilbert's bridge model, mocking Sofia's clumsiness. The real Sofia, Joy, and Cedric chase her into the meeting, where everyone finds out about the two Sofias. After Roland asks what's going on, Bad Sofia points at the real Sofia and states "She made me." The real Sofia admits she did it so she could be in two places at once. At the real Sofia's request, Cedric undoes the spell that created her, and Sofia the Worst ceases to exist, vanishing in a puff of smoke.
Trivia
Sofia the Worst is one of many characters who are opposite doubles to the hero/heroine in other TV Shows, like Negaduck from Darkwing Duck, Evil Jake from American Dragon: Jake Long, and NomiRandy from Randy Cunningham: 9th Grade Ninja.
Her name is likely a reference to the lyrics in the song from Robin Hood, "The Phony King of England": "Too late to be known as John the First, he's sure to be known as John the Worst".
The only difference between the real Sofia's and Bad Sofia's appearances is that the real Sofia usually wears a purple dress while Bad Sofia's dress is pink, due to the duplication spell being cast incorrectly. If the spell had been cast correctly, then she would've had a purple dress. Plus, Bad Sofia removed her amulet and gave it to Joy.
In the book Sofia the Second, Bad Sofia is referred to as Pink Sofia due to the color of her dress.
Strangely, Bad Sofia was able to understand Clover despite her amulet not being real. It may be that Sofia was able to give her copy her powers when she cast the spell.
She is the first Sofia the First character to die on-screen, being disintegrated when Cedric undoes the spell in which she was created.
Gallery
v - e - d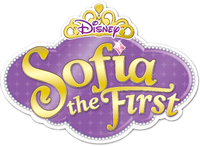 Characters
Princess Sofia • Queen Miranda • King Roland II • Prince James • Princess Amber • Princess Hildegard • Cedric the Sorcerer • Wormwood • Baileywick • Robin • Mia • Clover • Whatnaught • Goodwyn the Great • Winifred the Wise • Jade • Ruby Hanshaw • Princess Clio • Prince Zandar • Princess Jun • Prince Hugo • Minimus • Princess Vivian • Crackle • King Marcus and Queen Cecily • Trolls• Lucinda • Prince Jin • Magic Carpet • Jasper • Prince Khalid • Meg and Peg • Madam Ubetcha • Prince Desmond • Miss Nettle • Sir Gillium • Professor Popov • Helen Hanshaw • Oona • Queen Emmaline • Cora • Plank • Aunt Tilly • Wilbur the Wombeast • Sven • Emperor Quon • Empress Lin-Lin • Rex • Prince Axel • King Garrick • Electra • Vaughan and Vance • Marla • Sir Bartleby • Sir Maxwell • Sir Finnegan • Gwen • Chef Andre • Sofia the Worst • Lady Joy • Lord Gilbert • Wu-Chang • Jade Jaguar • Sir Dax • Boo • Princess Lani • Mamanu • Kamea and Halia • Praline • Freedo • Princess Zooey • Princess Astrid • Slickwell • Greylock the Grand • Princess Ivy • Dragons of Enchancia • Winter • Whiskers • Glacia the Ice Witch • Elliot, Amy, and Kurt • Tizzy • Master Erwin • Bryce Twigley • Button, Benngee, and Brody • Mossy • Carol of the Arrow • Jane • Princess Kari • Miss Elodie • Fluke • Slim • Shelly • Flip • Mantacorn • Onyx and Opal • Wendell Fidget • Mrs. Fidget • Saffron • Muck, Gunk, and Grime • Spruce • Ballerina • Mazzimo • Prince Roderick • Gavin • Kazeem • Sergeant Fizz • King Habib and Queen Farnaz • Chief Gnuckles • Flinch • Grotta • Elfonso • Elfred • Milo the Snake • King Henrik • Cordelia the Conjuror • Calista • Morgana • Crispy • Barley • Sassofras • Professor Zacharias Fleeber • Grand Mum • Gemina and Argus • Count Barnstorm • Sir Oliver • Sir Jaxon • Willawing • Kai • Princess Charlotte • Morris • Zinessa • King Philip and Queen Everly • Lily • Indigo • Marty and Maple • Mandy • Grimtrix • Wriggley, Pumpkin, and Chester • Skye • Piccolo • Baron Von Rocha • Professor Pecullian • Sea Monsters • Malachite and Fig • Omar • Prisma • Azurine • Orion • Vega • Chrysta • Sizzle • Cinder • Singe • Mare of the Mist • King Roland I • Roma • Giggling Goblin • Captain Quivers • Twitch • Vor • Nerissa


Elena of Avalor: Princess Elena • Princess Isabel • Francisco • Luisa • Shuriki • Alacazar • Zuzo • Mateo • Migs, Luna, and Skylar • Rafa • Chancellor Esteban • Armando • King Raul and Queen Lucia • Naomi Turner
Guest Characters: Flora, Fauna, and Merryweather • Cinderella • Jasmine • Magic Carpet • Belle • Ariel • Aurora • Snow White • Mulan • Rapunzel • Tiana • Merida • Olaf • Merlin • Archimedes
Community content is available under
CC-BY-SA
unless otherwise noted.