Something the So and So is a character in Wander Over Yonder.
Background
He first appeared in "The It", where he was one of the many villains who was chased off his planet by Lord Hater's deranged game of Tag.
In "The Battle Royale", he was the first one to reach the Ring of Invincibility (which is really a candy ring). He completely messed up his speech, however, resulting in Emperor Awesome telling him to go away and come back when he was better prepared.

In "The Matchmaker", he appears again wanting to do something evil but is once again confused on what to do. Wander tells him that he would normally take 11 minutes to do this but asks if this is what he really wants to do with his life. Then Something questions his career choice and then says goodbye and walks away.
He will join Wander and a group of rebels to fight Lord Dominator in "The End of the Galaxy."
Appearances
v - e - d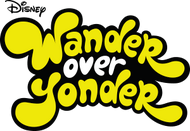 Organizations/Groups
Lord Hater's Army • Insurgent Generals • Wander and Sylvia • Bounty Hunters • Lord Dominator's Army • Galactic Villain Leaderboard • Emperor Awesome's Army
Locations
Lord Hater's Spaceship • Binglebopolopolis • Doomstone • Baaaaa-halla • Phunulon • Ballzeria • Buster • Doom Arena • Planet Ziziks • Flendar • Lord Dominatior's Spaceship • Arachnomorph Homeworld
Community content is available under
CC-BY-SA
unless otherwise noted.