"Songwriting & Starfish" is the eleventh episode of Season One of the sitcom Austin & Ally. It aired on March 11, 2012.
Synopsis
Austin is interested in participating in the Hot Summer Jam Contest, with a little help from his friends. The contest takes place at the beach where Ally wants to get over her bad memories so she and Austin can work out some lyrics. When Ally's book gets covered in gum, Trish puts the book into her cart to freeze the gum so they can scrape it off. They forget about the book and have to try and break into the shop to get it back. While in the shop they get locked in the freezer, so Austin calls Dez to save them. Dez finally rescues them, but they get caught by Officer Dunphy. While in the police station, they explain the story, and Officer Dunphy accuses them of stealing Fruity Mint Swirl ice-cream in the shop's freezer, forcing them to miss the contest. While Officer Dunphy is filling out police reports, he shows that he is an amazing drummer. Austin invites him to be in his band at the contest, and convinces him to let them go.
v - e -

d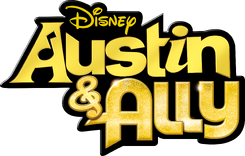 Songs
"Can't Do it Without You" • "Double Take" • "Break Down the Walls" • "A Billion Hits" • "Not a Love Song" • "It's Me, It's You" • "The Butterfly Song" • "Trash Talka" • "Better Together" • "You Don't See Me" • "Heard it on the Radio" • "Heart Beat" • "Na Na Na (The Summer Song)" • "The Way That You Do" • "Illusion" • "Don't Look Down" • "Who I Am" • "Got It 2" • "Christmas Soul" • "Can You Feel It" • "Face to Face" • "No Ordinary Day" • "You Can Come to Me" • "I Think About You" • "Finally Me" • "The Ally Way" • "Steal Your Heart" • "Timeless" • "Living in the Moment" • "I Got That Rock and Roll" • "The Me That You Don't See" • "Better Than This" • "Chasin' the Beat of My Heart" • "You Wish You Were Me" • "Redial" • "I Love Christmas" • "Austin & Ally Glee Club Mash Up" • "Who U R" • "Upside Down" • "Stuck on You" • "Me and You" • "What We're About" • "Look Out" • "Superhero" • "Parachute" • "No Place Like Home" • "Play My Song" • "Dance Like Nobody's Watching" • "Take it from the Top" • "Jump Back, Kiss Yourself" • "Perfect Christmas" • "You've Got a Friend" • "Two in a Million"